[#WonderCon] Everyone's a Critic: Journalism in the Online Age
It seems like you can't swing a genre review without hitting at least four different new media (read digital) journalism outlets in recent years. This isn't really a negative, with so many prolific writers popping up in places like io9, Bleeding Cool, and The Nerdist, there's plenty of room in the waters of the internet for everyone with a column.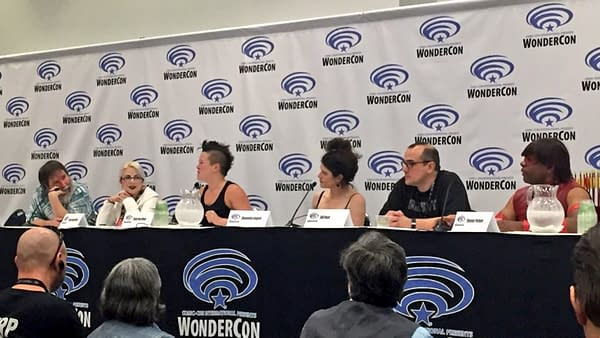 One of the annual panels at both WonderCon and SDCC focuses on this very subject, Everyone's A Critic: Being a Journalist in the Online Age.
Moderated by Bleeding Cool's own Bill Watters, the panel also featured Dana Han-Klein (formerly of Google, currently of The DHK and Bleeding Cool), Alexandra August (CBR, Geek Exchange), Bill Hunt (The Digital Bits), Thomas Parnham (APU), and myself (Bleeding Cool and Editor-in-Chief of Aggressive Comix) talking about the challenges and motivations that pepper our daily lives.
The talk was well attended for a Saturday at 11 am session, especially since we were up against Chase Masterson's Anti-Bullying panel (which is super important, and I'm glad they had a full house for theirs). Also, it was my birthday, so please excuse the birthday song.
We ended up with several well-worded questions towards the end of our time, which I wasn't expecting, because normally we get the "how do you get famous writing" ones that are impossible to answer.
This particular audience listened to what we were discussing and brought up some good points, such as how to deal with vehement opposing views on critiques of film and TV, and how the experiences of the three women on the panel differed from the men's.
You can listen to the panel here: