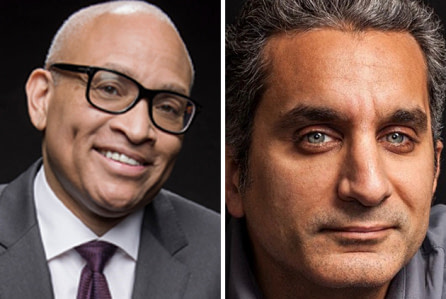 Being a family of superheroes in 2017 can be tough enough — now imagine being a family of superheroes in a world that treats you like you're super villains.
That's the premise behind Super Challenged Heroes (working title), a family comedy from Larry Wilmore (Insecure, The Bernie Mac Show) and comedian Bassem Youssef for ABC about a Middle-Eastern American family of superheroes. Wilmore and Youssef (considered the "Jon Stewart of Egypt") will pen the script and executive produce the series for ABC Studios, where Wilmore has an overall deal.
As Deadline Hollywood reported:
"The untitled project (aka Super Challenged Heroes, SCH) is an action-adventure-fantasy show that asks the question: what is it like to be a hero in a world that treats you like a villain? It centers on the Sharif family, an ordinary Middle Eastern American family with two superhero parents at a time when it's illegal to be a superhero, so they are forced to save the world in secret. The show will highlight some of the issues that immigrant families face when it comes to fitting into a society that many times treats you like the enemy." For Wilmore, the series addresses the deeply personal and painfully complicated issue of immigration in a uniquely different way:
"At its heart, it is a family show about assimilation and the difficulties and the problems and the conflicts with assimilation. There are so many issues immigrant families face becoming Americans To combine this with a fantasy adventure show seemed like an interesting approach to a family show."
Wilmore wants to make one thing clear: the comedy won't be topical:
"There won't be a President Trump. Even through it would be America, it won't be this version of America, it won't be a political show in this sense, it will be in its own world."
Youssef appreciates the opportunity that ABC is giving them to introduce viewers to a new-yet-still-familiar family dynamic that brings new voices to the forefront:
"To have ABC challenge the narrative and stereotypes that have long stuck to people in my region is something spectacular to say the least. To have only terrorist roles available for us one day, then get to play superheroes the next, is ground breaking. I am grateful to work with, Larry Wilmore, one of the most talented writers and producers in the market. SCH is unprecedented, culture-defining, and entertaining for the whole family."