New Krypton Trailer Has Superman's Grandfather Making "Timely" Decision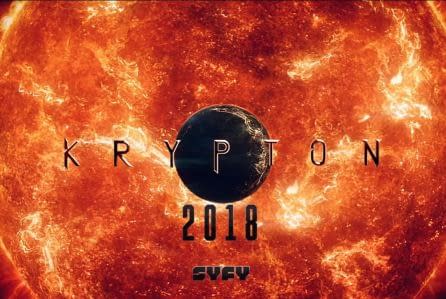 With less than three months before the network premieres its "pseudo-sequel" series to the modern Superman story, Syfy released the first official trailer for their highly anticipated series Krypton. Set several generations before the destruction of Superman's home planet, the series focuses on Kal-El's grandfather Seg-El (Cameron Cuffe) as he struggles between saving Krypton from destruction and allowing his grandchild to live out and fulfill his true destiny. Through it all, he struggles to gain back his family's honor while a battle over Krypton's leadership wages on.
This means, if you haven't been able to tell from the description above and before you get to the trailer below, time travel is a major factor in the series. It's also the reason why it was referred to as a "pseudo-sequel" to the Superman story as opposed to a direct sequel. As both executive producer David S. Goyer and DC's Geoff Johns point out to Entertainment Weekly, using time travel as a plot device increases the unpredictability of the show's 7-8 season "master plan". Goyer said:
"You can tell [from that trailer] that time travel is involved, and what that means is history could be changed, and what happens in this show could be very different from the backstory that people know. A lot of people know that Krypton blows up and that's what caused Superman to come to Earth, but this is really an untold story."
Johns said:
"The time travel element does give us some unpredictability and some creative license to do some stories you don't know or stories that play out differently than what people might assume."
You can check out the trailer and official series synopsis for Syfy's Krypton here:
Set two generations before the destruction of Superman's home planet, KRYPTON follows Seg-El (Cameron Cuffe), the legendary Man of Steel's grandfather — whose House of El was ostracized and shamed. With Krypton's leadership in disarray, Seg-El encounters Earthly time-traveler Adam Strange (Shaun Sipos) who warns he's under the clock to save his beloved world from chaos. Fighting to redeem his family's honor and protect the ones he loves, Seg is also faced with a life and death conflict – save his home planet or let it be destroyed in order to restore the fate of his future grandson.

Krypton is from Warner Horizon Scripted Television and is executive produced by David S. Goyer ("Man of Steel," "Batman v Superman: Dawn of Justice," "The Dark Knight Trilogy") through his Phantom Four banner, alongside Cameron Welsh, who serves as showrunner. In addition to Cuffe and Sipos, the show also stars Georgina Campbell ("Broadchurch"), Elliot Cowan ("Da Vinci's Demons"), Ann Ogbomo ("World War Z"), Rasmus Hardiker ("Your Highness"), Wallis Day ("Will"), Aaron Pierre ("Tennison") and Ian McElhinney ("Game of Thrones"). Based on the DC characters created by Jerry Siegel and Joe Shuster, Krypton premieres in 2018.