Rick and Morty Season 4: Fans Might Need to Set Portal Guns for C-2019 Well, if you're a Rick and Morty fan, you can take some consolation in knowing that there's a dimension out there where a fourth season of the hit Adult Swim animated series actually sees the light of day in 2018. Unfortunately, it doesn't look like it's going to be this one.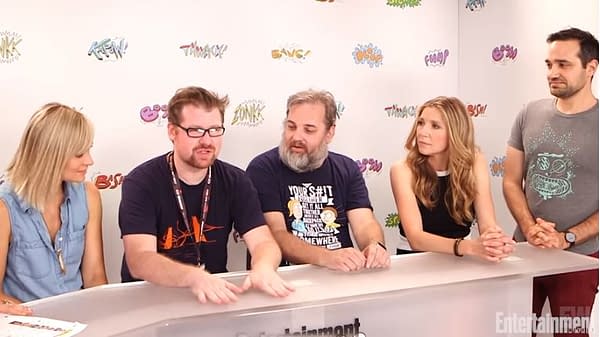 In an interview with Detroit Cast, Rick and Morty writer/voice actor/producer Ryan Ridley updated listeners on the progress of Season 4 — and it doesn't sound promising, folks:
"They really take their time. I never understood why everybody — all parties, Dan [Harmon], Justin [Roiland], and Adult Swim — didn't get their shit together, and make the show fast. I just don't get it. It doesn't make any sense to me. I'm sure they all have their reasons."
Something to keep in mind is that while it's a foregone conclusion — short of creative shutting down the series themselves — that the series will get a fourth season renewal, Adult Swim hasn't officially announced a greenlight for Season 4. Ridley doesn't believe Rick and Morty fans have anything to worry about on that front – but about seeing a new season in 2018? Well…
"I'm just shocked that it's taking – we got done writing season 3 in November of last year and here we are 11 months later. And then I know how long the show takes to write, let alone animate, so it's just like, I'd be surprised if there was a fourth season on the air any sooner than 2019 – in late 2019." Created by Dan Harmon and Justin Roiland and premiering in 2013, Rick and Morty has become a ratings, social media buzz and merchandising success story for Adult Swim; with fans so eager for a new season of adventures that conspiracy theories are cropping up everywhere: from a new season being stealthily done for a surprise midnight drop in the summer to the delay being the result of a "secret animated film project" being hammered out. To that end, I'm also not sure that we can outright dismiss the possibility of some new episodes in 2018 and that comments like these are meant to stir up the fan base for when something unexpected does drop. For his part, Harmon addressed the issue of shorter seasons and the increasing time between seasons in an interview with Entertainment Weekly from September, where he explained and took responsibility for several concerns; beginning with if 10 episodes will now be the seasonal limit for episodes to maintain quality:
"I don't think so, but you shouldn't trust me, because I mostly blame myself for doing 10 instead of 14. I'm still learning how to do the show efficiently while catering to the perfectionist in all of us. I would like to think I've learned enough from my mistakes in season 3 that we could definitely do 14 now, but then I have to say, "Yeah but you're the guy who says we can do 14 who turned out to be wrong so we're not listening to you now." The nice healthy way to approach this is I want to prove it with the first 10 of season 4 — prove it to ourselves, to production, to the network — that it's so easy that we'll earn additional episodes. Because I never got this far [working on NBC's] Community. I fell apart in season 3 of Community and got fired in season 4. Now I'm about to do season 4 of Rick and Morty and want to prove that I've grown."