Rick and Morty's Dan Harmon, Justin Roiland: Squanchy Negotiations Delaying Season 4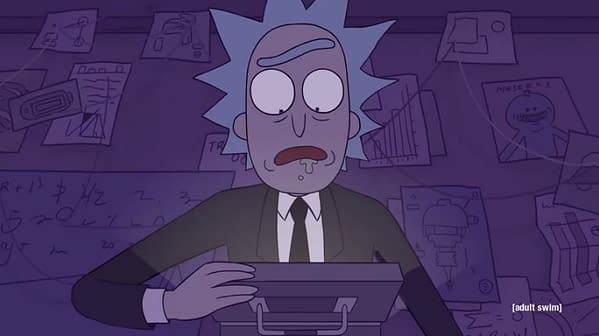 The biggest threat to Rick and Morty's very existence isn't The Federation… The Citadel of Ricks… The Vindicators… or even Evil Morty. Looks like fans need to aim their portal guns at The Powers That Be. Show creators Dan Harmon and Justin Roiland place the blame for lack of movement on Rick and Morty season 4 squarely on corporate's contract negotiating — though the implication is that the issues are more with Adult Swim parent company Turner Broadcasting System.
Here are the the most recent updates:
● Harmon appeared on the most recent episode of Kevin Smith and Scott Mosier's SModcast, where he gave more details on the behind-the-scenes developments that have stalled work:
"The reason we're not working on Rick and Morty right now ain't because I figured out that I don't need to impress you. It's because of a little something called contract negotiations and it's gotten complicated this time around."
● While announcing the release of Dr. Splorchy through his Squanch Games, Roiland responded to the waves of fans' comments regarding the future of R&M by urging them on Twitter to direct their ire Turner's way:
● Harmon had his friend and co-creator's back in a follow-up tweet, taking a moment to speak some "tough love" truth to R&M fans out there with the pitchforks and torches: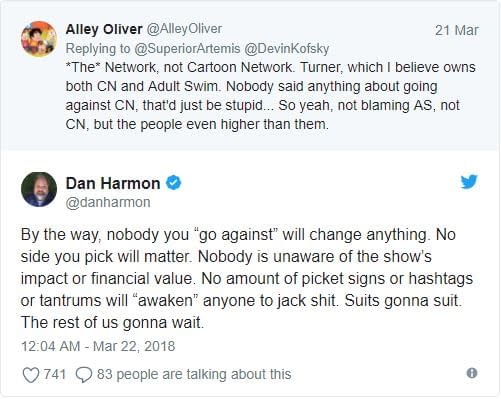 All of this follows up Harmon's confirmation last week that a fourth season has yet to receive a greenlight. After tweeting a humorous response to Lore podcast creator Aaron Mahnke, a fan criticized Harmon for "wasting time" online; and that the writer should "go finish the next R&M season" before making what looked like a direct connection between Harmon and Game of Thrones' George R.R. Martin.
So in his typically self-deprecating yet pointedly honest manner, Harmon confirmed what's now currently being debated:
Created by Harmon and Roiland and premiering in 2013, R&M has become a ratings, social media buzz, and merchandising success story for Adult Swim. Fans are ever eager for a new season of adventures that conspiracy theories are cropping up everywhere: from a new season being stealthily done for a surprise midnight drop in the summer to the delay being the result of a "secret animated film project" being hammered out. For now, R&M fans have been content with getting their portal gun fix through Old Spice commercials and music videos from rappers Logic and Run the Jewels.
For his part, Harmon addressed the issue of shorter seasons and the increasing time between seasons during an interview with Entertainment Weekly in September 2017, where he both explained and took responsibility for several concerns; including whether 10 episodes will now be the seasonal standard for episodes to maintain quality:
"I don't think so, but you shouldn't trust me, because I mostly blame myself for doing 10 instead of 14. I'm still learning how to do the show efficiently while catering to the perfectionist in all of us. I would like to think I've learned enough from my mistakes in season 3 that we could definitely do 14 now, but then I have to say, "Yeah but you're the guy who says we can do 14 who turned out to be wrong so we're not listening to you now." The nice healthy way to approach this is I want to prove it with the first 10 of season 4 — prove it to ourselves, to production, to the network — that it's so easy that we'll earn additional episodes. Because I never got this far [working on NBC's] Community. I fell apart in season 3 of Community and got fired in season 4. Now I'm about to do season 4 of Rick and Morty and want to prove that I've grown."