We get a lot of news in to the site here. Sometimes it's a little surprising. I didn't realize there was a demand for them… but Bif Bang Pow! is bringing Shark Tank action figures to SDCC this year.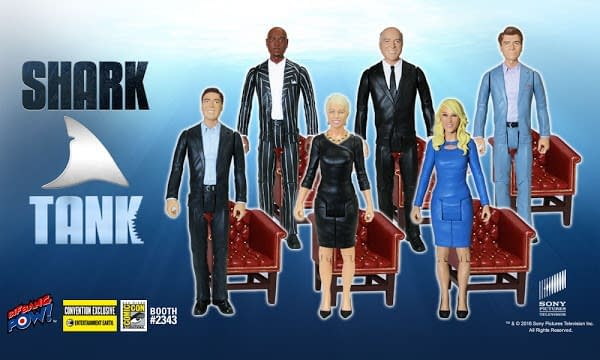 "As an entrepreneur myself celebrating a 20th anniversary in the consumer products business, I have great respect for the Sharks on the Shark Tank panel as well as anyone who stands before them to pitch their ideas," commented Jason Labowitz, President and Co-Founder of Bif Bang Pow!. "While Bif Bang Pow! produces plenty of collectibles that celebrate fictional superheroes, these 'Sharks' are real life superheroes – saving the day by investing in businesses that create jobs, which ultimately improves lives for thousands of families."
The deal will allow the company to make a variety of products based on the TV series starting with a line 3 3/4-inch action figures in two sets. Mark Cuban, Daymond John, and Barbara Corcoran are in set one; Kevin O'Leary, Lori Greiner, and Robert Herjavec are in set two. Additionally, each set comes with chair accessories and a foldout diorama of the Shark Tank television studio set. Each collectible is individually numbered with a holographic sticker, highlighting the limited production run of only 1800 units. Each Shark action figure was digitally sculpted and has 7 points of articulation.
Biff Bang Pow! is also working on drinkware, stationary products, car accessories, and a question-and-answer ball that features well-known Shark catchphrases. You can pre-order them here.
Enjoyed this article? Share it!