 The panel showcasing the fourth, and as we found out toward the end of the panel, final season of Star Wars: Rebels was packed full of fans of the animated show on Disney XD. However, before they dived into the upcoming fourth season the cast and executive producer Dave Filoni was able to get into the third season a little bit. Filoni talked about the confrontation between Obi-Wan and Darth Maul and how long in the making it was. He talked about how this was not just an arc for Maul but also that it was just as much as journey for Obi-Wan. How Maul wanted to bring Obi-Wan down to his level emotionally. We're watching both characters go along "the path to light and the path to oblivion."
When asked about the visuals that came with Obi-Wan looking out over Luke. Filoni mentioned that he is not just appealing to Star Wars fans with Rebels but that he also has to appeal to the layman who might not know anything about Star Wars. He talked about how if this was the first thing you had ever seen for Star Wars then you would still understand the symbolism behind that scene. It's visual shorthand that everyone can understand and being approachable is important.
We were also able to talk to the entire cast about how season three affected them emotionally and where they think their characters are going. Vanessa Marshall talked about how Hera believes what she is doing "is vital, it's essential" but not that she wasn't dedicated before. Tiya Sircar also spoke about how the Dark Saber arc was "one of my favorite things I've gotten to do an actor." She talked about how Filoni doesn't usually give them much information about where their characters are going but he let her know about that plotline because he knew she would need the time to prepare. Steve Blum talked about how Zeb has evolved from being a brother to an uncle and will be "a more responsible citizen and not just a muscle head." Taylor Gray mentioned that going forward Ezra will focus on "what kind of Jedi – what kind of person – he wants to be."
Sircar was reluctant to talk about too much about where Sabine is going for fear of spoilers, but she did say a few things that could lead to interesting places. She said fans of Mandalore will be happy, and that we might see people we know, people we don't, and we'll just have to see. The immediate thought is that we're going to see Boba Fett, but Sircar was able to evade the questions like a professional. Freddie Prince Jr. also mentioned that for Kanan, he was learning as he taught Sabine as she was. "To be patient, as a parent, is a skill," he said. "He's still blind but he sees more than he has before."
Filoni went on to confirm that Warwick Davis is finally getting his wish of being a voice on an animated Star Wars show, and voicing the character of Rukh who is Thrawn's bodyguard and assassin. He also confirmed that Mon Mothma is back and that we "might see Mothma get fiery. She is a leader for a reason." Saw is coming back, as voiced by Forest Whitaker, and Two-Tubes will make a real appearance in the U-Wing now that Rogue One is out.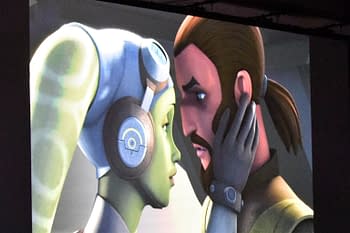 After screening the trailer for fans, Filoni announced that this will be the final season of Star Wars: Rebels. He mentioned that he has had a show end and not on his terms and that's not something he wants again. This isn't that surprising, but Filoni also teased fans by changing his "Ahsoka Lives?" shirt to "Ahsoka Lives!" while not acknowledging it, all much to the chagrin of the entire room. They then screened the entire first episode for the panel. While not to get into any spoilers, if this is the tone for the season going forward then we're in for an awesome final season.
Enjoyed this article? Share it!