AXS TV Chairman Mark Cuban has been making some noise recently about New Japan Pro Wrestling, whose programming airs on AXS each Friday night and which has been expanding its American presence over the past few years to include live shows and a streaming service, NJPW World, that's become popular with American wrestling fans.
"We are always looking for great content for the network and New Japan Pro Wrestling is the best pro wrestling in the world," Cuban told Sports Illustrated in an interview this week, touting AXS TV's success at adapting live events for an American audience. According to Cuban, NJPW is the best wrestling promotion in the world.
"New Japan is the best in the business at long-term storytelling that has a payoff, he said. "The tension between Kenny Omega and Cody has been building on AXS TV since June of 2017 when Cody tried to 'throw in the towel' during Kenny's title shot with Okada. Add in the iconic voice and storytelling of wrestling Hall of Famer Jim Ross and MMA champ Josh Barnett for July 7, and you have must-see TV."
Back in the early 1980s, another famous billionaire, Ted Turner, became involved with Georgia Championship Wrestling, the promotion which would later become WCW. In 1984, then-WWF owner Vince McMahon secured Georgia Championship Wrestling's Saturday timeslot on Turner's TBS Superstation by buying controlling shares in the company after Turner initially refused to sell him the timeslot outright. Adding insult to injury, McMahon chose to air a WWF clip show in the timeslot when WWF took over on July 14th, outraging both viewers and Turner in a day that went down in pro wrestling infamy as "Black Saturday."
Turner would go on to team with remaining GCW shareholders to form a new promotion, Championship Wrestling from Georgia. In 1985, Turner got McMahon to sell the TV timeslot to Jim Crockett Promotions, then controlling GCW, Mid-Atlantic Wrestling, and eventually Championship Wrestling from Florida. As the U.S. territory system continued to rapidly dismantle, Turner purchased WCW outright in 1989. When WCW top executive Eric Bischoff decided to take on WWF head-on in 1994, the company used Turner's endless supply of money to hire top WWF stars like Hulk Hogan and Randy Savage. In 1995, Bischoff convinced Turner to give WCW a live Monday Night timeslot opposing WWF's flagship show, Raw. WCW Monday Nitro went on to dominate Raw between 1996 and 1998, kicking off the era of the Monday Night Wars, whose cutthroat competition (and influence from a third upstart, Extreme Championship Wrestling), resulted in probably the most creative and innovative era in the history of pro wrestling. None of that would have been possible without billionaire Ted Turner, his penchant for wrasslin, and a grudge against Vince McMahon.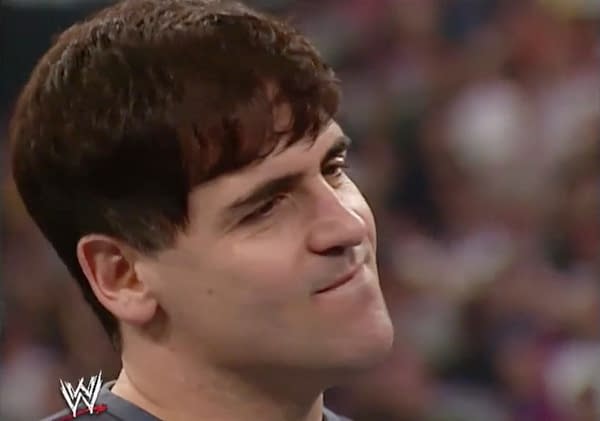 Between the expansion of NJPW and the rise in global prominence of alternative or indie wrestling promotions, the pro wrestling landscape feels more vital and teeming with possibility than it has since the end of the territory days. It seems like the perfect primordial soup that, with the right catalyst, such as a new contender with unlimited resources and the competitive spirit to take on WWE, could create results not unlike those of the late 1990s and save wrestling fans from what many consider conservative, uninspired, and uninteresting storytelling by a bloated and corporate WWE.
Is Mark Cuban the billionaire savior pro wrestling needs? Would he even be interested?
Cuban revealed in another interview with Sports Illustrated back in 2017 that he's a fan of wrestling.
"I even tune in to check out Jim [Ross]," said Cuban. "I can't say I'm hardcore, but the show is more focused on the wrestling–that's the glitz–than what you get anywhere else. The talent quality is equal to any of the other promotions, without question."
In that same interview, Cuban pointed out what he saw as the main barrier of entry for American fans: "[WWE Chairman Vince McMahon] thinks we're just little shits. We're not a threat because of the language. That's the biggest challenge, the language. But if you're a purist for wrestling, and you like the action, it's the best promotion by far. People here aren't going to connect as directly, but if you really love wrestling, then it's a no-brainer."
But New Japan has been catching on with English language viewers, in no small part because of the efforts of AXS TV to integrate NJPW with the Mixed Martial Arts programming that also runs on Friday nights. And Cuban was paying attention when WWE signed historic television deals with NBCUniversal and Fox earlier this year. For the Shark Tank star, the chance to follow in WWE's footsteps as TV networks look to live content to save them from streaming service domination may be too big to pass up.
"Our team is excited by the recent hiring of Harold George Meij as the new CEO of New Japan Pro Wrestling," Cuban said, revealingly. "His stated goal of increasing the amount of English content and increasing the international fanbase offers many opportunities for us to work together. We look forward to hearing his long-term strategy and having AXS TV play a major role in New Japan's U.S. expansion efforts."
So Cuban has the money. He seems to like wrestling. And he sees its potential as valuable content in the new age of television. The only missing ingredient is the grudge.
Cuban and McMahon aren't unfamiliar with one another. Cuban played a role in WWE Survivor Series in 2003, in an angle with Eric Bischoff and Randy Orton which ended with Orton delivering an RKO on Cuban. In 2009, Cuban was the guest host of Monday Night Raw and ended up put through a table by Sheamus (see video above). In 2007, Cuban wanted Vince McMahon and his wife, Linda McMahon, to get involved in his plans to launch a Mixed Martial Arts promotion to compete with UFC. When those talks didn't work out, Cuban started Fight Nights on HDNet, which would later become AXS TV, and which is focusing more and more on pro wrestling content from NJPW, one of the few promotions in the world with the history and stature to be considered a legitimate rival to WWE if it wasn't dwarfed in terms of sheer financial reach, a problem which Cuban, along with his money and business acumen, could theoretically solve.
Cuban could also have political motivations to compete with WWE. Though he is an avowed follower of the philosophy of Ayn Rand, Cuban was so disgusted by Donald Trump that he supported Democrat Hillary Clinton in the 2016 election. The McMahons, on the other hand, supported Trump, a former WWE Hall-of-Famer, with millions of dollars. Linda McMahon now serves on Trump's cabinet as head of the Small Business Administration. Could that be enough to fuel Cuban to help NJPW take on WWE and usher in the Monday Night Wars Part 2?
For the sake of the future of wrestling, perhaps we should pray it is.
Enjoyed this article? Share it!