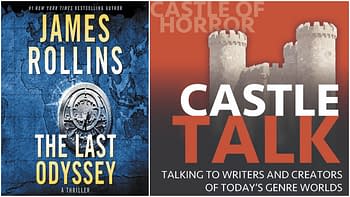 This episode we're talking to James Rollins, author of the new book The Last Odyssey from William Morrow/HarperCollins– a book in which Rollins' Sigma Force returns to investigate a mystery surrounding an ancient path to Tartarus, the Greek Hell. As Sigma Force investigates, different powers begin to move in on a radioactive discovery that could trigger a global war.
The book is the 15th in a series of what Rollins calls "scientific thrillers"—akin to technothrillers—action-adventure stories built around scientific discoveries. The new book, which comes out this week, currently holds the #1 slot in New Political Thrillers on Amazon.
Rollins held forth on the demands and requirements of a long-running series. For instance, because these books are grounded in reality, after years of questions in email he began to include sections in the back of each book on what is real and what isn't. He also contrasts the demands of his books—two a year, but thoroughly researched – to those of the pulp novelists who inspired him.  Rollins, who even names on of his characters after a teammate of Doc Savage, explains that the pulp novelists churned out one new short thriller a month (without an abundance of research.)
Also, because the Sigma Force contains many characters, Rollins is able to vary the books, focusing on different leads and even allowing characters to die if needed. It allows him to avoid what he calls the "Jessica Fletcher problem," where no one ever believes the lead is in danger.
He also talks about his process—five doubled-spaced pages a day, whether on his series or on the many singular novels he writes.
Listen here:
Listen on YouTube:
Jason Henderson is the host of the Castle of Horror and Castle Talk Podcasts, the editor of the Castle of Horror Anthology series, and the author of Quest for the Nautilus: Young Captain Nemo from Macmillan Children's Books.
Enjoyed this article? Share it!