AEW Full Gear Preview: Full Card, How to Watch, Live Results
Tony Khan just couldn't leave The Chadster alone, could he? Not even for one measly night?! Everybody knows that AEW Full Gear is taking place today, and AEW is all that anybody wants to talk about. Just this week, The Chadster was trying to buy a pretzel from Auntie Anne's at the mall, when he saw somebody wearing an AEW T-shirt. The Chadster threw his lemonade at the person and yelled, "How can you sleep at night while wearing that shirt?! AEW is ruining The Chadster's life!" Then, the people at Auntie Anne's recognized The Chadster, despite the fake mustache and really cool aviator sunglasses he was wearing, and said, "Hey, Chad, you know you aren't allowed back here!" And so The Chadster didn't get to enjoy his pretzel, and it's all Tony Khan's fault, and now The Chadster has to write about AEW Full Gear on top of it all?! Auughh man! So unfair!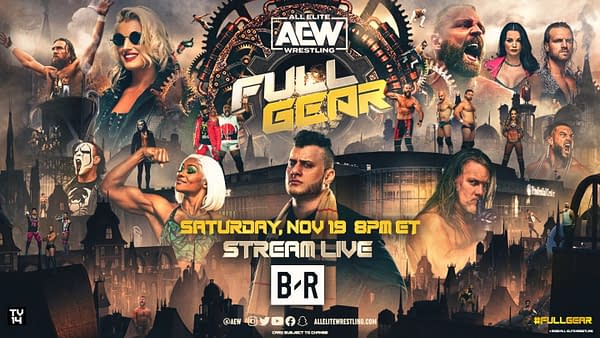 Personally, The Chadster thinks that AEW ought to have backed off this month knowing that WWE has a big Survivor Series PPV coming up, but all The Chadster hears about now is AEW Full Gear, everywhere he goes, Full Gear, AEW, Full Gear, AEW, it's driving The Chadster absolutely insane! Why can't Tony Khan just leave The Chadster alone? He has his billions of dollars. Why does he need The Chadster's sanity as well? It's pure spite, just because The Chadster doesn't care for AEW. Tony Khan just can't let it go.
Why is Tony Khan Doing This to The Chadster?
The Chadster can't take it anymore! Everywhere he looks, all he sees is AEW Full Gear. It's all anybody can talk about, and it's driving him insane! He's tried everything to get away from it, but it's like Tony Khan has put a spell on him. The Chadster has even started seeing AEW Full Gear in his dreams. It's like a nightmare that he can't wake up from. The Chadster is so obsessed with AEW Full Gear that he can't even think straight anymore. All he can think about is how Tony Khan is ruining his life and why Tony Khan has a personal vendetta against him and is trying to drive him insane. The Chadster is a wreck. He can't eat, he can't sleep, he can't even enjoy his pretzels anymore. All he can think about is AEW Full Gear, and how Tony Khan is to blame for everything. Everything.
The Chadster is so caught up in his obsession with AEW Full Gear that he's starting to believe that Tony Khan is actually controlling his mind, probably with subliminal messages in the shows that The Chadster is forced to watch. The Chadster can't even rule out the idea that Tony Khan is using some sort of black magic to control him and make him think about AEW Full Gear all the time. The Chadster is even starting to see Tony Khan's face in everything he looks at, staring back at The Chadster, laughing at him. It's like Tony Khan is haunting The Chadster. The Chadster is so consumed by his hatred for Tony Khan and AEW Full Gear that he can hardly even concentrate on using this article to tell the world about the evils of Tony Khan and AEW, because The Chadster can't even be sure… is Tony Khan making him do that too?!
But The Chadster understands that he has a responsibility, as the wrestling business's lone unbiased journalist — well, except for Ryan Satin, who is just as unbiased as The Chadster — to tell the world about what AEW has done to The Chadster in hopes that Tony Khan will finally pay for his crimes against humanity. And that's why The Chadster has been assigned to tell you all about Full Gear.
AEW Full Gear Full Card
AEW Full Gear is set to take place TODAY, Saturday, November 19th, in Newark, New Jersey. Here's the lineup for the show right now, besides Death Triangle vs. The Elite. Jungle Boy takes on Luchasaurus in a steel cage. Darby Allin and Sting face Jeff Jarrett and Jay Lethal in a tag team match. Saraya returns to the ring to face Britt Baker. The Elite are back in AEW and will challenge Death Triangle for the AEW World Trios Championships at Full Gear. Chris Jericho defends the ROH Championship against Bryan Danielson, Claudio Castagnoli, and Sammy Guevara in a four-way match. Wardlow defends the TNT Championship against Samoa Joe and Powerhouse Hobbs in a triple threat. Jade Cargill defends the TBS Championship against Nyla Rose. The Acclaimed defend the AEW Tag Team Championships against Swerve in our Glory. Toni Storm defends the Interim AEW Women's World Championship against Jamie Hayter. And Jon Moxley defends the AEW World Championship against MJF.
How to Watch AEW Full Gear
You can stream Full Gear on Bleacher Report, which is the way The Chadster hopes people do it because the service is so incredibly bad that maybe it will turn people off AEW forever and they will return to being loyal WWE fans like The Chadster. You can also buy it on PPV, where it's available on all major U.S. and Canadian providers, including Xfinity, Spectrum, Contour, Fios, U-verse and Optimum, plus DirectTV and Dish, or stream it on Fite internationally or with a VPN. You can even watch it in select movie theaters, which The Chadster feels is really taking things too far. but The Chadster has a better option: don't watch it at all, and wait another week for Survivor Series. That's what the Chadster would do, and that's what you should do to if you have any respect for the wrestling business at all.
AEW Full Gear Live Results
The Chadster will be updating this post with the latest live results from AEW Full Gear, so check back throughout the night to see the winners of each match updated, plus any important stuff that happens during the show, as well as why it is all part of Tony Khan's diabolical plan to ruin The Chadster's life.
Zero Hour Pre-Show
The Factory took on The Best Friends and their Best Friends in the first match of the Full Gear Zero-Hour pre-show. DAnhausen arrived late as the fifth man on Best Friends' side, delighting the crowd and making The Chadster absolutely sick. If there's one thing The Chadster can't stand, it's someone with a one-note character who really hams up their gimmick. Danhausen poured teeth into Nick Comoroto's match to get the pin for Best Friends and friends. The whole thing ended with a hug, which triggered The Chadster.
Renee Paquette interviewed Konosuke Takeshita, who just signed an AEW contract. The Chadster can't believe Takeshita would sign with AEW instead of WWE. Obviously, he doesn't understand the first thing about the wrestling business.
Next up, Ricky Starks took on Brian Cage in a semi-final match for the AEW World Championship Eliminator Tournament. The finals for this were supposed to take place at Full Gear, but instead Tony Khan pushed it to Dynamite next week, just to drag it our and rub salt in The Chadster's wounds even more! Why, Tony Khan?! Why?! Starks got the win with a Canadian Destroyer and a Roshambo to advance to the finals.
Next, they showed a new trailer for AEW Fight Forever, coming soon. What's wrong with the WWE 2K series? If it isn't broke, don't fix it, is The Chadster's motto. This game is pure vindictiveness on Tony Khan's part. He knows how much it bothers The Chadster, and he's doing it anyway!
Next up, Eddie Kingston cut an emotional promo on Jun Akiyama ahead of their match. Kingston got the win, an emotional triump for him, and devastating for the Chadster. The Chadster hates when AEW fans are treated to such a satisfying payoff! Akiyama bowed down to Kingston in respect, and they shook hands. If only Tony Khan and The Chadster could settle their differences this way… but Tony Khan just can't let things go.
Kingston cut a second emotional promo after the match. How many promos does this guy need?!
Commentary hyped the show and The Chadster can't believe the actual Full Gear PPV is only starting now. Auughh man!
Steel Cage Match: Jungle Boy vs. Luchasaurus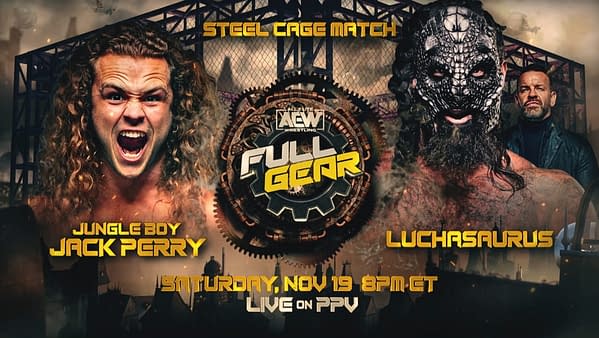 The steel cage matched opened the PPV, which is just crazy to The Chadster. Why would you want to get the crowd so excited when the show is just starting? Wrestling fans can't handle more than one or two high-octane matches on a single show, which Tony Khan would know if he paid attention to anything Vince McMahon has taught us over the years.
Luchasaurus brutalized Jungle Boy in the steel cage while his mom and sister watched from ringside. Christian Cage opened the door at one point so the action could spill outside, and got himself ejected. Jungle Boy made multiple comebacks and the stupid AEW fans ate up every single one. Come on! You're playing right into Tony Khan's evil hands!
After taking all that punishment, Jungle Boy won with an elbow drop off the cage through a table and the snare trap submission. Even Keighleyanne stopped texting that guy Gary for a few minutes to pay attention to this match, so now Tony Khan is turning The Chadster's own wife against him! So unfair!
AEW World Trios Championship Match: Death Triangle (c) vs. The Elite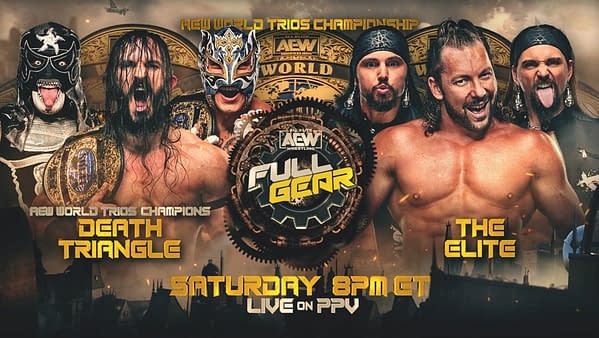 The trios match went on next, and after the champs came out first, The Elite arrived with their full entourage and a new theme song: Carry On my Wayward Son by Kansas. The crowd was so happy to see The Elite back, but not The Chadster. The Chadster was rooting for CM Punk in his quest to destroy AEW by humiliating Tony Khan and making him feels impotent as AEW makes The Chadster.
But no, The Elite won, a symbol of The Chadster's ongoing sexual impotence that he will never be free of as long as Tony Khan continues to carry out his vendetta against The Chadster by booking wrestling shows that compete with The Chadster's beloved WWE. This spotfest went on for what felt like forever and The Chadster was literally pounding White Claw seltzers while watching it. The Chadster finished one and a half seltzers during this match and it still wasn't enough to make him forget how badly Tony Khan has messed with The Chadster's life.
In the end, The Elite were unable to get the job done. They did prevent Pac from using his hammer, but Rey Fenix turned to the backside and used it to get the pin. The Chadster feels like this was really unfair because The Chadster would never have predicted this ending. Wrestling should be safe and predictable, and what Tony Khan is doing is ruining it!
The crowd, who don't understand the first thing about the wrestling business, absolutely loved this match. It probably feels to AEW fans like all is right in the world again now that The Elite are back where they belong, but to The Chadster, this is just another example of the unfairness of life when it comes to upstart wrestling companies challenging an established brand that rightfully earned a monopoly on the wrestling business, and doing it just to cheese The Chadster off! Dang it!
TBS Championship Match: Jade Cargill (c) vs. Nyla Rose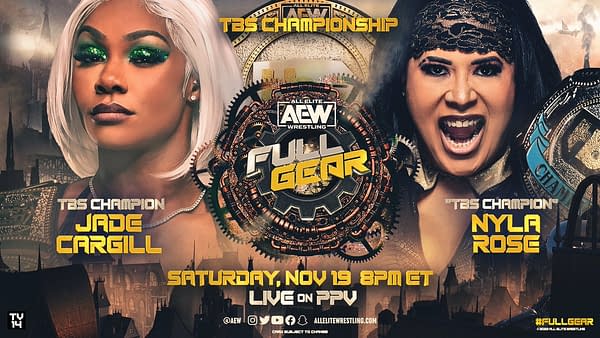 Nyla Rose and Vicki Guerrero made their entrance in a low rider, which they probably think is some kind of cute tribute to Eddie Guerrero, but The Chadster feels is a violation of WWE's copyrights! Then, Jade Cargill came out dressed like one of the Thundercats. Somebody call The Chadster's lawyer!
This match showed just how far AEW's women's division has come in just a few short years, though The Chadster feels they still have a long way to go. Specifically, The Chadster feels everyone in the AEW Women's Division should go to WWE where they can work for a real wrestling company! But no, these women are literally stabbing Triple H in the back by competing with WWE instead. They're destroying their own careers!
Nyla Rose is stronger than most of Jade Cargill's opponents, but Cargill still came out on top in the end of very physical match. The Chadster hopes that Cargill and Rose one day realize the error of their ways and give Triple H a call.
ROH Championship Match: Chris Jericho (c) vs. Bryan Danielson vs. Claudio Castagnoli vs. Sammy Guevara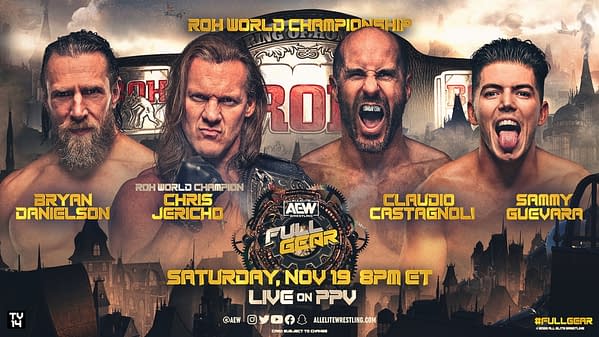 A lot of AEW fans complain about Tony Khan's purchase of Ring of Honor, but it's one thing The Chadster thinks Tony Khan did right. Yes, it's true that WWE feels Tony Khan stole the ROH tape library from WWE by rightfully buying it, and yes, The Chadster disagrees with pretty much every single booking decision Tony Khan has ever mad, mostly because they are not being made by WWE. But when it comes to ROH, the introduction of the company without a television show has so thoroughly derailed AEW's own wrestlers and storylines that it could well be the most damaging decision Tony Khan has ever made (after hiring CM Punk). So The Chadster hopes we get even more ROH on AEW TV starting next week!
Chris Jericho defended the ROH Championship against Bryan Danielson, Claudio Castagnoli, and Sammy Guevara. Though the match was divided along faction lines, it was a fatal four-way after all, which led to friction between teams. For Jericho, it was finally coming to blows with Sammy Guevara, who has been his sidekick pretty much since AEW started, when Jerich founded The Inner Circle. After the first time they came to blows, Sammy even pretended to make up with Jericho, only to betray him a second time. The Chadster feels that's nothing less than exactly what Chris Jericho deserves. He stabbed Vince McMahon in the back, after all, when he signed with AEW, and stabbed Triple H in the back when he recently signed an extension.
For Danielson and Castagnoli, it was pure competition for the title that led them to fight each other. This match epitomized the wrestling-first style of AEW, which frankly has no place in the wrestling business. For all of his talk, Chris Jericho really doesn't understand the first thing about sports entertainment.
But Jericho did win the match and keep his belt, leaving all three men laying in the ring. What's next for Sammy Guevara? Whatever it is, The Chadster is sure it will be carefully designed by Tony Khan to cheese The Chadster off, because Tony Khan is just so obsessed with The Chadster!
Saraya vs. Dr. Britt Baker D.M.D.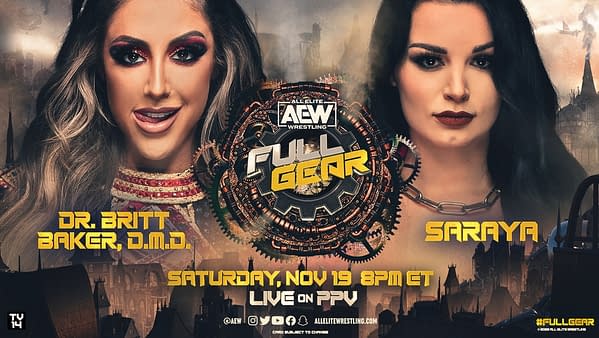 The Chadster just wants to point out that, in the promo video, Saraya stole John Cena's concept about never giving up. Is nothing sacred anymore!
The Chadster is glad that Saraya was able to get medically cleared and return from injury. Genuinely, The Chadster is happy for her. But The Chadster is extremely disappointed that she went behind WWE's back to it, joining AEW and essentially betraying Triple H. What did Triple H ever do to deserve that?
If WWE believed that Saraya couldn't wrestle anymore, then she should have gone along with it. At least, that's what she would do if she had any respect whatsoever for the wrestling business. The Chadster is surprised, given her family, that she wasn't brought up with more respect for the business, but it just goes to show, there's no one who can't be corrupted by Tony Khan's billions of dollars. That's right, Tony Khan. The Chadster is placing the blame squarely on you.
It turns out that Saraya really was good to go. She hasn't lost a step, and she put on a great match with Britt Baker. It played a lot on the drama of her neck injury and whether it would be reinjured, but she came out on top in the end. Just imagine how much better this match could have been if it happened in WWE instead. Shame on you, Saraya, for what you've done.
TNT Championship Match: Wardlow (c) vs. Samoa Joe vs. Powerhouse Hobbs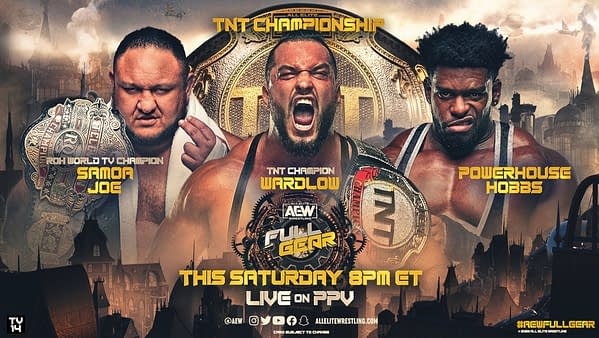 Three of the largest men in AEW collided in a triple threat match, and The Chadster can't help but feel like this was a personally targeted insult. Come on… where would you normally expect to see three very large men compete in a triple threat match? That's right. WWE. AEW should stick to tiny flippy floppers and stop trying to muscle in on WWE's territory in The Cahdster's opinion.
Because it was especially disrespectful to WWE, The Chadster felt even more guilty about sort-of enjoying it. The Chadster can't help it. He's been watching WWE since the day he was born so he just loves this style of match. The Chadster is sorry, WWE! The Chadster will make it up to you by writing a thousand more articles complaining about AEW!
Samoa Joe won the match by choking out Powerhouse Hobbs. It was the only way to get that title off of Wardlow, since Wardlow didn't have to get pinned or submit. Hobbs seemed to earn Wardlow's respect during the match. Maybe they will form a team called Warhobbs to replace Warjoe.
Now Wardlow has no title, but Samoa Joe has two. And The Chadster has something like four more matches to sit through tonight. The Chadster's wife has fallen asleep on the couch, mid-text to that guy Gary. The Chadster is really all alone out here, being personally targeted by Tony Khan and enduring it for the good of wrestling journalism. The Chadster hopes all of you readers appreciate what The Chadster is doing for you.
Darby Allin and Sting vs. Jeff Jarrett and Jay Lethal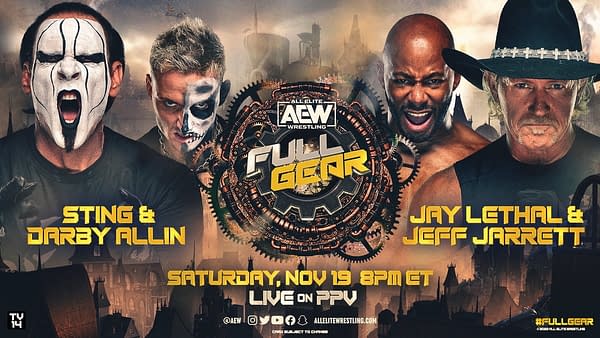 Before the match, Chris Jericho was interviewed by Tony Schiavone. Jericho said he's not mad at Sammy Guevara for trying to beat him earlier. Orange Cassidy challenged Jericho to a match on behalf of Tomohiro Ishii for the ROH Championship. Then he challenged Jake Hager to a match for his own All-Atlantic title. Both will happen on Dynamite.
Jarrett and Lethal had the advantage of Satnam Singh and Sonjay Dutt at ringside, Darby Allin and Sting evened the odds with Sting's supernatural powers and Darby Allin's disregard for his own safety. The fight spilled out into the arena and featured dives off ladders, dives off balconies. It was complete chaos, and didn't belong anywhere near a wrestling show, which should always be safe and organized at all times.
Some of Sting's powers must have rubbed off on Darby Allin because he no-sold a guitar shot from Jarrett. Sting and Allin then hit a combo Scorpion Death Drop and Coffin drop on Satnam Singh, and then Lethal to win the match.
It continues to amaze The Chadster that Sting continues to wrestle at this level at his age. Personally, The Chadster gives all the credit to Seth Rollins. Rollins powerbombing Sting's neck on that turnbuckle must have added a decade to Sting's career. Seth Rollins is a wrestling genius and Sting owes him everything, so really, if you enjoyed this match, it's WWE who should get the credit.
Interim AEW Women's World Championship Match: Toni Storm (c) vs. Jamie Hayter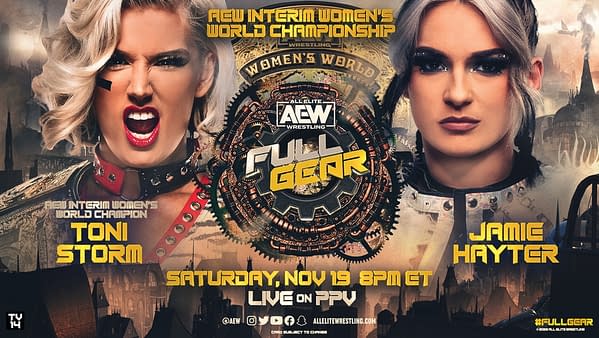 At this time of night, a typical WWE PPV would be ending. Ironically, if this was a WWE PPV, The Chadster wouldn't want it to end. The Chadster would want the WWE PPV to go on forever and ever, with The Chadster watching it. That would be heaven to The Chadster… and endless WWE PPV… in Saudi Arabia.
But this is an AEW PPV, and The Chadster wishes it would end, but it won't. That's because Tony Khan makes the PPVs longer just to spite The Chadster. He doesn't want The Chadster to sleep because if The Chadster gets more sleep, he will be even better his job of being the only unbiased reporter in all of wrestling journalism and exposing AEW for the conspiracy to RUIN THE CHADSTER'S LIFE AND BREAK UP HIS MARRIAGE that anyone can clearly see it is.
And if you need any more proof, just look at this match. AEW takes a lot of criticism for lackluster attention to the women's division, but this match between Toni Storm and Jamie Hayter was not only the best match of the night so far, but the crowd was hotter for it than any other match of the night to this point.
AEW fans love Jamie Hayter and they were behind her winning. The match was fast-paced and hard-hitting. It had lots of false finishes, and Toni Storm had her nose bloodied during it. Hayter finally won with lots of interference from Rebel and Britt Baker.
The crowd was so happy when Hayer won, but The Chadster was cheesed off. Dominance in women's wrestling is one of the few areas where nobody even tried to claim WWE wasn't better, but matches like this undermine WWE's authority, which is just so disrespectful. When Hayer won and The Chadster heard that crowd reaction, he dumped a can of White Claw Seltzer right over his own head. That's how upset The Chadster was. Now The Chadster is wet and The Chadster is sticky and it's all Tony Khan's fault! Aughh man! So unfair!
AEW Tag Team Championship Match: The Acclaimed (c) vs. Swerve in our Glory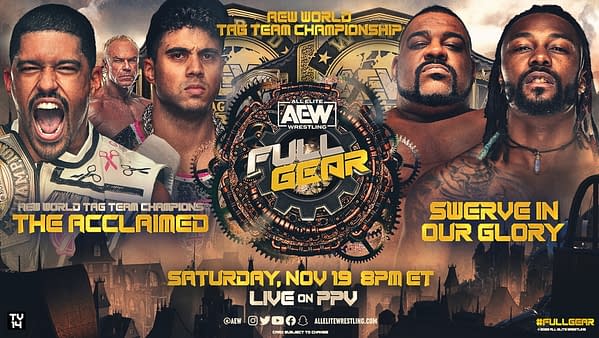 After the Womens World Championship match, The Chadster is surprised the crowd at Full Gear has any energy left. The Chadster bets that everyone in the arena is on Tony Khan's payroll. There's no way that anybody could this be excited for wrestling that isn't WWE.
But despite the time of night and all the energy the crowd spent by this point, they were still on fire for a double dose of rapping from Max Caster. The Chadster can't stand these raps because they're ripping off John Cena's gimmick. No wrestler should ever be allowed to rap because that's Cena's thing.
But the crowd loves The Acclaimed, which really cheeses The Chadster off. So The Chadster was rooting for Swerve Strickland and Keith Lee, even though they're traitors who stabbed WWE in the back by signing with AEW just because WWE fired them. What kind of reason is that?!
Amazingly, the crowd only got more excited as this match went on, especially when The Acclaimed kicked out of a few near falls. Swerve eventually got the pliers he used to mangle Billy Gunn's fingers and tried to use them on The Acclaimed, but that brought out Gunn (to a series of Daddy *** chants). As officials dragged Gunn away, Strickland tried to get Lee to use the pliers. When Lee refused, Swerve slapped him, so Lee walked out.
The Acclaimed had Swerve Strickland all alone and they took advantage to pin him and retain the tag team championships. This may have been The Acclaimed's best match so far, and it's not only put them over, but it's created a singles feud for Lee and Strickland. So The Chadster absolutely hated every second of it.
AEW World Championship Match: Jon Moxley vs. MJF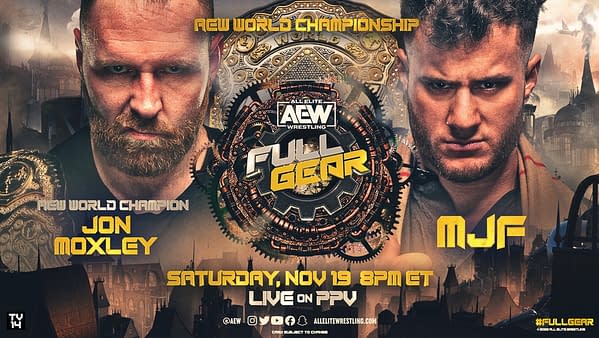 MJF entered first to a huge babyface pop for the main event of AEW Full Gear. Moxley wasn't booed during his entrance though, so he fixed that by giving the crowd the finger and wrestling like a heel. The crowd then chanted something very rude at Moxley. The Chadster frankly can't believe some of the language he's heard tonight, but this is what happens when you resort to trashy gimmicks like scissoring to sell tickets, Tony Khan. You're getting what you deserve!
A rabid crowd supporting babyface MJF in a match against heel Jon Moxley for the AEW Championship isn't something The Chadster ever thought he'd see, but The Chadster has come to expect Tony Khan to do literally anything to screw over WWE by producing compelling wrestling storylines that fans enjoy, spoiling the fans and undercutting all the work WWE has done to make wrestling safe and formulaic. This is the reason The Chadster has been unable to have sexual intercourse with his wife since before 2019, but somehow Tony Khan is allowed to just keep doing this, week after week, PPV after PPV. Doesn't anyone care about how this affects The Chadster?!
MJF gave it all he had, but it wasn't enough to overcome Moxley. So then he pulled the referee in front of Moxley to knock him out so he could cheat with the Dynamite Diamond Ring. But William Regal came out and MJF decided against it. Then Moxley accidentally knocked out a second referee so that no one was there to see him make MJF tap out.
As Moxley woke up the ref, Regal slipped Moxley his brass knuckles. MJF used them and got the pin, becoming the new AEW World Champion. In retrospect, Moxley should have seen this coming. Regal literally stabbed Triple H right in the back when he signed with AEW, so of course he would stab Moxley in the back as well. But Moxley also betrayed WWE, so he too got what he deserved. Hopefully, MJF takes the AEW Championship with him to WWE in 2024 and The Chadster can finally put this whole mess, and Tony Khan's weird obsession with The Chadster, behind him.
The Bottom Line on AEW Full Gear
Nobody who watched AEW's last PPV, All Out, even remembers what happened during the PPV because CM Punk's righteous tirade overshadowed everything. That was a dark time for AEW, and a great time for The Chadtser. The Chadster thought that could really be the end for AEW, and that The Chadster could finally get some peace back in his life.
But in the eyes of many fans, after tonight, AEW will have redeemed itself and moved on from the CM Punk drama, which The Chadster finds to be extremely unfair. The Chadster was looking forward to the day when he could turn on the television and know that WWE was the only wrestling show he was going to find. Well, maybe there would be Impact, but Impact doesn't count.
Instead, with AEW's top belts on popular and interesting stars, AEW has s real shot of lasting for a long time, which means that it may be years before The Chadster's life can be normal again. How is this allowed to happen? How can one man with billions of dollars be allowed to use his wealth and his professional wrestling company to bully a poor nobody like The Chadster? It isn't right, and The Chadster hope that one day Tony Khan realizes that what he's doing is wrong, shuts down AEW, and leaves The Chadster alone, and that's the bottom line 'cause Chad said so.