On last night's episode of AEW Dynamite, AEW announced their plans for Fyter Fest. Originally planned to take place in London, the event will instead presumably take place in Jacksonville as all episodes of AEW Dynamite are for the time being. Instead of a special event like last year's Fyter Fest, the show will instead be similar to Bash at the Beach, in that it will air as two special episodes of AEW Dynamite. The shows will air on July 1st and July 8th in the usual AEW Dynamite timeslot.
Fyter Fest already features two big matchups, as Jon Moxley is set to defend his AEW Championship against Brian Cage. Additionally, the Best Friends will get a shot at the AEW Tag Team Championships against Kenny Omega and Hangman Page. More matches will be announced in the weeks leading up to the event.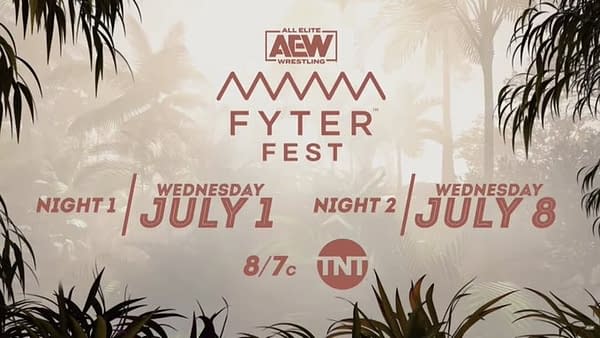 Although it seems obvious, Dave Meltzer confirmed on Wrestling Observer Radio today that the matches will play out more like PPV matches than TV matches, and they will be given more time than the usual Dynamite match. Meltzer also said the first night will be live, but the second night will be taped, as per AEW's current regular taping schedule. There was some confusion after last night's show because AEW initially seemed to say the show would air at 10 PM Eastern on each night, but Tony Khan took to Twitter to clear things up.
"AEW Fyter Fest, 2 nights on @tntdrama!" Kahn said. "I'm excited to bring Fyter to @AEWonTNT on July 1st + July 8th. Thank you to all of the great fans who've supported our pay-per-view shows and #AEWDynamite every Wednesday night! This one's on the house! Or these two rather." He added, "It's at the normal timeslot both nights. 8 PM ET/7 PM CT on Wednesday, July 1st and Wednesday, July 8th! Our postproduction team does an awesome job, we all worked hard on the show, sorry if we all missed that in editing." We can probably let that one slide considering we're getting a free two-night PPV out of it.
Enjoyed this article? Share it!