'Justice League Vs The Fatal Five': Kevin Conroy, Susan Eisenberg & George Newbern Talk JL [INTERVIEW]
It has been 15 years since Justice League Unlimited left the airwaves and Kevin Conroy (Batman: The Animated Series, Arkham Asylum), George Newbern (Scandal, Father of the Bride), and Susan Eisenberg (Justice League, Wonder Woman) last played the triumvirate of Super Friends together. This year at WonderCon 2019, the Terrific Trio sat down to gab about their epic reunion in Justice League vs The Fatal Five. A love letter to fans of the original voices and visual style the series, it also serves as bridge between the veteran heroes and the new generation.
I have to confess to being slightly star struck staring down the barrel of my shotgun mic at Batman, Superman, and Wonder Woman. If I close my eyes and just listen, I am sitting in the Hall of Justice with the founding members. As they sit down and start to get comfortable at our table I manage to ask (without cracking my voice) what it is like to "slip the tights back on" after so many years and do they still fit?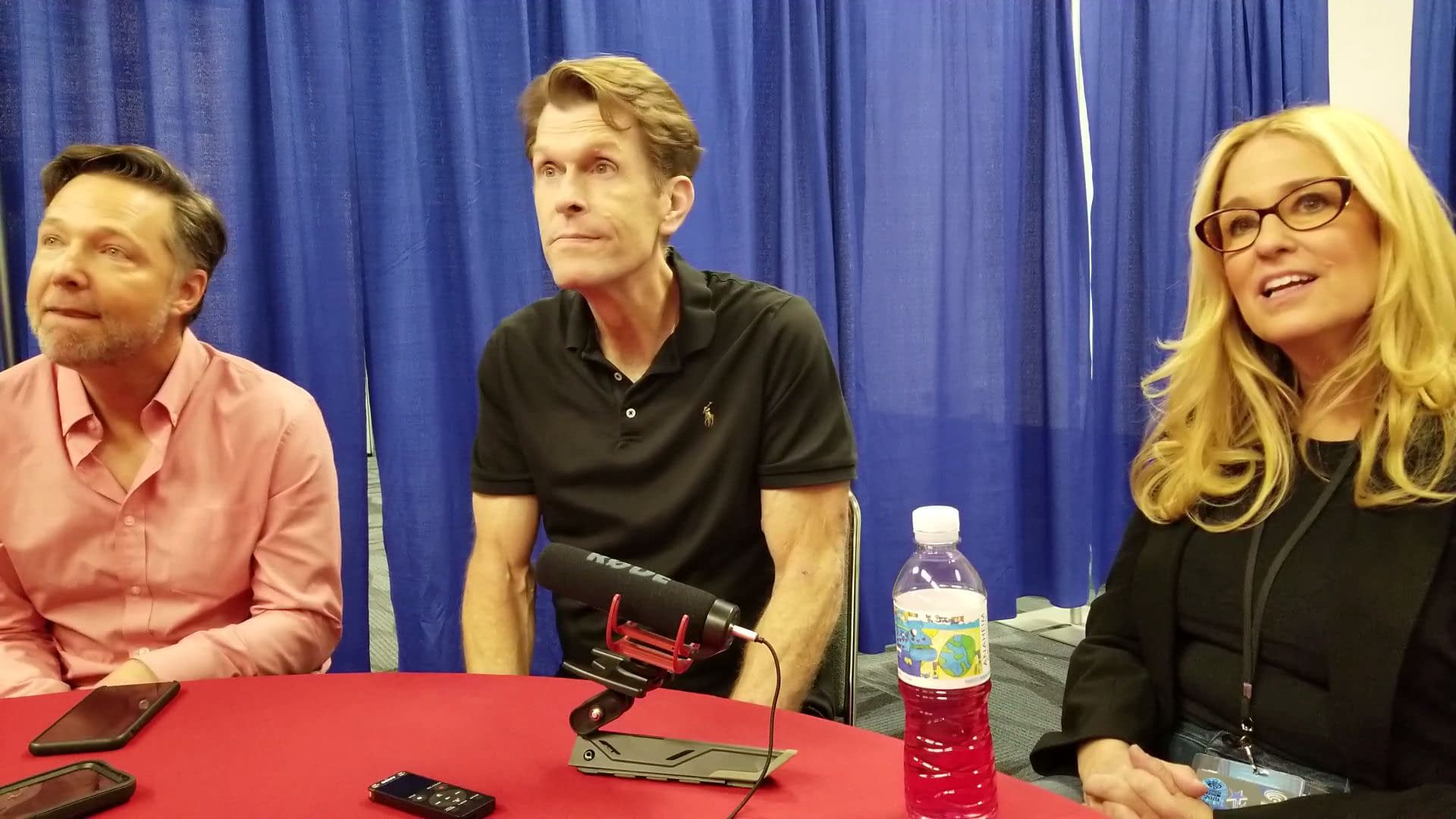 Newbern: A little tight. Little tighter, but good.

Conroy: I think these characters are so familiar to us that it is like putting on a familiar suit. We all know these charters so well. The trick is keeping them fresh. Keeping it alive. Keeping it new.

Eisenberg: And keeping the gig! (laughs) We don't have control over that so when the phone rings and they say we want you for that project , you're playing Wonder Woman. You get to play with these guys again. Very few jobs are this gratifying. Because I get to see these guys, and I get to play this extraordinary woman, it's amazing. It's wonderful
With Kevin having beenthe voice of Batman for 27 years, we asked if he had any reflections on the 80th anniversary of The Dark Knight:
Conroy: He is such a loved character by the audience. It's amazing how many Comic Cons, the passion that people have for that character, it's extraordinary. He is such a dark, complicated, damaged man. And people relate to that. They love that about him. And that he doesn't let his adversity crush him, they love that. There is a nobility about him, and people love that about him. So it's amazing to be associated with him.
Even though this movie is a happy reunion of of beloved characters, the crew touched on the darker themes that run throughout the film:
Eisenberg: And in this movie you have things like mental illness, and anxiety. This movie is dealing with that. I mean, it is very progressive in that way. Here you have, I mean, he (Batman) is a dark dude. But that's gonna spread throughout the whole movie. Jessica Cruz is dealing with anxiety.I mean, it's an animated film. I love that they're dealing with that stuff.

Conroy: They are very complicated characters, and the writers aren't afraid to explore that. And he is even more of an outsider, Batman, in this one. Because these new villains come in from the future, so he's an older outsider now.

Eisenberg: At least 80!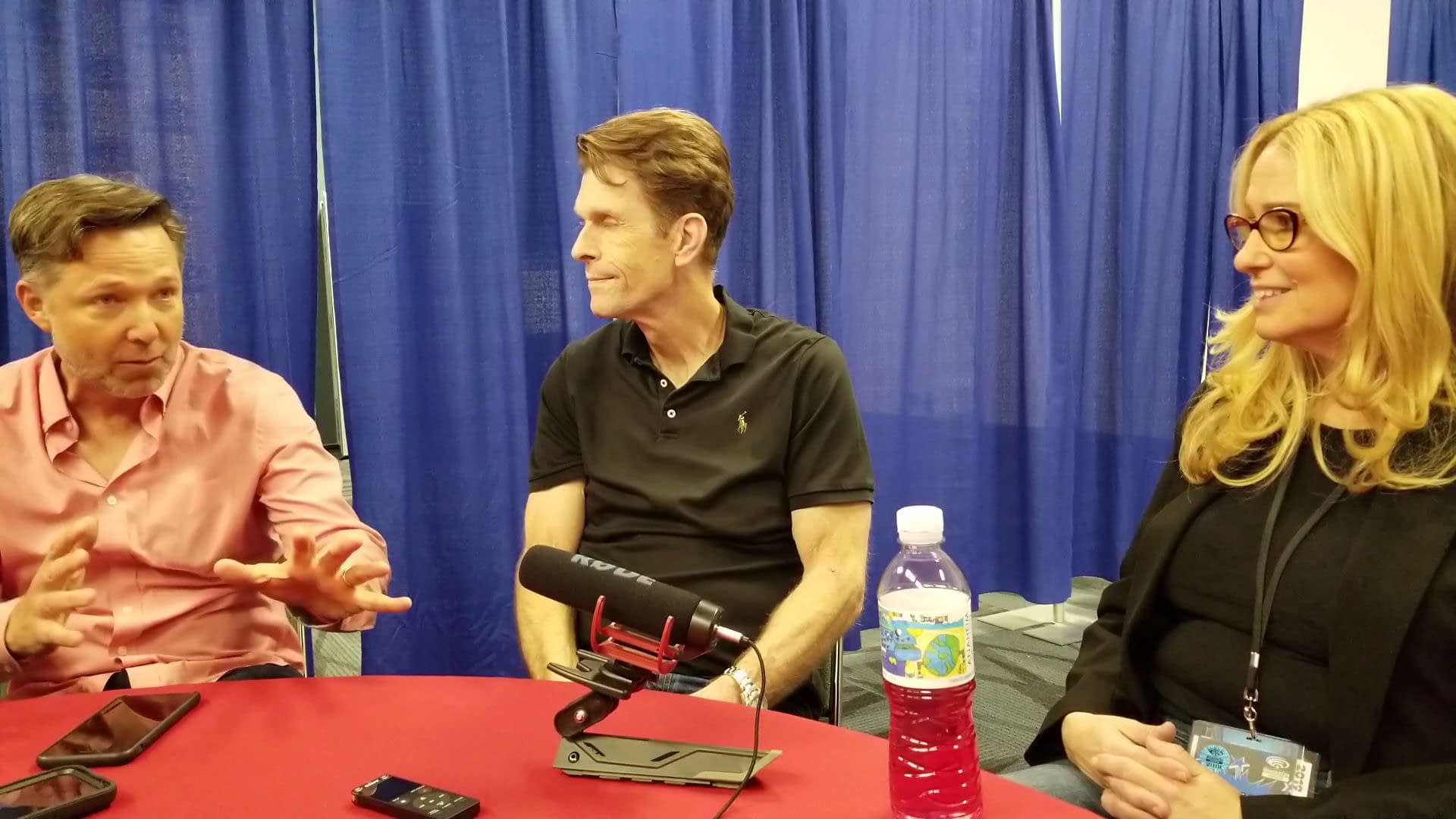 Not to be out done by the Caped Crusader, Superman has turned 81 so I asked George his thoughts on being associated with such an iconic character:
Newbern: It's nice to be associated with such an iconic franchise. My children's children, or whatever are going go " Hey that's my grandfather. He was the guy that was the voice of Superman. There are so few things, in Hollywood, as an actor you can say that you got to do an imprint on certain things. I've had a couple of those in different areas. This is definitely the longest running one of those.
Justice League vs. The Fatal Five serves as a bit of a bridge to introduce new, younger superheroes to the classic Justice League. We wanted to know what it's like to work with a new set of characters and villains that they haven't interacted with before:
Eisenberg: Like he [Kevin] was saying how to keep it fresh. So you get these characters that we've never interacted with, and actors we've not worked with before. So we are like the familiar, the cozy feeling that audience would have and then they're gonna see these new characters. It's kind of a win win for the audience and for us as actors. To keep it fresh.
With time regrettably growing short for our interview, the gang fondly remember the woman that invited all of them to the Hall of Justice:
Conroy: The wonderful thing about working at Warner Brothers was Andre Romano, she would cast everything . She had a very special way of picking actors who work well together and are giving, and actors are people. There are kind ones, and mean ones. There are generous ones and selfish ones. There are actors you want to work with, and actors you want to avoid. She always brought in people that played well together and were very giving. Every booking session was always always a joy. And that was Andrea. She always had an eye for actors.

Eisenberg: She would always say "Thank you for coming to play with us today." that's how she always phrased it. It was serious work but play, have fun. I mean Batman, Wonder Woman, Superman, come on.

Newbern: I really do, I miss her.

Conroy: So she was really a force behind all of us. It was great.
It was a bit of a short conversation but the trio also tell us how Conroy is celebrating Batman's 80th birthday, how much they love to work together, and how much they miss working with the legendary voice director Andrea Romano. All this and more in the full video below. Enjoy!
You can keep up with the Justice League actors on the Twittersphere by following Kevin Conroy, Susan Eisenberg, and George Newbern.
Directed by Sam Liu, Justice League vs the Fatal Five stars Kevin Conroy (Batman) George Newbern (Superman), Susan Eisenberg (Wonder Woman), Daniela Bobadilla (Miss Martian), Diane Guerrero (Jessica Cruz), Elyes Gabel (Star Boy), Sumalee Montano (Emerald Empress), Philip Anthony- Rodriguez (Mano), Matthew Yang King (Persuader), Peter Jessop (Tharok), Kevin Michael Richardson (Mr. Terrific), and Tom Kenny (Bloodsport), and is directed by Sam Liu.