Paige on Women in the WWE
WWE Superstar Paige appeared on WWE's The Bump talk show ahead of Sunday's Backlash PPV, and she talked about the current state of the Women's division in WWE and the Women's Tag Team Championships. Paige discussed how the titles weren't treated with the seriousness that they deserved after their original debut, but she feels like the state of the titles is better now and full of possibility.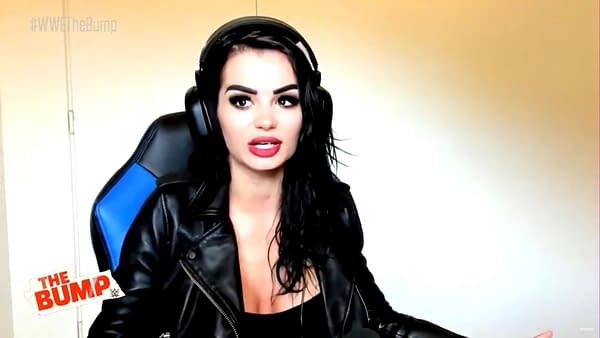 "I did say that the tag team championships have been underutilized and I still believe that," Paige said. "It's just that everyone that's had them hasn't had a chance to really defend them. The Women's Tag Team Championships were such a massive deal when they first appeared, so we were all super excited about it, but then I feel like they haven't really been taken seriously. So this is such a big deal now. You have Sasha and Bayley as the tag champions. Now, since they have so much star power, they can help with the other tag teams and then start this incredible tag team division. I just think it's such a great move of WWE to now involve NXT because NXT's not just the smaller brand anymore, it's its own brand. It's like Raw, Smackdown, and NXT. I feel like it's starting to come within the same level of that now. The girls down there are incredibly talented and I'm really excited to see it because I'm a massive fan of Tegan [Nox] too. We were saying how much we loved her on WWE Backstage. She is definitely a fan favorite over there. So yeah, I'm excited about it. I'm like, let's rock and roll. Let's do this thing. Finally there's a tag team division to look forward to."
Paige also believes that WWE needs to run another Evolution PPV. The first all-women WWE PPV took place in October of 2018 and featured a main event of Ronda Rousey vs. Nikki Bella. It also served as both a celebration of the history of female superstars in WWE as well as a showcase of the present, with Trish Stratus and Lita teaming up for a match on the card against Alicia Fox and Mickie James. Though the PPV was very well-received, WWE hasn't done another one since. But Paige thinks not only should WWE do another, but they should do a new one every year.
"We have to," Paige said of the prospects of another WWE Evolution PPV. "And I've been such a huge advocate for it too. We have to have another Evolution. Why is it just one and done and that's it? Like, 'okay you guys, you got your women's PPV.' No, we want one every year. And it's not because we don't want the men to be on it. It's just because we have so many women and we want to showcase what women can do. And it's amazing on the shows they get two or three matches, main events and stuff like that, but I just feel like having an all-women PPV is still a special thing. It gets to showcase people who are not on the show every week to really go out and do their thing and show what they can do. And it's inspiring too. You have all these little girls that come see the show and they're like 'I wanna be like Lacey Evans one day,' or 'I wanna be like Rhea Ripley.' It's an inspiring show. It's a very empowering show, and I just feel like we definitely need another one. 100%.