Undertaker Feels the Same as Fans About His Match with Roman Reigns
WWE legend The Undertaker has similar feelings to the ones you do about his WrestleMania 33 match with Roman Reigns, but for different reasons. The Undertaker called the match "disappointing" in an interview on ESPN, as transcribed by 411 Wrestling. However, it wasn't because the match was used as yet another way to force The Big Dog on a disinterested fanbase, a plan they would recently abandon in favor of pulling a "reverse Poochie." Instead, Undertaker feels he couldn't do enough to make Roman look strong due to he himself not feeling very strong in his advanced age.
"That was one of those times it was tough having the cameras there," The Undertaker said. "That was the first time that I watched that match back. I was so disgusted with it that I didn't want to watch it back. So, a little insight into how we used to do things. We used to have a pay-per-view on Sunday, and then obviously do TV on Monday. During catering, they'd be replaying the pay-per-view from the night before. Everybody would be watching the matches. I couldn't do it. I cannot watch myself in that atmosphere. I wouldn't watch my matches back until I was by myself, at home. No wife, no kids, nothing. I had to be by myself, alone. I wasn't looking for the good stuff. I was looking for the bad stuff. What I should have done when I did that [move]. I wanted to pick it apart. You can watch a match with your peers and they'll be like, 'Aw, man, that was awesome.' I don't want to hear that."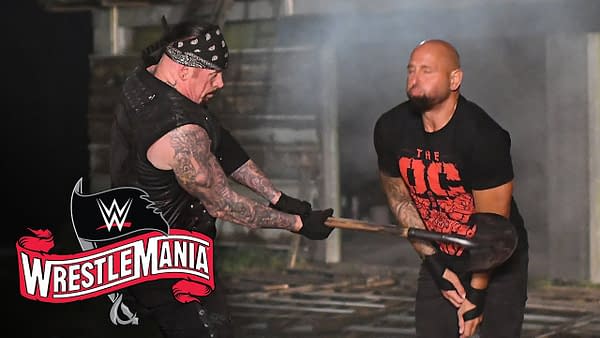 "Early on in my career, I watched everything back. Good, bad, indifferent," Undertaker continued. "As I got older … I know when I'm out there and I'm moving slow. I know when my limp is more prominent that it may be. Or when I'm behind in a spot. I just know now. "[Watching that match], I'm battling with it. I was so disappointed for Roman. Even after Brock Lesnar beat the streak, for guys coming up to have a match against The Undertaker at WrestleMania — especially where Roman was at — it was important for his career. Especially because he was going over. For me, in that role, I wanted to do the very best that I could do for Roman. I think the world of him. You want to be able to do the best you can for him, and you know you have no business being in the ring. Yes, I could have mailed it in. Protected myself. Only done a couple of things that I knew that I could do. But that's just not the way I work. And it wouldn't have been fair to him. So I just tried to do the best I could. The harder I tried, the more I did — at least in my perception — it was not a good night. It was really disappointing. Watching it back finally, and watching it back in front of a film crew, it was like … I didn't have to say much. You could just tell from the expression on my face that I wasn't really pleased with it."
If Undertaker thinks he wasn't pleased with the match, he should have seen the fans on Raw the next day.