WWE Raw 7/20/20 Report Part 3: Ric Flair is Conspicuous In His Absence
We've suffered long enough, and we're finally down to the third and final hour of WWE Monday Night Raw. In the first hour of Monday Night Raw, Seth Rollins took on Aleister Black over Rey Mysterio's honor. Rollins came out on top. Shelton Benjamin defeated R-Truth for the WWE 24/7 Championship and joined MVP's stable. MVP, Bobby Lashley, and Benjamin took on Cedric Alexander, Ricochet, and Mustafa Ali in a six-man tag match where Ali got the pin. Randy Orton, sans Ric Flair who is currently denying he has coronavirus, cut a promo about his plans to murder the Big Show later. In the second hour, Christian was interviewed over Zoom, Ruby Riott got her win back on Peyton Royce, and the Street profits beat Angel Garza and Andrade.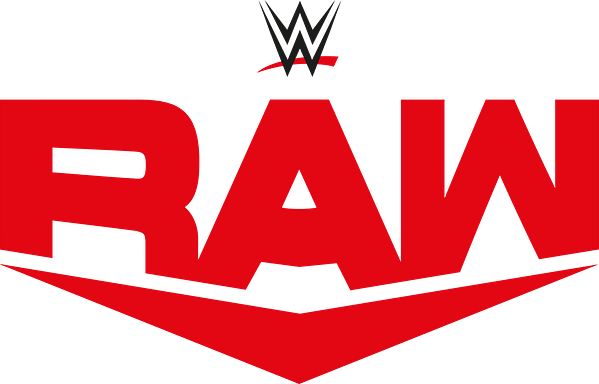 As the second hour came to a close, Bayley and Sasha Banks came to the ring to celebrate their wins last night, but Stephanie McMahon declared Sasha's victory invalid and set up a match against Asuka for next week to decide the Raw Women's Championship. Asuka and Kairi Sane came out and we were getting ready for a match when Raw went to commercials and entered the third hour.
Bayley vs. Kairi Sane
The bell rings for Bayley and Kari just as Raw comes back from commercials (how convenient). Kairi tries an early rollup and Bayley takes a breather in the ropes. Bayley comes back with some kicks to take control. Kairi fights back with headscissors and sends Bayley out of the ring. When Bayley tries to climb back in, she gets hit with the butt attack.
Kairi tries a pin inside but Bayley kicks out. Bayley drops Kairi on the turnbuckles, giving her Nia Jax flashbacks. Bayley chokes her on the ropes. Bayley is dominating Kairi. All of that dominating is hard work, so Bayley puts on a rest hold. Kairi fights back and hits a crossbody, but Bayley takes her back down and pummels her. Bayley tries a pin again to no avail. Bayley hits a suplex and gets a two-count. She tries another suplex but Kairi rolls her up with an inside cradle for two.
Now Bayley is pissed off. She hits Kairi with clubbing blows to the back and hits another suplex. Kairi goes to ropes and Bayley ends up on the apron. She wants to suplex Kairi to the floor, but Kairi blocks. She hits an ax kick to the back of Bayley's head and leaves her hanging on the ropes. Sane hits a double stomp off the top and Bayley rolls outside. Raw goes to commercials.
Kairi is still in control after the break. So naturally, Bayley takes back over right away. Bayley tries a writstlock on Kairi. We see Shayna Baszler watching the match backstage. Charly Caruso asks her if she has a vested interest in this match. Shayna says she's beaten every woman in this locker room. She's dominant. Does Charly want her to sit in catering or be part of the fake crowd? Baszler does have a vested interest in this match just like a shark has a vested interest any time it sees prey in the water.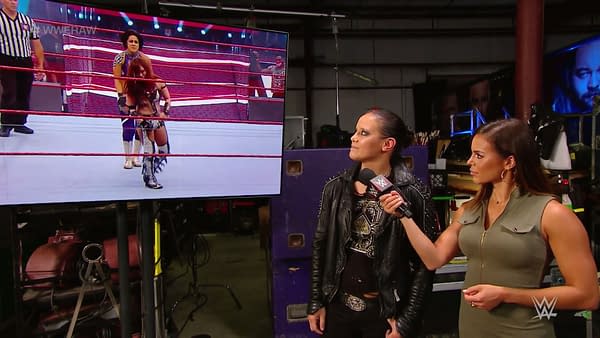 Back to the match, Kairi is making a comeback. She hits a DDT and a blockbuster. She goes up for the elbow drop but Bayley stops her. They fight on the turnbuckles and Bayley attacks the arm, sending Kairi to the apron. Bayley climbs up and lifts Kairi with an arm lock. Sane sweeps the legs and goes up top again. She hits a double stomp to Bayley's face. That gets a two-count. Sane tries for Sliding D but Bayley dodges. Sane hits a spinning backfist on Bayley and an interceptor, then goes to the top turnbuckle once more. She hits the Insane Elbow, but her arm is hurt. She takes too long to make the cover and it's too close to the ropes. Bayley gets her foot on the rope.
They run the ropes and Bayley hits a knee to Kairi's face and a belly-to-back suplex. Bayley goes up for her own elbow drop. She gets a two-count off of that. Bayley goes for the Bayley to Belly but Sane rolls her up and gets the win.
Winner: Kairi Sane
Man, any combination of Sasha Banks, Bayley, Asuka, or Kairi Sane is guaranteed to make a great match. Drew McIntyre is walking backstage when Sarah Schrieber ambushes him, wanting to know about his condition after last night. Drew says he feels like he's fallen down several flights of stairs, but he's still champion. He's heading to the ring now to discuss his future. Raw goes to commercials.
"Raw" Promo – Drew McIntyre
Drew McIntyre does indeed come to the ring. Read about his match with Dolph Ziggler last night here. McIntyre hands it to Dolph for his stipulation choice last night. Drew pretends Ziggler made good use of the situation and almost beat him. Hahaha. But Drew says almost doing things is the story of Ziggler's career. As for Drew, it's onwards and upwards to SummerSlam. Drew wants a worthy opponent. Unfortunately, Ziggler comes out.
Ziggler says that last night, Dolph saw something in Drew he hasn't seen in a long time. Dolph saw fear. Drew asks him what he's doing out here. He just beat him last night. Dolph says the whole world saw them beat the hell out each other for the WWE title. Dolph was "this close" to winning the title and finally having his moment. Drew had a 19-year journey, buy what about Dolph's journey? What about Raven?
Drew tells Dolph to "bugger off." Dolph insists he wants another match. Drew says he's embarrassing himself. Drew says he's gonna save him the embarrassment and leave. Dolph tries to stop him and Drew decks him. He tells Dolph the answer is no and starts to leave.
Dolph tells him not to walk away from him. He deserved that match last night. He could feel it slipping away from Drew. Dolph says he'll do anything. Drew can name any stipulation. Whatever it is, Dolph doesn't care. Drew says all those years at law school weren't wasted. Dolph presented a compelling case and changed his mind. Drew accepts. Dolph wants to know what it is. Drew says he doesn't know, but if he did, he wouldn't tell him. He's gonna tell Dolph the stipulation right before the bell rings.
This can't possibly be taking place at SummerSlam, right? Like a week or two tops on Raw and then a real feud?
"Raw" Backstage Promo: The Big Show
Backstage, The Big Show says he'll be standing across from Randy Orton with Ric Flair by his side. (Uh, you might want to check the internet, Show.) Randy is the apex predator and he's had a great year. He tore Edge's tricep. He killed Christian's career again. Randy is lashing out at all his friends, all the people who helped Randy in his career. Big Show would be foolish not to realize his career is jeopardy getting in the ring with Randy Orton. Big Show prayed for a long time that the Legend Killer would come back, but he guesses the voices in Randy's head just got too loud. The voices are screaming at Randy to have no empathy or compassion. Big Show is reminded of a time when he and Randy were riding together and tag-teaming. Their nickname was Hammer and Chisel. They bonded, talking about their careers and their legacies and being like tigers trying to change their stripes. They wanted to overcome their typecasting and they understood each other.
But that's changed now. Randy is back to being the Legend Killer and he has a boot with Big Show's name on it. Big Show spent the last week staring at himself in the mirror, wondering if this will be the end of his career. Big Show admits it might be. But there's another saying about tigers: a tiger is its most dangerous when it senses the end because it will do anything to survive. Big Show knows it might be the end of the line, but he'll do anything to make sure Randy Orton doesn't write the end of his story. Big Show is a tiger. Rooowwwrrrr. Commercials.
The Big Show comes to the ring. Raw has about 15 minutes to kill here, so Big Show walks slowly. Orton comes out, with no Ric Flair. Did Big Show cut that promo last week? Phillips calls Flair "conspicuous by his absence."
The Big Show vs. Randy Orton (Unsanctioned)
Big Show goes after Orton as soon as the bell ring. Size and strength are enough for now. Big Show hits a few big chops and works Randy's arm. Another big chop in the corner. Big Show taunts Orton. He hits a massive punch to Orton's chest. Then an elbow to the back of the head. Orton is on the retreat. Big Show pounds him in the corner again. He grabs him by the arm and punches him in the shoulder, playing off Orton's many injuries. Orton tries a comeback but Big Show hits a spear.
Orton rolls outside and Big Show follows. Big Show grabs a table and puts it in the ring. Then he fetches Orton and puts him in the ring, stopping to slap him in the chest again. Big Show is attacked by Andrade and Angel Garza. They send him face-first into the ring post. They hold Show while Orton lines up for a punt, but the Viking Raiders come out to make the save. Raw goes to commercials.
Orton has Big Show in a headlock after the break, but Big Show powers out and headbutts Orton, knocking him right to the mat. Oh thank god, Tom Phillips tells us that match between McIntyre and Ziggler will take place next week so that feud can finally end. Big Show hits a butt bump in the corner, but Orton comes back with a dropkick to the knee. Orton wants the punt, but Big Show gets the goozle. Big Show chokeslams Orton and gets a two-count.
Big Show wants the Knockout Punch, but Orton heads out of the ring. Big Show sets up that table from earlier. He pulls Orton back into the ring and tosses him. He puts Orton on the table and climbs the turnbuckles. He hits a splash off the second rope through the table. Unfortunately, Orton was no longer on it. Orton hits the RKO. Big Show kicks out.
Orton goes outside and gets a chair from under the ring. He brings it inside and jabs Big Show in the gut with it. Then he hits him in the back. He gives him another big shot in the back while he's on all fours. Big Show is selling like a motherf**ker. Big Show climbs out to the apron. Orton hits him in the gut and the back then pulls him over the top rope for his draping DDT. Orton starts pounding the mat. He hits the RKO. That gets the three-count.
Winner: Randy Orton (was there any doubt?)
Orton eyes up Big Show after the match. Show struggles to get to his feet. Orton lines up the punt kick. He hits it. Orton whispers in Big Show's ear: "I told you. I told you. I told you. Just like all the others. One more legend down." I wonder how this was originally supposed to go down? I was thinking Flair would have a change of heart and try to stop Orton from punting Big Show and end up eating the punt himself. But COVID-19 (which Flair totally doesn't have) is a bitch.
Well, that's another week of Monday Night Raw. There were some good matches tonight. The main event was good, and Bayley vs. Kairi Sane was fantastic. The rest of the matches were fine but not particularly exciting. Next week's Women's Championship match should be great though. And so long as Dolph Ziggler isn't wasting another PPV, his match with McIntyre next week will be good too. Of course, there's like eight hours of wrestling to go this week, so I'd better get some sleep!