Batman Gets a Life-Size Bust for His Tactical Suit from Infinity Studio
Batman in his tactical suit is probably one of the most made and put out collectibles from the film Justice League. Ben Affleck was an amazing Batman in my opinion and I love what he has done with the character. The darker style on the Dark Knight was something we haven't seen often whether in the cartoon, TV or in the movies. It was interesting to see the conflict and the edge brought alive. Infinity Studios is bringing Batman back in the spotlight yet again in a new life-size bust. The bust stands 37 inches tall in features swap out eyepieces, one being the shades and the other just his eyes. The statue is highly detailed, almost realistic with Ben Affleck's take on the character. You can even see the stubble on his face. The statue was posed with Batman in action with a batarang ready to go. The suit is highly detailed and you could see even the smallest texture of the batsuit on the bust. The amount of time and effort put into the statue makes something definitely special and unique and perfect for any batcave, Batman fans or fans of the Justice League film.
The Justice League Life-Size Tactical Suit Batman Bust from Infinity Studios does not have release details or a price just yet. We do get a nice set of pictures showcasing this bat-tastic bust. Stay tuned for further information from Infinity Studios or us here at Bleeding Cool.
"I'm putting together a team of people with special abilities. See, I believe enemies are coming."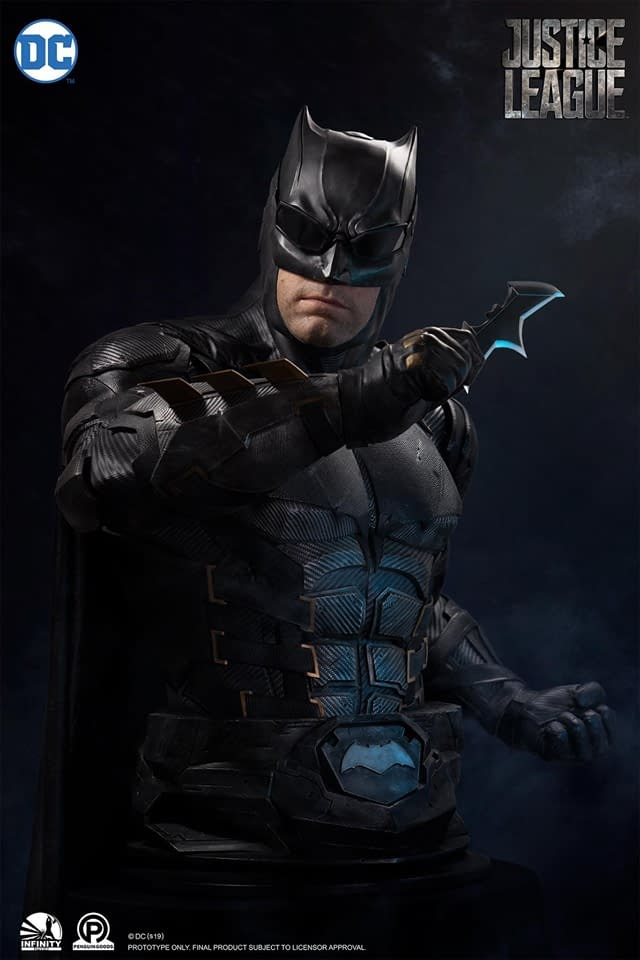 Infinity Studio DC series 1:1 Batman Life Size bust.
Authorize by Warner Bros, 95cm in height , crafted base on the Ben Affleck's Batman appearance and featured medical grade silicon to create the likeness of the face and also featured punched facial hair. The bust showcase Batman Tactical Batsuit with pose of holding batarang , signaling the batarang is ready to be thrown. In additional, interchangeable eye pieces is also included.
As Batman 80th anniversary, we would like to present this 1:1 Bust to all the Batman fans !
Stay tuned for PO info