Batwoman is finally getting her television debut and we are all patiently waiting to see how it plays out. I have been a fan of the Arrowverse since the beginning, so I have high hopes. With Arrow leaving the scene this fall, someone has to take on the dark and gritty tv superhero world. When I saw her recently released statue I just had to get one.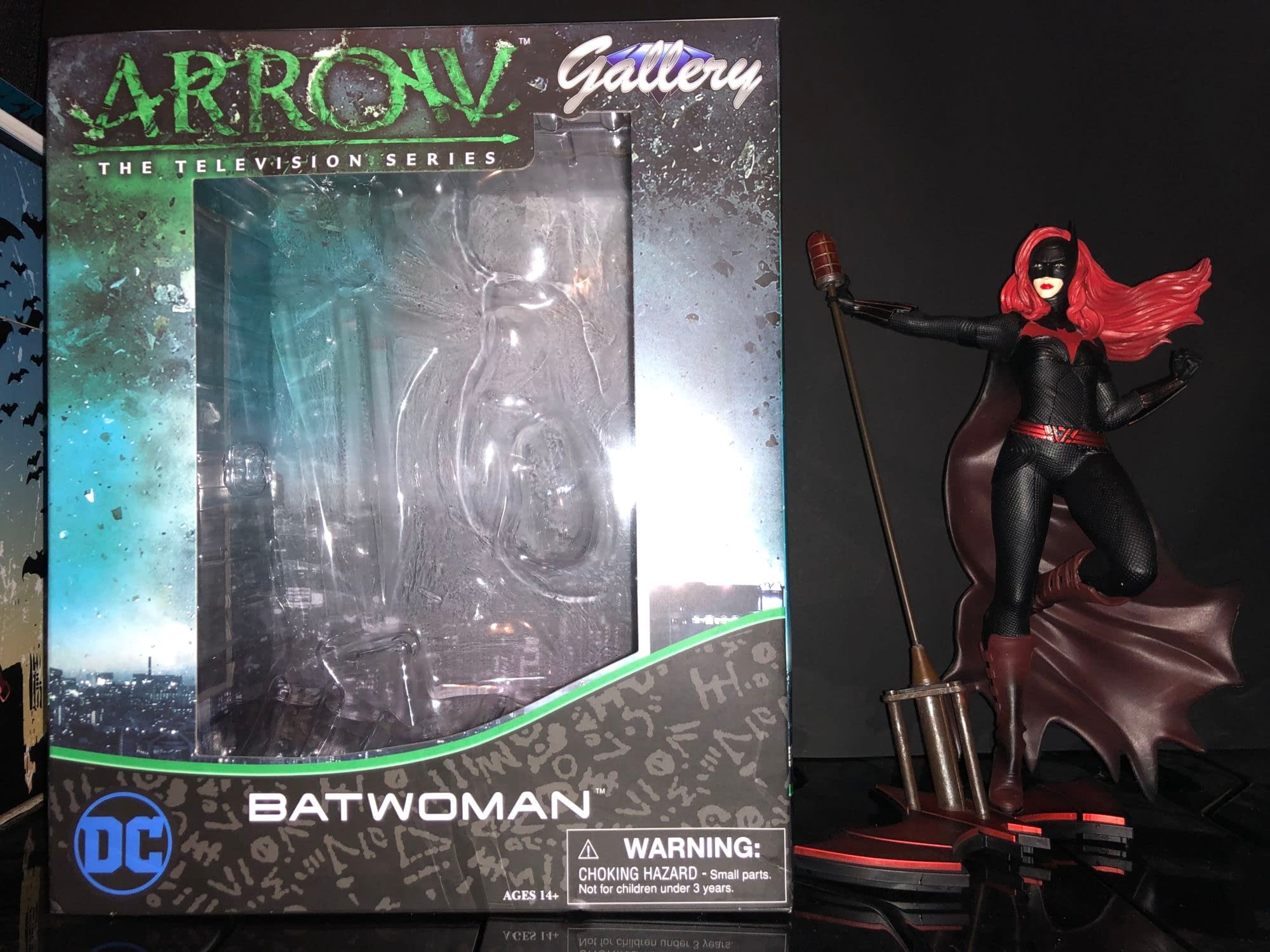 Like always we have to start at the packaging. This time, there is nothing crazy special about Batwoman's box beside her description. Like most of the Diamond Gallery statues; clear windows on three sides and a picture and description on the back. 
I honestly love the Diamond Gallery statues series. They are cheap and they are still packed with details. Specifically for Batwoman, it's her costume that stands out to me. Her costume shows the treading on it and that just blows me away. No paint smears or any other physically distortion of the statue either. 
They gave Batwoman a wind effect motion, so her hair and cape are blowing in the wind. It works well with the design though. The layers of her hair and the color or bright and easily stand out from the black Batwoman costume. You can't see it without a camera flash but even her eyes are detailed with a green tint. It's sometimes just the little things that can make collectible pretty awesome. 
Her base and the lamp she is holding on too are pretty cool too. All it is is a red thin batwoman symbol with the light sticking out of it. Nothing about it signals Gotham but you can somehow feel it. This is the first showing off her full costume and the show hasn't even come out yet. I love the look of Batwoman, the red symbols and paint shine compares to the black counterpart. It defiantly makes a statement to show off she is not her cousin. 
This is an amazing statue from Diamond Gallery, for the cheap price it packs a lot of punch. The design of Batwoman defiantly makes her stand out from the rest of the Arrowverse family. With this being one of the first times, we are seeing Ruby Rose taking the Batwoman mantle, this statue just gets be more excited for the upcoming series. I hope we can get a lot more DCTV statues to come out of Diamond, they are sturdy and plastic so they don't break easily like the more expensive ones. Don't just take my word for it, if you want your own Batwoman statue, she is available for purchase here. She priced at $45, which is an amazing price and there are a lot more Arrowverse statues on the market already so check them out too.