Black Panther Gets Two New Hot Toys: Shuri and the Wakanda Throne!
Black Panther Hot Toys collectors will be adding two new pieces to their collection soon. Shuri, the breakout character from the film and played by Letitia Wright is getting her own Hot Toys release. She will have seven pairs of interchangeable hands, her vibranium gauntlets, spear, neck ring, and detailed outfit from the film. She will run you $228.
The other piece seeing release is a Wakanda Throne. That features metallic paint, wood finishes, and looks amazing with T'Challa and others sitting on it. That will run you $110.
Both will be out in fall of next year. You can check out tons of pics and details down below, and preorder for yourself here.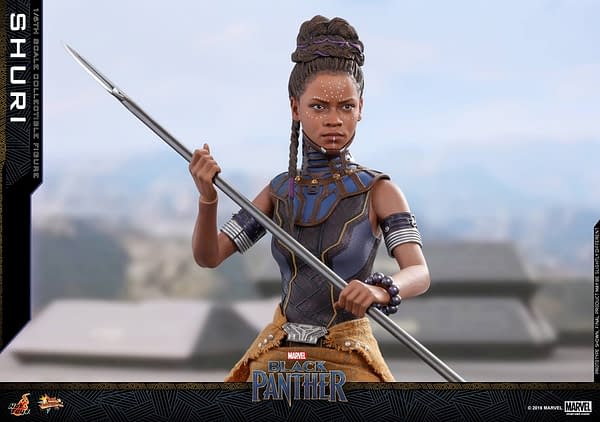 "The Black Panther fights for us. And I will be there beside him."

Black Panther, one of the movies released by Marvel Studios earlier this year, keeps smashing records and exceeding the box-office and expectations. The Princess of Wakanda, Shuri, is the leader of the Wakandan Design Group responsible for developing this African Nation's modern technology. When the young King T'Challa is drawn into conflict that puts his homeland Wakanda and the entire world at risk, Shuri has proven herself a great backup on creating new security system and weapons, including the Panther Habits and her cool looking panther-like gauntlets.

Received a tremendous amount of attention in the already-happened exhibitions in San Diego and Hong Kong recently, Hot Toys is more than excited to introduce fans today the long awaited 1/6th scale collectible figure featuring T'Challa's innovative little sister – Shuri of Black Panther.

Beautifully crafted based on the appearance of Letitia Wright as Shuri in the movie, the highly-accurate collectible figure features a newly developed head sculpt with detailed hair sculpture, a newly developed body, an adorned elaborate new battle suit and neck ring, a Wakandan pattern sash, a wide range of weapons and accessories including a pair of LED light up Vibranium Guantlets, a spear, a Kimoyo Beads bracelet and a movie themed figure stand!

Gear up now to defend Wakanda with Shuri and her eye-catching weapon!

Specifications
– Product Code: MMS501
– Product Name: Shuri
– Height: Approximately 29 cm tall
– Points of Articulations: 28
– Special Features: A meticulously tailored brown and blue colored patterned jumpsuit with neck ring, A LED light up Vibranium Gauntlets
– Artists: Head Sculpted by So Young Lee. 3D Designed by Da-Hye Kim
– Head Painted by E-Lee & JC. Hong
– Head Art Directed by JC. Hong

The 1/6th scale Shuri Collectible Figure specially features:

– Newly developed head sculpt with authentic and detailed likeness of Letitia Wright as Shuri in Black Panther
– Movie-accurate facial expression with detail skin texture and makeup
– Brown color hair sculpture with braided hairstyles
– Approximately 29 cm tall
– Newly developed body with over 28 points of articulations
– Seven (7) pieces of interchangeable hands including:
– One (1) pair of fists
– One (1) pair of relax hands
– One (1) pair of hands for holding spear
– One (1) gesture right hand
– Each piece of head sculpt is specially hand-printed

Costume:
– One (1) meticulously tailored brown and blue colored patterned jumpsuit with neck ring
– One (1) pair of silver and blue colored arm bands
– One (1) yellow colored Wakandan tribe sash with silver colored buckle

Weapon:
– One (1) pair of LED light up Vibranium Gauntlets (blue light, battery operated)
– One (1) spear

Accessories:
– One (1) Kimoyo Beads bracelet
– Specially designed Black Panther themed hexagonal figure stand with character nameplate and movie logo
Black Panther is stunning in reimagining Africa's aesthetic and cultural aspects on a cinematic experience, and fans were deeply amazed by the awe inspiring landscapes and gorgeous infrastructure of Wakanda including the Throne Room. Today, Hot Toys is thrilled to expend on Black Panther Collection series with the one-of-a kind Wakanda Throne reserved for the young King of this futuristic African Nation.

Perfectly crafted with authentic and fantastic details, the movie-accurate 1/6th scale Wakanda Throne collectible stands approximately 32.5 cm in height, 19 cm in width features an extra-high back peacock chair that beautifully combined with woven rattan ends, decorated with Wakanda's unique graphical script, and finished with metallic painting and natural wood grain texture intricately.

Bring the wild excitement of Marvel Studios' Black Panther to life with this highly-detailed Throne for the heir of Wakanda!

Specifications
– Product Code: ACS005
– Product Name: Wakanda Throne
– Height: Approximately 32.5 cm tall and 19cm wide
– Special Features: Specially applied multi-layered metallic painting with weathering effect and natural wood grain texture

The 1/6th scale Wakanda Throne Collectible specially features:

– Masterfully crafted with authentic and fine details of the Wakanda Throne in Black Panther
– Approximately 32.5 cm tall and 19cm wide
– Brown and silver-colored high back chair
– Specially applied multi-layered metallic painting with weathering effect and natural wood grain texture