Chocolate Peanut Butter Banana French Toast From Disney: Nerd Food
Are you one of the countless millions who long for the magic of the Disney Parks? Do you crave that delicious park food that somehow tastes better than what you can make at home? We here at Bleeding Cool understand, and it's clear that Disney also understands! Over the past few days, Disney has been releasing recipes to some of their most popular items. I haven't tried their churro or dole whip recipe yet, but this French Toast recipe looks too good not to try. I haven't had the Chocolate, Peanut Butter, and Banana French Toast from Disney's PHC Grill inside of Disney's Paradise Pier Hotel, so this is a great way to get my feet wet! What you'll need: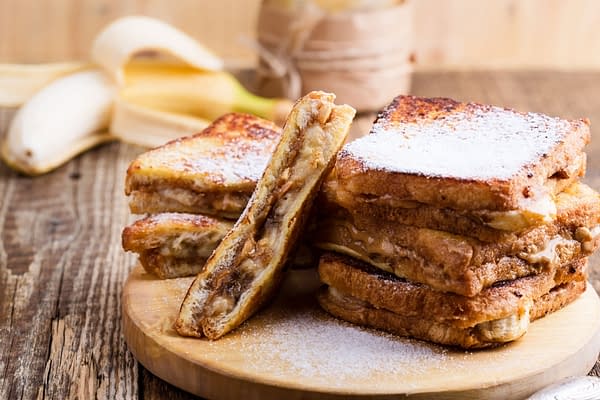 8 thick slices day-old challah bread
2 ripe bananas
1/4 cup chocolate chips
1/2 cup creamy peanut butter
6 eggs, lightly beaten
3/4 cup low-fat chocolate milk
1 teaspoon ground cinnamon
1/4 teaspoon salt
Chocolate syrup and powdered sugar, optional
Directions:
Preheat oven to 350ºF. Coat a 9x13x2-inch baking pan with nonstick spray. Set aside.
Cut bread into 1-inch cubes and place in a large bowl. Slice bananas into 1/2-inch slices, and add to bowl. Stir in chocolate chips.
Combine peanut butter, eggs, chocolate milk, cinnamon, and salt in a blender. Process until smooth.
Pour egg mixture over bread mixture. Stir gently until bread cubes have absorbed egg mixture.
Pour mixture into prepared baking pan. Bake for 35 to 40 minutes, or until top is golden brown.
Before serving, drizzle with chocolate syrup and dust with powdered sugar, if desired.
Chef's notes point out that Challah is a traditional Jewish yeast bread, rich with eggs, sweetened with honey that makes the best French toast. While I have made French Toast with regular white bread, I strongly urge you to use challah. If you can't find challah at your local grocer, it's not super hard to make. Plus, challah is delicious by itself too. Have you made this recipe yet? Is it filling in that void left by not enjoying delicious Disney Park food?