Conan 2018 SDCC Funko Pops Revealed: Hellboy, Ant-Man, and More!
Conan O'Brien takes over San Diego every year for SDCC, and the last couple of years have seen the audience of the shows tapings leave with something special: their very own Funko Pop of the host as a Pop culture icon. Well, they have revealed this years Conan Pops, and they are some of the best yet.
As you can see from the video, Conan will be an X-Wing pilot, Hellboy, Ant-Man (complete with mini-Conan!), and a Predator. That Predator Conan with the dreads is particularly awesome. One will be available at each taping, although they are random. We can make a few guesses based on the schedule, however: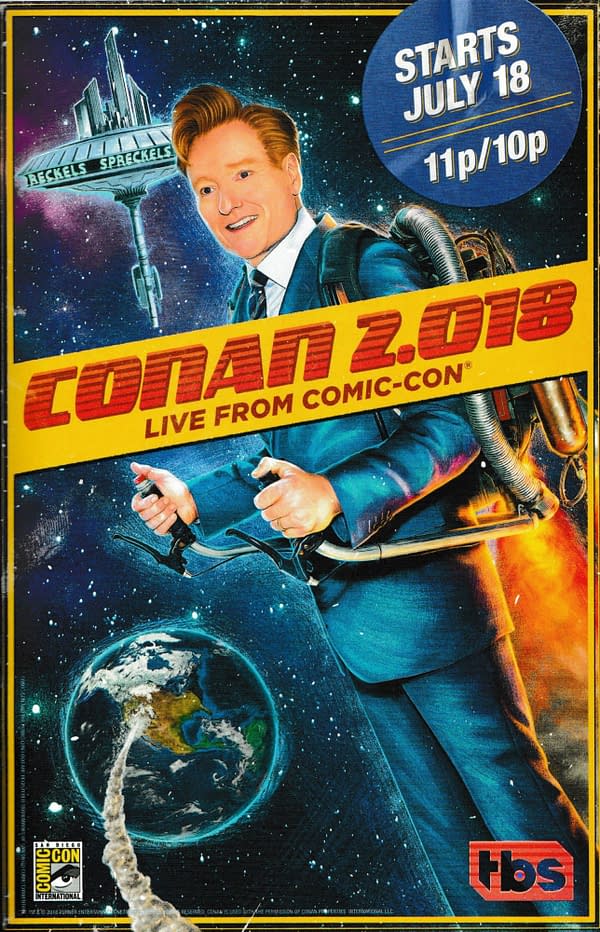 Wednesday, July 18
The Cast of Breaking Bad starring Bryan Cranston, Aaron Paul, Anna Gunn, Dean Norris, Betsy Brandt, RJ Mitte, Giancarlo Esposito, Bob Odenkirk and show creator Vince Gilligan

The Cast of The Predator starring Olivia Munn, Keegan-Michael Key, Sterling K. Brown, Thomas Jane, Trevante Rhodes, Alfie Allen, Augusto Aguilera, Jake Busey, Yvonne Strahovski and director Shane Black

Saturday, July 21
The Cast of Glass starring Samuel L. Jackson, James McAvoy, Bruce Willis, Sarah Paulson, Anya Taylor-Joy and writer/director M. Night Shyamalan

Sunday, July 22
The Cast of Aquaman: To Be Announced.

As in years past, CONAN audience members will receive one of four limited edition Funko Pop! Vinyl Figures available during Comic-Con® International. Those not lucky enough to attend shows in person will have an opportunity for a Nightly Instant Win Giveaway. Conan will announce a code each night on air from his San Diego tapings. Enter the code at teamcoco.com each night for your chance to win. Also, follow @conancon on Instagram for more information and giveaways throughout Comic-Con® International.
Thursday will be Predator Conan. I'm guessing Hellboy will be Saturday, Ant-Man Wednesday, and the X-Wing Pilot Friday (for the Sunday airing episode).
Good luck to all trying to get tickets! If you have an extra Ant-Man Conan, let me know…