Super7 Is Taking Preorders For Ultimate 1982 Movie Conan Figure
Conan fans got a surprise today when Super7 finally put up for order their Ultimate 1982 Movie Conan Iconic Pose figure. First shown off at last years New York Toy Fair, the figure is now able to be preordered. This is Super7's second movie Conan figure as well, and the one we have been waiting for. Conan will come with two interchangeable Arnold Schwarzenegger heads, alternate hands so he can do his iconic sword pose (as seen below), two necklaces, and the Atlantean Sword. he stands 7 inches tall and features multiple points of articulation as well. It will all come wrapped in gorgeous premium slipcover packaging Super7 is known for. He will run you $45. Check out the packaging and the figure down below.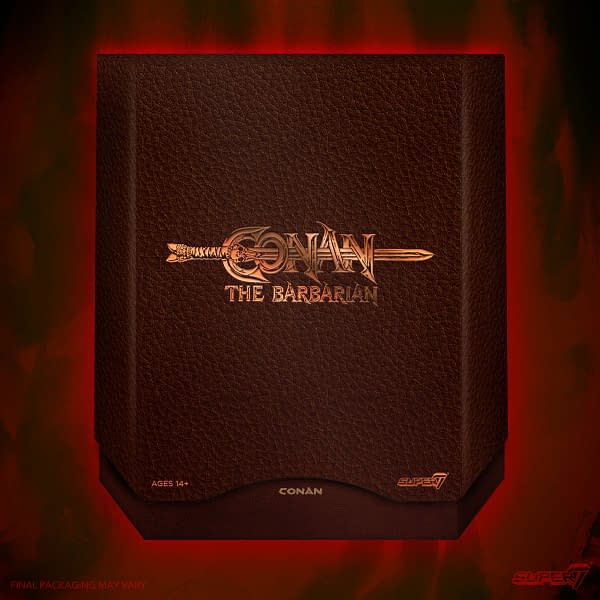 "Charging out of the 1982 cinematic juggernaut is the great warrior hero Conan in his iconic pose from the movie! Conan The Barbarian – Iconic Pose will come with:
Two interchangeable heads
Interchangeable hands for iconic sword training pose
New pants
Two interchangeable necklaces
The Atlantean Sword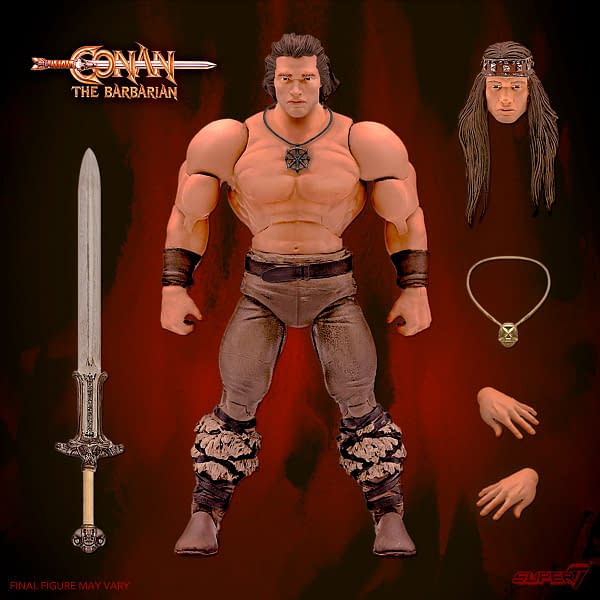 Conan The Barbarian ULTIMATES! is a 7" tall, highly articulated and fully poseable action figure. It will come packaged in a deluxe slip case-style box.
Note: The final figure, accessories, and packaging may vary."
He's a beefy guy huh? I think I prefer the long-haired head with the crown, it feels more iconic to me. The details on the sword a re ridiculous, but that is to be expected from the guys and girls over at Super7. The butterfly joints in the shoulders (at least they look like butterfly joints) allow for some pretty epic posing, and I mean, when you catch the below pose, it makes this an instant buy.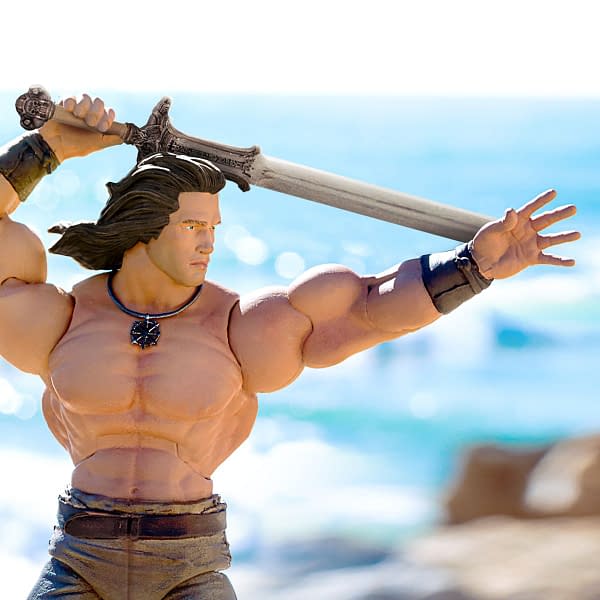 I mean, that is pretty spiffy if you ask me. Conan is up for preorder now, until July 15th. He is made to order, so you have about a month to decide, but I wouldn't hesitate of interested.