Factory Entertainment has Game of Thrones, Jurassic Park, Back to the Future, Goonies, IT, Breaking Bad, and even Batman exclusives at SDCC this year. All of them will be available for fans to purchase at their booth on the show floor. Personally these are some of the best exclusives that will be at the show. I love all of the Game of Thrones offerings here, especially the plush Direwolf set and Icy Viserion plush animal. Check out all of their offerings down below!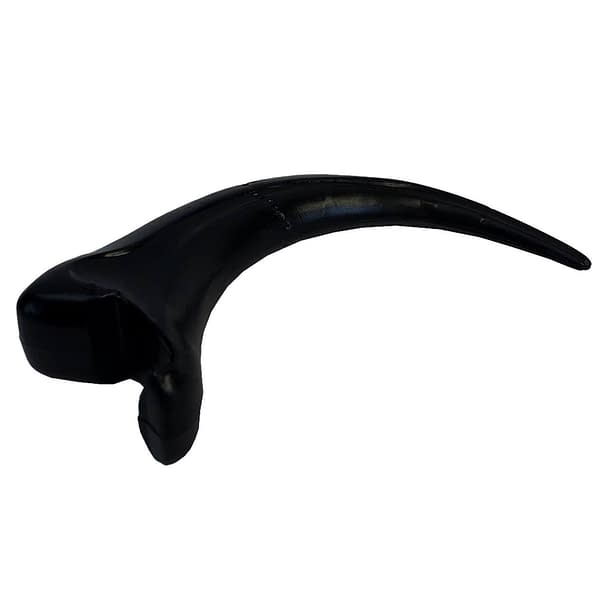 Thought we couldn't come up with another fantastic Convention Exclusive? Well, hold our beer and hold onto your butts because our creative scientists have buried their heads in various amber elements and dug up the perfect collectible for clever girls… and boys!

Introducing our Jurassic Park Fossil Raptor Claw Bottle Opener. Based on and scaled to the size of the original prop, this 5.5 inch heavy duty bottle opener is cast in zinc-alloy, which means it's sure to last and open your favorite beverages for the next 65 million years, or until an extinction level event happens. Either way, none of us will remember if the Raptor Claw Bottle Opener is doing its job right!

Price: $20

Based on the Georgie's paper boat from the blockbuster hit movie IT, this scaled 3.5" Heavy Metals™ diecast exclusive is TERROR-iffically detailed in blood-spatter. The perfect collectible for any member of the Losers Club.


Price: $10

As seen in the popular roadside scene in the movie, Pennywise waves maniacally while holding floating balloons. Our Convention Exclusive not only features a set of screen accurately colored balloons, but also a blood red colored set that you'll find nowhere else!

This statue also features audio of your favorite lines from the film.


Price: $149.99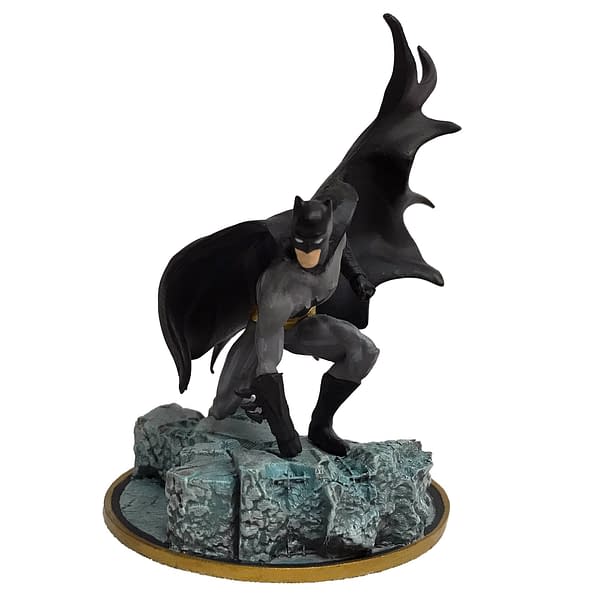 Weighing in at a substantial 11 ounces, our Batman Heavy Metals™ Miniature features Gotham City's Caped Crusader brooding and ready to attack all foes and save the day in more ways than one!

This heavyweight collector grade 1:32 scale solid metal collectible features a highly-detailed finish and was spun cast in small batches and hand-painted to exacting standards, perfect for any discerning collector.

Price: $40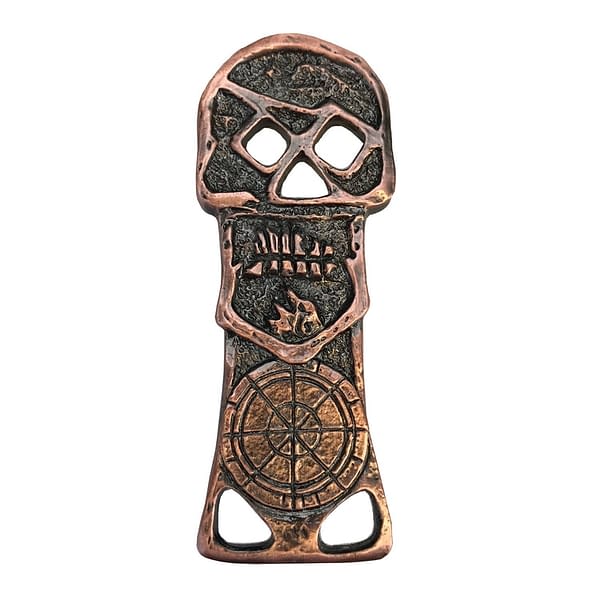 Unlock your treasured beverages with a skeleton key good enough for all types including scalawags, pirates, sea dwelers and exhuasted convention attendees with our Goonies Copper Bones Bottle Opener.

This 3 and a half inch heavy duty bottle opener was cast in zinc-alloy and recreated from the famous Copper Bones Skeleton Key prop, as seen in the classic 1985 film.

Your treasure awaits! Enjoy!

Price: $15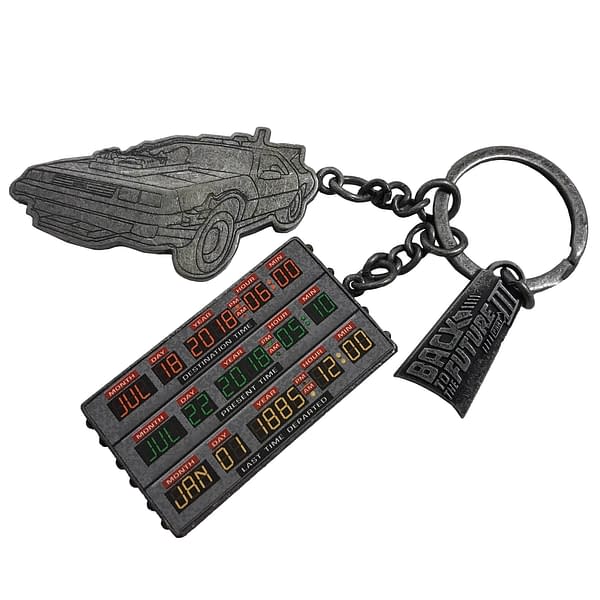 If we had a time traveling DeLorean, there's no way we'd skip San Diego Comic-Con either! Now you can go back to San Diego Comic-Con as many times as you'd like with our 2018 Convention Exclusive Back To The Future Part III Time Circuit Keychain!

The 3rd and final installment in our Time Circuit Keychain trilogy features a short time hop from the shows closing date on July 22nd, 2018 to the beginning of preview night on July 18th, 2018 for an endless, nerd-tastic, Comic-Con loop. Not only that, we've featured 2 additional charms; a DeLorean based on the time machine from the 3rd movie and a Back To The Future Part III logo!

Price: $15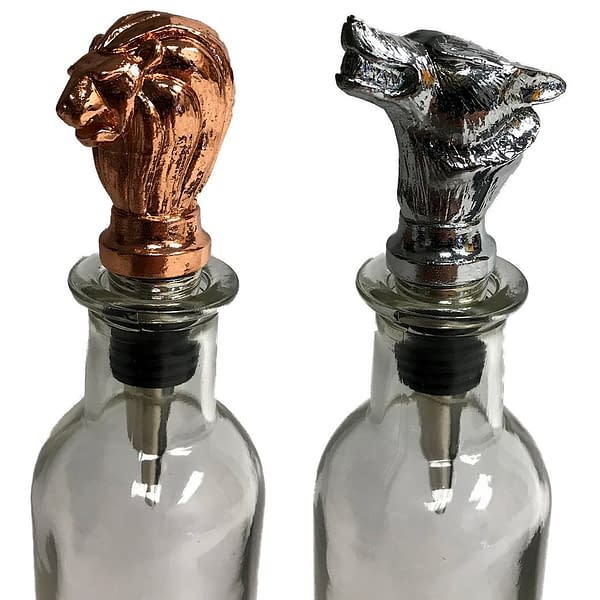 Map markers, carved in the likeness of a sigil, are used to represent the forces of a noble house when plotting military strategy.

Our 2018 Convention Exclusive Game Of Thrones Wine / Bottle Stopper Set features house Lannister in a shiny bronze finish and house Stark in a silver finish. Each were created from the same digital assets used to make the actual map marker props during the production of the series.

Drink and know things in style while keeping your wine (or preferred non-alcoholic beverage) sealed between sips… or giant gulps!

Price: $25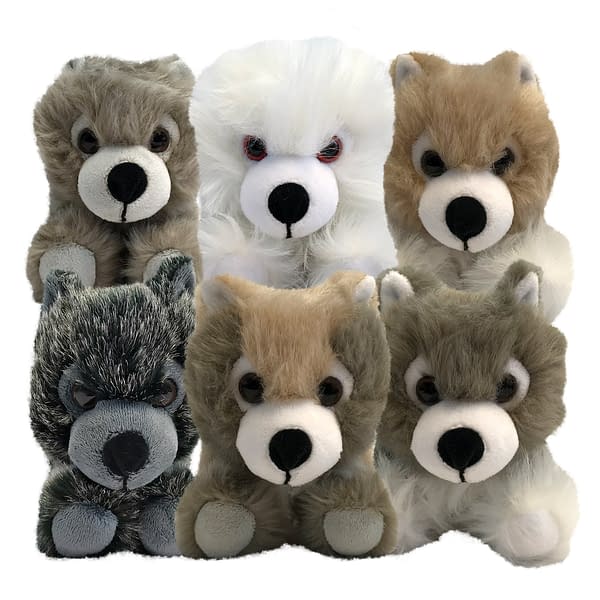 As seen on the smash hit show, Game of Thrones, the children of House Stark discovered and adopted a litter of direwolf cubs, with each child paired to a distinct animal that he or she raised. They eventually grew to become fearsome guardians of the Starks and Jon Snow.

Our 2018 Convention Exclusive Box Set honors all 6 of those loyal companions as the adorable cubs they started out as, but this time in a resting prone pose.

Featuring Ghost, Nymeria, Grey Wind, Shaggydog, Summer and Lady, these 6" direwolf cubs are ready to join you on any adventure through Westeros and beyond!

Price: $60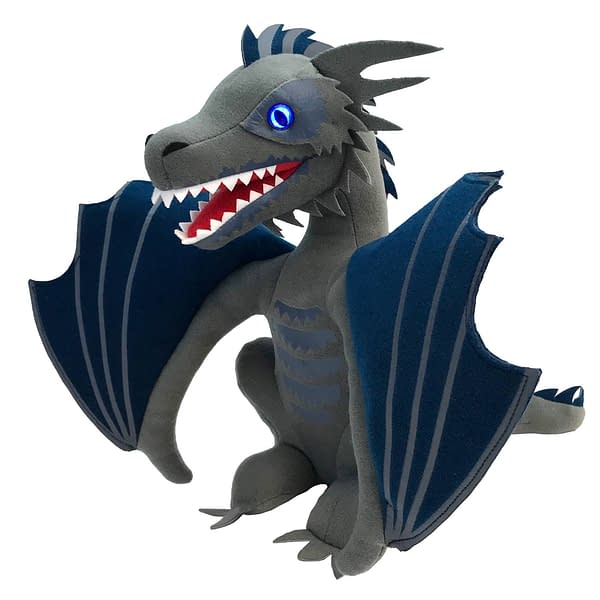 Originally born of fire and struck down by an ice spear into a frozen lake, Viserion is reanimated by the Night King, becoming the first ever Dragon wight.

This collectible 9 inch plush captures the "Icy Dragon" perched and ready to take flight at a moments notice. Featuring brilliantly blue light up eyes which are activated via a switch in his belly, there's no wonder that Viserion is the Dragon mounted by the Night King leading the charge against the Seven Kingdoms.

Price: $30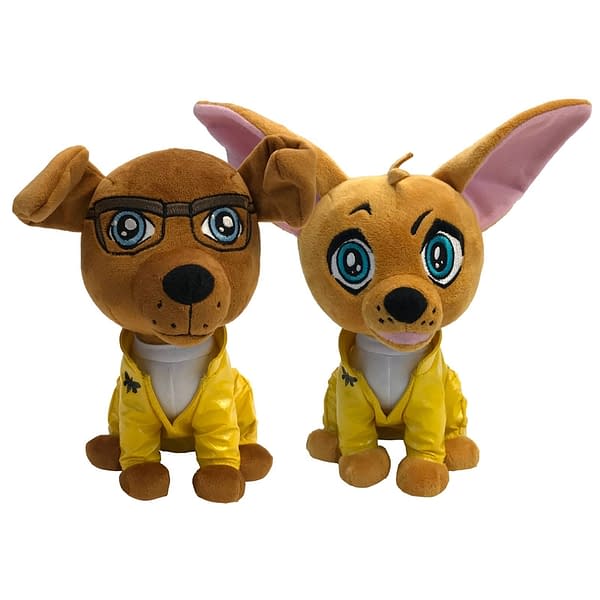 Just like people, these cute pets love to show their Breaking Bad fandom and want to be involved in the exciting culture of cosplay. The world of Pawzplay™ features kittens and puppies dressed as their favorite pop-culture characters.

This set features a pit bull cosplaying as Walter White and a chihuahua cosplaying as Jesse Pinkman, both wearing their yellow lab coats. Each stands 8" tall and the set comes packaged in a Los Pollos Hermanos Mucho Meal bag.

These cosplaying canines will be barking bad exclusively for Factory Entertainment at SDCC 2018.

Price: $30
Enjoyed this article? Share it!