Funko Gone Mad: Man Attacks People For Twinkie Target Exclusive Pop
Funko releases all kinds of Pop vinyl figures every week. One of their partners is Target, where exclusive Funko Pops are becoming a nightmare for employees to deal with. From irate customers of all ages constantly hounding them for product, to having to create policies and keep employees near their stock to make sure purchasing limits are enforced and such, it is a huge black eye on collectors. In Florida, a man took things to the extreme.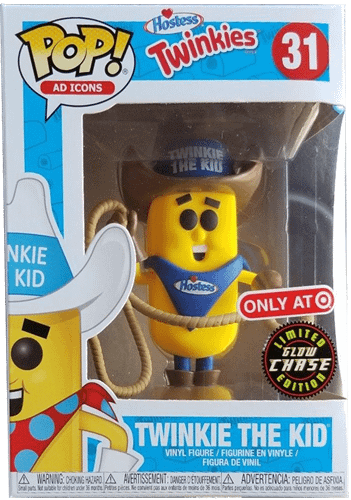 A man named Charles Porter followed a man (aged 41) and his mother (aged 64) into the parking lot of a Orlando area Target and proceeded to verbally assault them, eventually escalating to physical violence. The reason for the violence? They purchased a Target exclusive GLOW Chase Twinkie the Kid Ad Icons Pop he wanted. Porter followed them around the store and eventually the parking lot, where he actually got into their car and stole the Pop from them. While fleeing, he struck both the man and his mother, even pushing her down on the ground. The whole incident was caught on camera. After police were called, Porter returned to target with the Twinkie Funko and was arrested. He is being charged with burglary and two counts of battery.
The Twinkie the Kid Chase Funko Pop is a rare find these days, as they are only found 1 out of every 6 Pops in a case arriving at Target. It costs around $10 in the store, and on the aftermarket sells for as much as $150. Pop Price Guide, the most popular "market value" Pop guide on the web, has it at around $120.
This is a low point in collecting. I personally have seen things escalate to this point in my neck of the woods as well, and it makes one not want to even bother collecting these things anymore. Some people in different Funko-related groups have even gone as far as saying they are aware who the mother and son are and they are "flippers" and they got what they deserve. That is ridiculous.
Yes, I hate the local toy "flippers" or "scalpers" or whatever term you want to use. But nobody should be assaulted for trying to collect something, flipper or not. Funko flipping has gotten completely out of hand at this point, and with no end in sight, it can only get worse. Sites like Brickseek (referenced in the report) and such also make it easier than ever for people to get an upper hand on regular collectors, and makes it impossible for anyone to just be able to walk into a store and buy a damn toy. Not even children can get toys they want anymore.
It is sad really. Like I tell people all the time, if there is money to be made, someone will find a way to exploit it. I just wish it wasn't this hobby that I love.