Golden Girls Action Figures Coming in May From NECA
Calling all you Golden Girls fans out there: NECA's new GG figures are on the way to stores in May. All four main characters have their own figure- Blanche, Dorothy, Sophia, and Rose. These will be in the 8 inch scale and are retro-Mego style figures. It seems a little weird that these are not a box set as well, but NECA knows what it is doing. Sophia is the only one who comes with any accessories, as she includes a purse and a pie. I cannot wait to see what people do with these. NECA collectors should add these to their Alien and Predator shelves, that would make for some great photos.
Check out all four of the figures in their packaging down below. You can find them in stores in May.My guess is Target will have plenty of them for fans and collectors alike.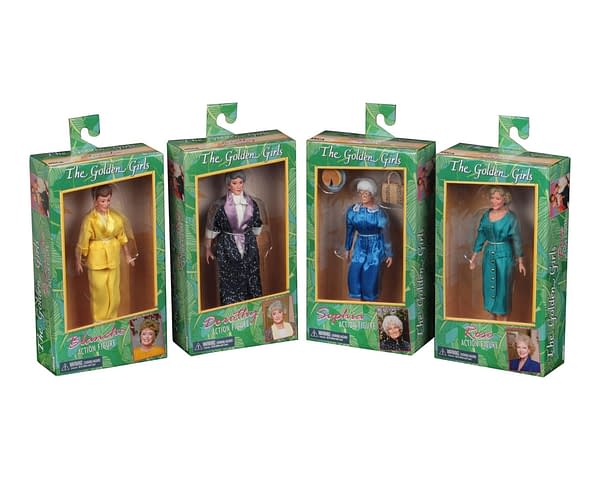 From the classic TV comedy series that even today continues to inspire those who cherish friendship, rattan furniture and cheesecake, The Golden Girls take action figure form!
Dorothy, Rose, Blanche and Sophia are dressed in fabric clothing that's perfect for an afternoon on the lanai, and feature authorized likenesses. Each fully articulated figure stands approximately 8" tall.
Window box packaging.