Horror Icons Go to the Savage World from Funko in September
Savage World, a new line of figures coming soon from Funko, are done in the style of Mattel's old Masters of the Universe figures. Standing at 5.5 inches tall and muscular bodies, they feature around six points of articulation and accessories. They released Mortal Kombat figures in this style already, and now we get something great for all of us Monster Kid collectors out there: horror icons!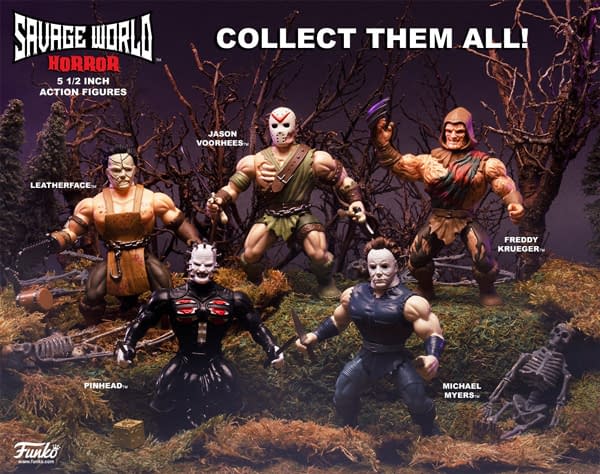 Welcome to your worst nightmares.
Everyone's favorite Horror Villains – Freddy Krueger from
'Nightmare on Elm Street', Jason Voorhees from 'Friday the 13th',
Leatherface from 'The Texas Chainsaw Massacre',
Michael Myers from 'Halloween' and Pinnhead from
'Hellraiser' – are ready to haunt your dreams and chase you down.
Freddy, Jason, Leatherface, Michael Myers, and
Hellriaser are heavily armed and
entirely fitting additions to the Funko Savage World line.
Look, I will be the first to admit that these are not for everyone. I got to see prototypes of these and others that may be coming soon (Thundercats!), and I think that they are pretty awesome. Then again, I also love the old MOTU line, so Savage World is right up my alley.
All five look great, with awesome sculpts and neat winks and nods to the characters' classic looks. My favorite is Michael Myers, but I also really like the Jason and Leatherface ones quite a bit. Thankfully they did not do a Chucky, because I can think of nothing more frightening than a giant, muscular Chucky chasing me around — and that is nightmare fuel I do not need.
These will be available in stores in september, just in time for Halloween displays to go up! You can preorder some for yourself already here.