by Christopher Olson
Hot Toys has once again brought out a terrific product.
For those that have had the pleasure of owning Hot Toys before, you know to expect the highest details and craftsmanship. I was one of those happy few that originally started collecting statues and "downgraded" to start focusing on 1/6 scale figures instead for this exact reason. Today we will take a look at the Thor: Ragnarok Gladiator Hulk 1/6 scale figure.
Starting with the basics, outside of the shipper even the art box is nice. With an image of a screaming Hulk staring at you, it's hard not to get excited about getting to the figure. Once the box is open, you can see the main body comes with a snarling head and all of his armor already attached. The figure is impressive enough but the extras help seal the deal, with an extra head that shows Hulk yelling, two more sets of hands: one with "Gumby" articulation, and one already set to hold his weapons. These include his axe and hammer, his gladiator helmet, and extra back scalp attachment to help his helmet fit easier.
PROS:
His body is great. Slightly less "life-like" of a feel than the previous Hot Toys Hulks, but I didn't mind, considering he's already sporting some armor on him. And I've always loved the ratcheting in the arms to help hold positions and posing.
The weapons are fantastic. Sturdy, with no worry of initial bending or breaking.
The details on the body and armor are wonderful. Tattoos and weathering are spot on.
Both heads come with the ability to change the position of his eyes. This is something I love about certain Hot Toys, and a nice surprise to see with both heads here.
CONS:
Even with the details on the armor and clothes, I was slightly disappointed with the quality. In this case it's basically all molded plastic. And with the price-point on this bad boy, I was hoping for some metal or leather mixed in.
There are issues getting the "yelling head" in and out of the gladiator helmet, which to me was the biggest piece I looked forward to putting together. There are little tufts of hair on either side of that head that make you have to use some force to get the helmet on and off, and force is never something recommended with a Hot Toy.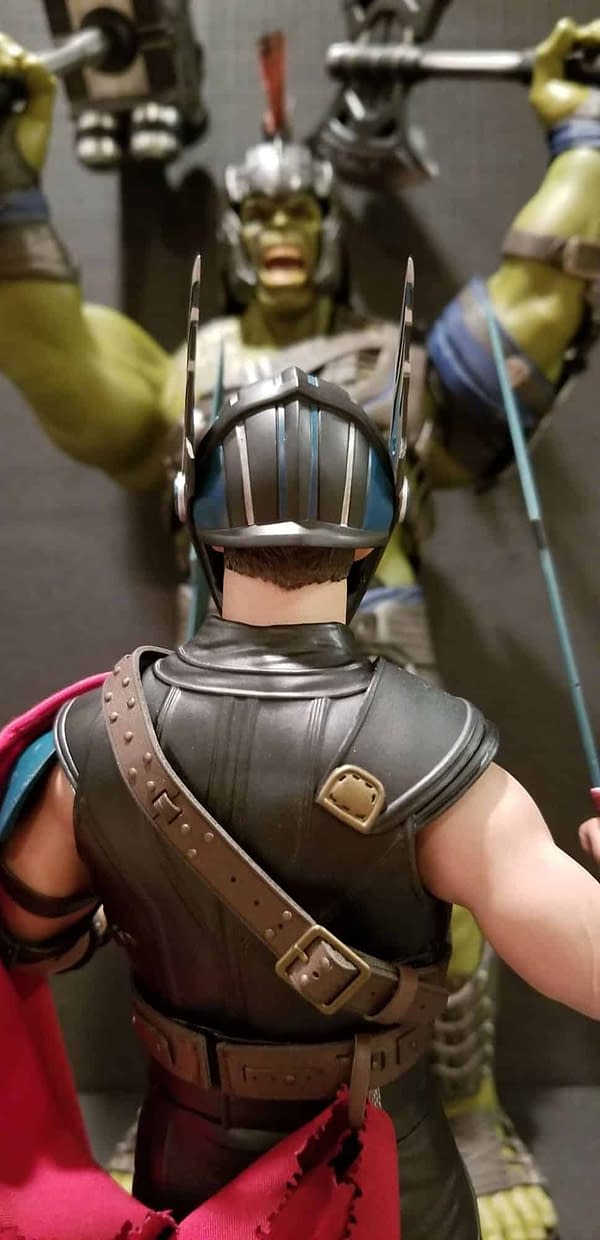 Even with the couple setbacks, I think this still turned out to be an excellent figure and I'm happy to have him in my personal collection. The pros and the sheer awe of him in your display case would make you say the same. Congrats if you've picked him up!
If you haven't yet, you can order one for yourself right here!
Enjoyed this article? Share it!