LEGO Star Wars 2020 sets are already being revealed, as set 75270 Obi-Wan's Hut and set 75271 Luke Skywalker's Landspeeder will be available on January 1, 2020. How crazy is it that we are already seeing stuff for the new year? Each set will cost $29.99 and clock in around 200-250 bricks. Obi-Wan's hut will come with four minifigs- R2, Luke, Obi-Wan, and a Tusken Raider. It will also include a hologram Leia. The Landspeeder will include three minifigs- Luke, 3PO, and a Jawa. Both will be on display at this months SDCC at the LEGO booth. Check out both sets below!
LEGO Star Wars 2020 Set Reveals
LEGO® Star Wars
75270 – Obi-Wan's Hut
200 pieces | Age 7+
29.99 (USD)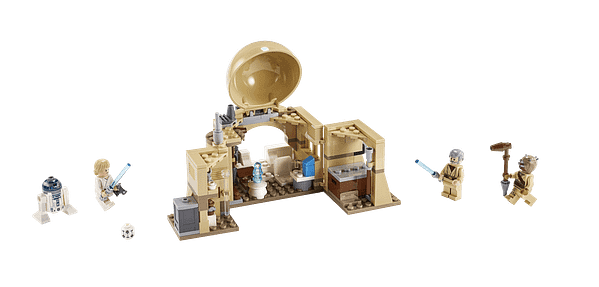 Your young Jedi will love this detailed LEGO Star Wars 75270 Obi-Wan's Hut model. The hut folds out for easy access and there are lots of cool items to spark kids' creativity, including Lightsabers, a training remote and a new-for-January 2020 Princess Leia hologram element to recreate classic Star Wars: A New Hope scenes. The set includes iconic Star Wars characters Obi-Wan, Luke Skywalker and R2-D2, plus a Tusken Raider for role-play battles.
75271 – Luke Skywalker's Landspeeder
236 pieces | Age 7+
29.99 (USD)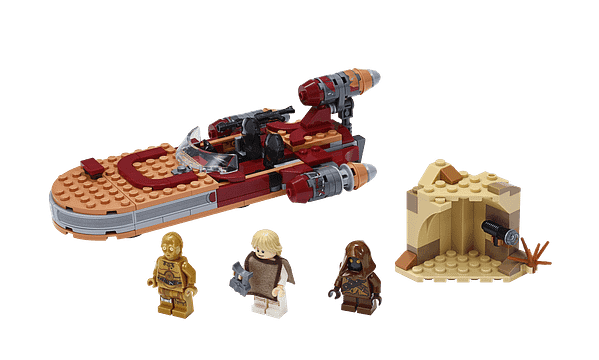 Young Jedi will love pretending to power across the Tatooine desert with this new-for-January-2020, collectible LEGO Star Wars 75271 Luke Skywalker's X-34 Landspeeder model! More detailed than ever before, there's space for the Luke and C-3PO minifigures, an opening trunk with macrobinoculars inside, and a clip for Luke's blaster rifle to inspire creative play. And kids can reimagine Star Wars: A New Hope movie action with the buildable cave hideout for an armed Jawa minifigure.
Enjoyed this article? Share it!