Marvel Legends Molten Man BAF Wave is a Fun Set, But Flawed
Marvel Legends are hitting fast and furious right now, and collectors barely have time to breathe. One of the waves on the pegs currently is the latest Spider-Man wave, featuring a mix of figures from the comics and Spider-Man: Far From Home, including the BAF of Molten Man. The villains actually take center stage here, with five new figures to add to your Spidey rouges gallery. Hasbro was nice enough to send us the wave to show you, so let's not waste anytime and take a look.
Movie figures first. Two Marvel Legends versions of Spidey are in this wave, one in his regular suit he wears in the film, and the other his "stealth" suit. Both are pretty easy to pose and are basically like every other Spidey figure we get. Maybe one of these days we will get multiple sets of interchangeable hands with Spidey, but it is not this day. I want like 4-5 sets. As far as sculpting and the look of the figures, they are great. Hasbro pretty much has this down to a science now, so bad sculpting work is more an exception and not the rule. Too bad we didn't get a Tom Holland head here.
Mysterio is a great figure, and looks incredible. However, this one also is more about what is NOT here than what is. He comes with zero accessories, and you would think that the effects pieces that came with the comic version last year would be included, maybe even repainted. Nope, nothing. I will commend them for not just slapping paint on last years figure and calling it a day, there are new POA and design elements at play here. But no Gyllenhaal head? No accessories at all? That seems like a mistake that they should have corrected.
Moving on to the comic figures, we get even more awesome looking figures, that don't start to leave you scratching your head until you start playing around with them. Julia Carpenter Spider-Woman joins the Marvel Legends line here, and is on the standard ladies buck most of the female figures have been the last year or so. Which means yet again I had issues with the joints at her elbows. They didn't snap this time, but moving them is a pain in the you-know-what. She comes with a swappable web-shooting hand, and these action pieces are cool but look a little funky in some poses.
Scorpion gets an update in this wave as well. I was super excited for this one since I saw it at New York Toy Fair, and having the final product in hand is a little bit of a letdown. The tail is very cool looking, and is much more limber than, say, the Doc Ock legs were last year. But the thing is so heavy it is next to impossible to get him to stand. It limits posebiity, and since thats the main way I use my figures that is an issue. Also: they should have painted his face. I get what they were doing, but it is really off-putting.
The same problem I have with Scorpions tail I have with Hydro-Man. Yes, this is an impressive figure. Yes, the water effects are very nicely done, and convey his powers really well. He needed at least one swappable regular arm. I'm sorry, he just does. There is next to no articulation in the water arms, and they are extremely heavy. Without the removable foot effects, it takes real effort to get this guy to stand let alone pose. With them on, it is fine. Another well-sculpted figure for sure, but another with issues when you dig in.
Surprisingly, my favorite figure of the wave is Doppelganger. I can't believe we finally got this guy as a Marvel Legends figure! After the six-arm Spidey came out, it was just a matter of time. Where that figure felt plasticy and cheap, this one does not at all. He is way easier to pose than I would have anticipated, and features excellent range of motion in all six arms and his feet. And those teeth! He was a ton of fun to experiment with, and really is a must own.
Which brings us to the Molten Man. I love this guy. While he should be a bit bigger, the design and bulkiness of the figure are gnarly to play around with. I love that he rests on his hand like the lava is just sliding to the ground beneath it. The steel piece feels really cheap and tacked on, but that's ok. For how heavy all his parts are, he poses really well and will look great on a display. Props for the cool hints of orange throughout the figure's body too.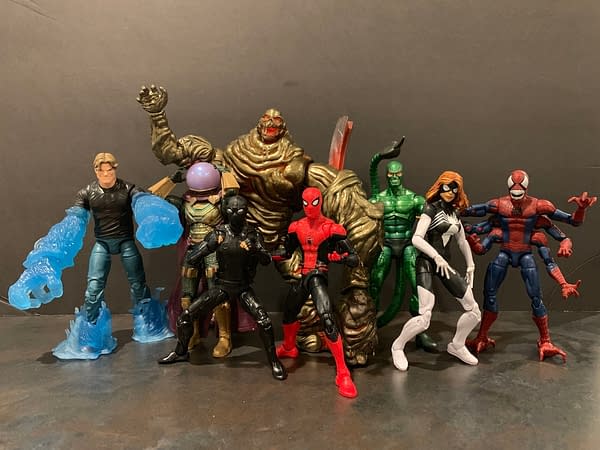 Overall, even with the flaws, I would still say these are all Marvel Legends worth picking up. Mysterio, Doppelganger, and Hydro-Man are all pretty cool, and even the others will fit in nicely into your Legends displays. Molten Man is a worthy addition to the BAF set, and there is not a straight dud in the wave.
If you want to get these for yourself, you can do so here.