"Monster Hunter World" Female Hunter Nendoroid Goes Live
Last week we saw a massive amount of upcoming Good Smile Company products coming out. It looks like some of them were closer than we thought like the Monster Hunter World female hunter. We saw that two hunters from the Monster Hunter franchise will be getting Nendoroid figures and it looks like the female hunter is here first. She is wearing Nargacuga Alpha Armor. She will come with two face plates, one with a standard expression and the other one going berserk. This deluxe version Monster Hunter figure also comes with weapons like Dual Blades, Hidden Saber, and weapon effects. Each detail and accessory perfectly fits this figure and any Monster Hunter World fan should join the hunt with her.
The Nendoroid Female Hunter with Nargacuga Alpha Armor is priced at roughly $61. She is set to join the hunt in August 2020 and pre-orders are already live and can be found here. Stay tuned here at Bleeding Cool for when other Monster Hunter like the Male Hunter gets announced.
We have a Monster to Hunt.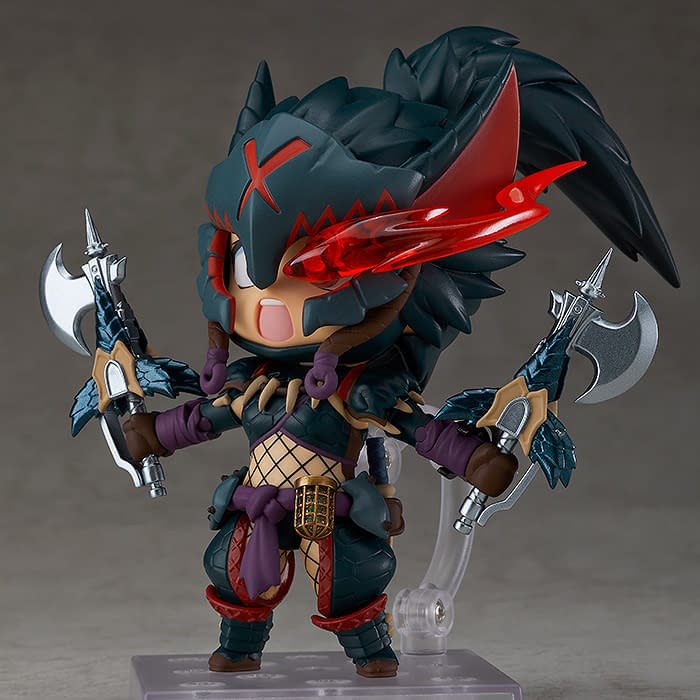 Nendoroid Hunter: Female Nargacuga Alpha Armor Ver. DX
One who hunts under the cover of twilight, moving like the wind.
From the PlayStation®4/PC (Steam) game "MONSTER HUNTER WORLD: ICEBORNE" comes a fully articulated Nendoroid of a female hunter in Nargacuga Alpha Armor. This special DX version includes all the parts that are included with the standard version together with bonus parts for even more display options!
She comes with two face plates including a reticent standard expression and a crazed expression. The Hidden Saber is included along with two carving knives and a throwing knives effect part.
Additionally, the DX version comes with an interchangeable head part for displaying the hunter with a ponytail haircut, the Hidden Tomahawk I Dual Blades, a critical hit effect part, a Demondrug consumable and an original eye glint effect part made for the Nendoroid, allowing you to enjoy the world of "MONSTER HUNTER WORLD: ICEBORNE" even more!