Mondo Man-At-Arms MOTU 1/6th Scale Figure Now On Sale
Mondo is now accepting orders for its latest MOTU sixth scale figure. This time around is the loyal companion Man-At-Arms. There are two versions of him available: a regular edition for $90 or the Mondo Exclusive version for $195. The exclusive version of the fan-favorite MOTU character comes with a Snake Men face portrait and Orko in a Jar. Both versions come with Man-At-Arms with 30 points of articulation, a ridiculous amount of accessories, fabric clothing, armor pieces, and an amazing sculpt. All of it comes housed in an oversized box featuring some awesome MOTU themed artwork. Mondo revealed the two figures are now up for order, so check out both versions down below, and click here to get one for yourself now.
Mondo MOTU Sixth Scale Man-At-Arms Details
"By the Power of Grayskull, you too can have the Power! Mondo is proud to bring you the next figure in our MOTU 1/6 scale figure line- Man-At-Arms! Featuring over 30 points of articulation, fabric costume elements, and a lot of accessories (and we mean a lot!), this is the most powerfully man at arms figure you will ever find, from here to the government of Eternia! The Mondo Exclusive version includes an interchangeable alternative Snake Man-At-Arms portrait and Orco In a Jar figure!"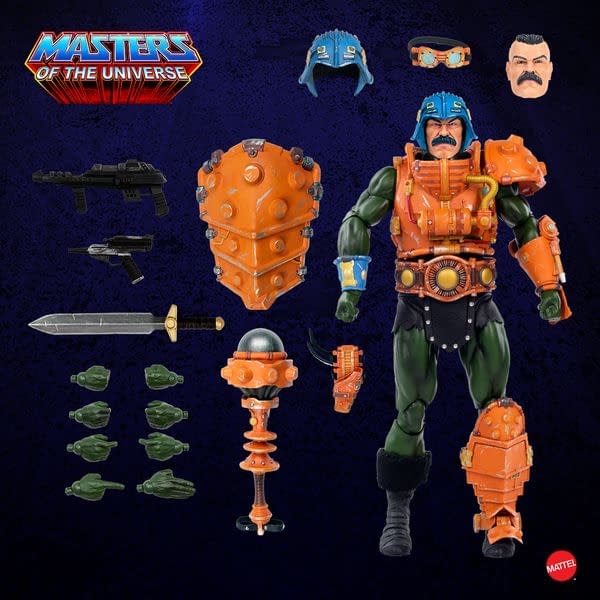 The MOTU Man-At-Arms Sixth Scale Figure comes with the following:
Regular Head
Helmeted Head
Display Helmet
Ball n Chain Mace
Shield
Blaster Holster
Hand Blaster
Short Sword
Rifle Blaster
8 Different Interchangeable Hands
Figure Stand
The Man-At-Arms Mondo Exclusive comes with the following:
Regular Head
Helmeted Head
Display Helmet
Snake Head
Orco in a Jar
Ball n Chain Mace
Shield
Blaster Holster
Hand Blaster
Short Sword
Rifle Blaster
8 Different Interchangeable Hands
Figure Stand