NECA's Final SDCC Exclusive Is A Glow Version Of The Alien Big Chap
Continuing to celebrate the 40th anniversary of Alien, NECA revealed their final SDCC exclusive for this year as a glow-in-the-dark version of their recently released Ultimate Big Chap Xenomorph. This version of the figure is cast in green glow in the dark plastic and features over 30 points of articulation. An egg, face-hugger, and chestburster are also included, and also glow-in-the-dark, rounding out an excellent offering. All of this Alien goodness is packaged into a special version of NECA's Ultimate figure box, which also features glow-in-the-dark effects. This is a limited item, of course, but will be available in a variety of ways. You can check out this version of the Big Chap Alien down below.
"NECA continues to celebrate the original Alien film from 1979 with the release of the Glow In The Dark Ultimate Big Chap! Standing over 9″ tall, the Big Chap has over 30 points of articulation, including a hinged jaw that reveals the inner mouth when opened. From its large dome down to the feet, the Ultimate Big Chap is painted in an eerie fluorescent green that will radiate your collection when the lights go out. The glow in the dark effect even extends to the accessories, which include an egg with base, facehugger, and chestburster. Comes in a glow in the dark display friendly window box package with opening flap."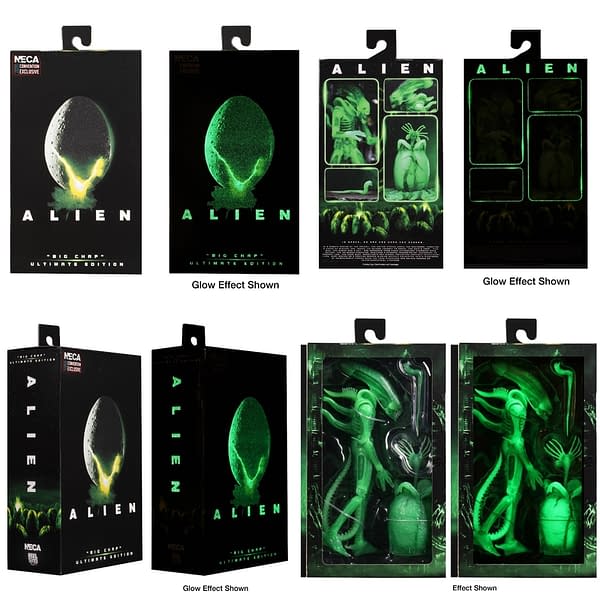 This exclusive will be available at Walmarts in store for $29.99 and on The NECA Store for $34.99. International customers may also order from The NECA Store as well. Some Walmarts may already be stocking this as well if you look around enough. While there, be sure to look for the Predator City Demon and Summer Gremlins exclusive as well.