NECA continues the13ir convention exclusive reveals, with this year's Predator exclusive. This year, they will help celebrate the 30th anniversary of Predator 2 with a special release of the City Demon. This version of the figure features a casting in clear plastic and a really cool lightning effects paint deco right out of the film. This is an Ultimate edition figure as well, so it will feature 30 points of articulation, five swappable hands, throwing discs, combi sticks, and of course, a skull. This Predator figure comes housed in a special Ultimates box, which will feature a lightning effect inside the box. Cannot wait to see how that is going to work. You can see pics of it all down below.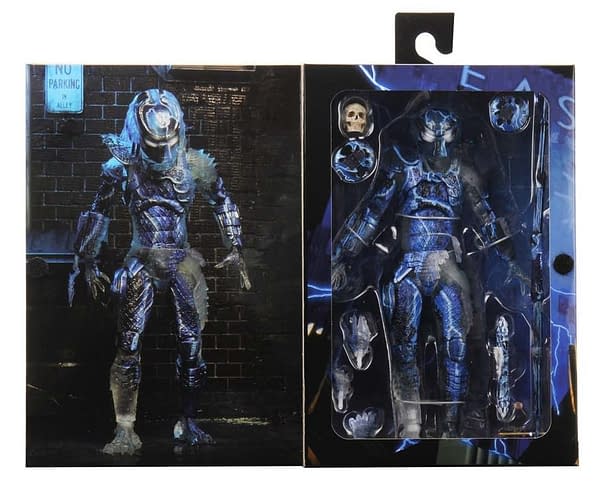 Predator 2 Ultimate City Demon Predator Exclusive
"Celebrating the 30th Anniversary of the classic Predator 2 movie, NECA is proud to announce the City Demon! This stealthy Predator is cast in clear plastic with lightning accents to capture his appearance climbing the towering buildings in 1990 Los Angeles. The figure features over 30 points of articulation, retractable wrist blades, and articulated shoulder cannon. It comes 5 interchangeable hands, discs, combi sticks, and a skull. Comes in special 5 panel window box packaging that activates a lightning effect when open."
Such a neat looking variant. This one will release at Walmart stores on July 23rd, on Walmart.com that same day. Some will also be available on The NECA Store in the US and for international buyers as well. It will retail at Walmart for $29.99 and on The NECA Store, the City Demon Predator will cost you $34.99. Either option should be great, and kudos to NECA for keeping the price down on this one. Hopefully, all who want one can get one.
Enjoyed this article? Share it!