Batman 1989 is here from Mezco Toyz and pre-orders are finally live! The figure will feature three interchangeable heads, one of which has movable eyes. he will have two separate capes that can be switched out and one has wire throughout so you can pose it how you like. Batman will come with 8 interchangeable hands that will go with his vast variety of accessories. Like we thought he will come with batarangs and grappling hooks but we will also be seeing a time bomb, speargun, and a gauntlet speargun. This is a Batman figure a lot of fans have been dreaming about and he is finally here. He is priced at $110 and is set to release between September and November of 2020. Pre-orders are live and you can find them located here.
I'm coming for you Joker.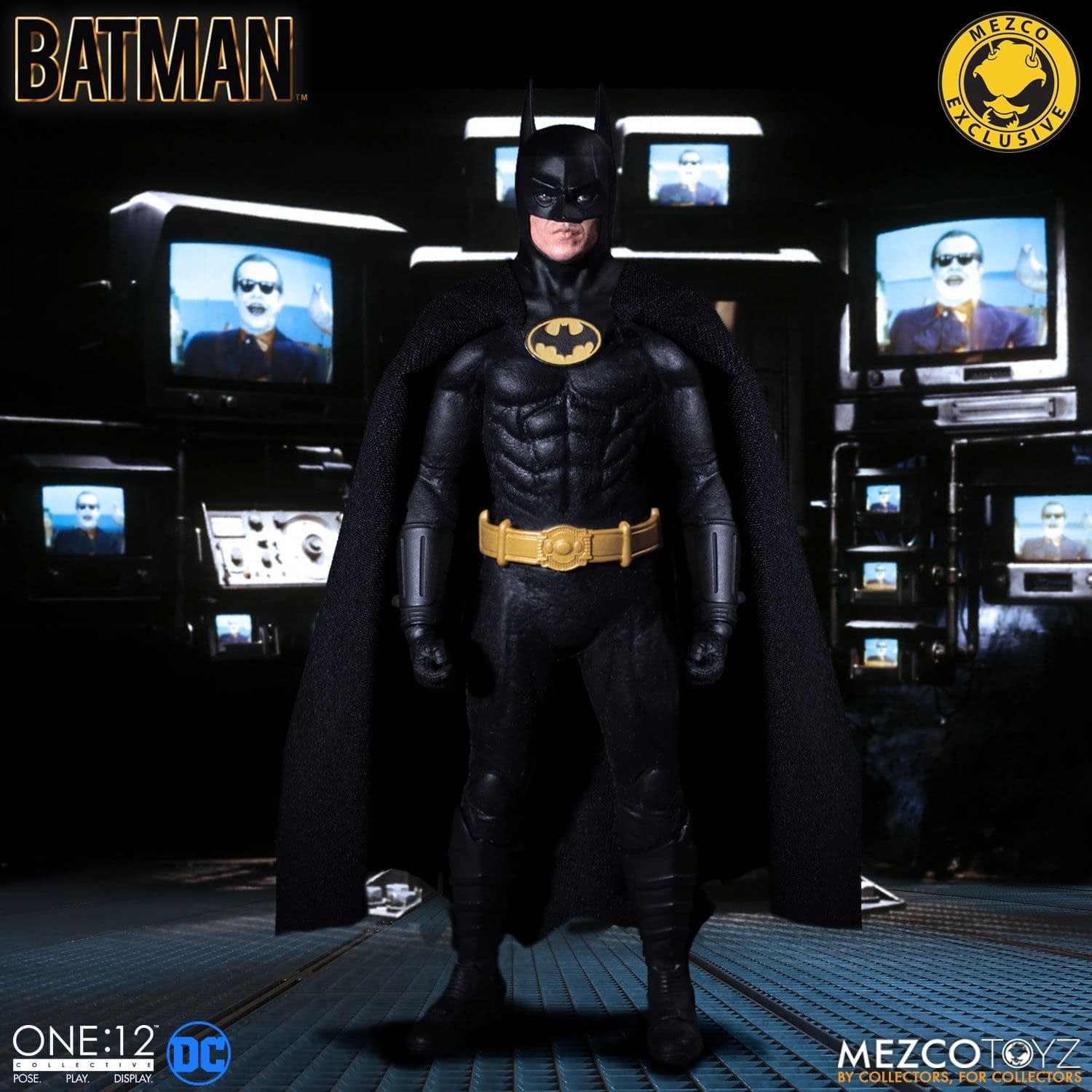 "I want you to do me a favor. I want you to tell all your friends about me."
Based on Tim Burton's Academy Award winning film "Batman", the Caped Crusader joins the One:12 Collective.
The One:12 Collective Batman – 1989 Edition features an all-new seamless body designed with an internal skeleton armature that is durable yet highly posable. Included are three cowled head portraits – one with movable eyes, achieving a new level of realism for the One:12 Collective.
Batman is outfitted in his iconic Batsuit from the film which features advanced body armor – strong enough to deflect bullets and break fists. A magnet in his collar allows him to switch between two leather-like capes – one with an integrated posing wire and one that drapes freely. The bat insignia sits front and center as a reminder to those that cross his path.
The dark vigilante comes prepared to protect Gotham City with a vast array of film accessories, as well as some unused designs, including: a gauntlet that attaches to his forearm and rotates open, a speargun that attaches to his utility belt via a magnet, multiple batarangs, and a time bomb.
After witnessing the senseless murder of his parents at the hands of a criminal, Bruce Wayne becomes Batman to rid Gotham City of crime and corruption.
THE ONE:12 COLLECTIVE BATMAN FIGURE FEATURES:
All-New One:12 Collective body with seamless armor and hidden articulation
Three (3) head portraits including one with posable eyes
Hand painted authentic detailing
Approximately 17cm tall
Eight (8) interchangeable hands

One (1) pair of fists (L&R)
One (1) pair of posing hands (L&R)
One (1) pair of Batarang holding hands (L&R)
One (1) pair of gun holding hands (L&R)
Cowled head
Bat insignia
Leather-like cape
Batsuit with body armor
Wrist gauntlets
SAP gloves
Utility belt
Shin armor
Tactical boots
ACCESSORIES:
One (1) speargun with hook
One (1) speargun with hook and wire
One (1) collapsed speargun
One (1) gauntlet
Four (4) batarangs
One (1) batarang with posing wire
One (1) time bomb
One (1) One:12 Collective display base with logo
One (1) One:12 Collective adjustable display post
Each One:12 Collective Batman – 1989 Edition figure is packaged in a collector friendly box, designed with collectors in mind.