Simba Comes to Life with New Nendoroid from Good Smile Company 
Simba has arrived in the Pridelands and is ready for his own adventures. This time be is ready to explore your shelves as Good Smile Company announces a new Nendoroid figure. This figure is based on the classic Disney animated film The Lion King and he is adorable. He comes with two different faceplates so you can recreate scenes from the film. Simha's body is also quite articulated so you can move his arms and legs without hassle. One Coll feature with this figure is that he comes with a little mini Pride Rock to display him on. On top of that, he will get the leaf mane from the "I Just Can't Wait to Be King" from the watering hole in the film. This is an adorable Simba figure that any Lion King fan should own!
The Lion King Nendoroid Simba from Good Smile Company is priced at roughly $52 and will be set to release in August 2020. Pre-orders are already live and you can find them located here. Don't forget to check out the other Nendoroid figures so you can build up your collection!
"I laugh in the face of danger."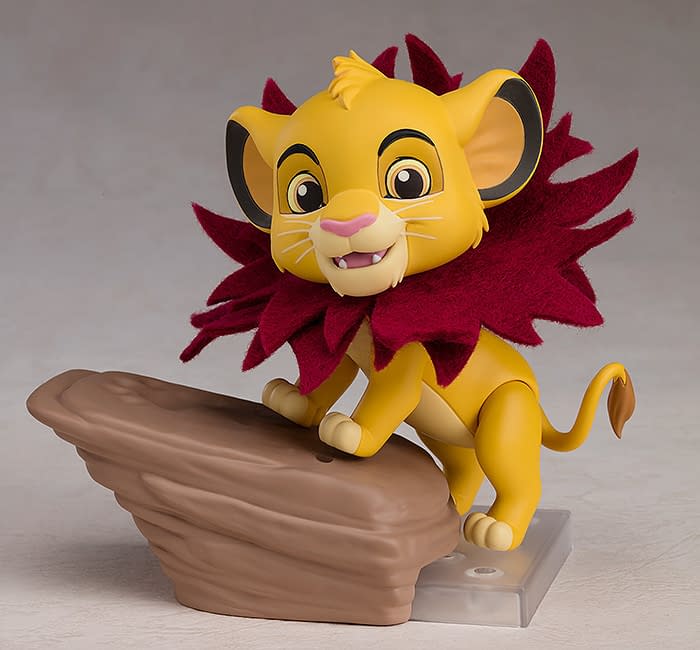 Nendoroid Simba by Good Smile Company
The young lion prince Simba is now a Nendoroid!
From the popular Disney animated movie "The Lion King" comes a Nendoroid of Simba! He comes with two face plates including a confident standard expression and a playful smiling expression. His arms, legs and tail are all articulated, allowing you to recreate all kinds of poses from the movie.
Various optional parts such as a Pride Rock base and the leaf mane that appears during the song "I Just Can't Wait to Be King" are included. Be sure to add him to your collection!