Stan Lee Becomes The Watcher With New Hot Toys Figure
Stan Lee and his MCU cameos were a big part of helping form the tone and identity of the film series, and none are more beloved than his cameo as a Watcher in Guardians of the Galaxy Vol. 2, arguably. Now, Hot Toys have created a new 1/6th scale figure immortalizing that scene that will be a convention exclusive this year. Stan Lee comes in his yellow space suit, complete with helmet, his trademark glasses, a special rock-themed base, and even a space backdrop. The likeness is amazing, and collectors and fans alike will love adding this one to their collections as a tribute to one of the people who started it all. Check out the figure below and if you are at a convention this year, pick it up. It will skyrocket on the aftermarket.
Stan Lee Guardians of the Galaxy Vol. 2 Cameo Figure
"Hey! I've got so many more stories to tell."
Marvel legend Stan Lee, makes a cameo in Guardians of the Galaxy Vol.2 just as he's done in every Marvel Cinematic Universe movie! In his scene, which takes place on a planetoid called Xander, Stan Lee is surrounded by members of the Watchers, the ancient race who observe everything happening in the universe and who occasionally meddle in it despite a strict non-interference policy.
Often credited with transforming the industry forever, Stan The Man was an American comic book writer best known for his work with Marvel Comics. Today, Hot Toys proudly presents Stan Lee in the latest 1/6th scale collectible figure inspired by his cameo appearance in Guardians of the Galaxy Vol.2 as one of this year's Toy Fair Exclusive items only available in selected markets!
The highly-accurate collectible figure is specially crafted based on the appearance of Stan Lee in the movie. Featuring a newly painted head sculpt with stunning likeness, a meticulously tailored costume featuring Stan Lee's yellow space-suit in the movie, a pair of glasses, a specially designed rock-themed diorama figure stand with intricate stone details and a specially designed space backdrop with lenticular effect inspired by the movie scene when Rocket and Groot are Space-Traveling above Stan Lee and the Watchers!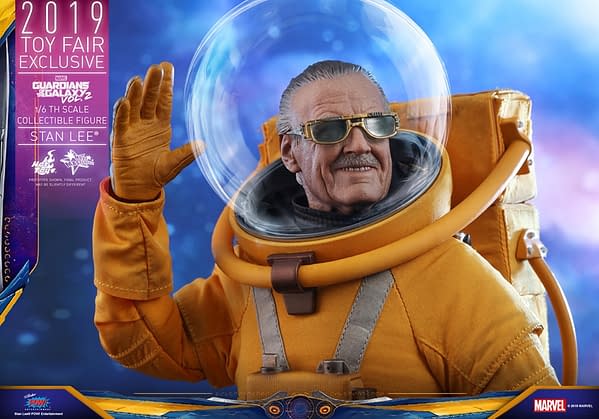 Reserve a spot for this remarkable figure. His inevitable cameo is way more awesome than you realize!