Star Wars Announces Triple Force Friday For October 4th
Star Wars fans and collectors: you will want to request off October 4th this fall.
Announced this morning on StarWars.com is Triple Force Friday, when product from multiple Star Wars properties will be released worldwide. This day will see figures, clothes, collectibles, and more from three Star Wars releases, including whatever Episode 9 is called, The Mandalorian, and a new Star Wars video game releasing from EA and Respawn this year called Star Wars Jedi: Fallen Order. Force Fridays are a ton of fun, although as of now we won't have a Toys R Us to go to for some of the fun. Check out the full announcement down below, and start saving your credits for October 4th.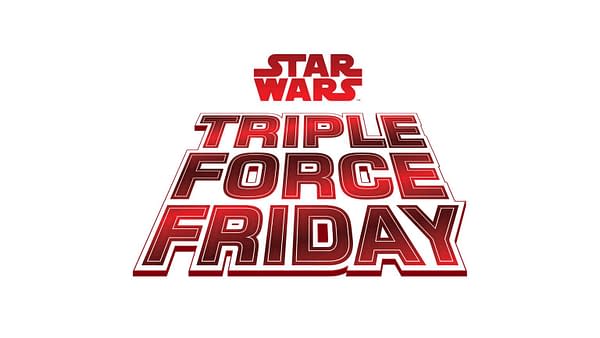 Let the countdown begin.
Triple Force Friday, the latest in a tradition of Star Wars product launches, is set for October 4, Lucasfilm and Disney announced today. The event will see the debut of brand-new products inspired by three of the year's biggest Star Wars releases, including:
The highly anticipated, final installment of the Skywalker saga, Star Wars: Episode IX
The first-ever Star Wars live-action series, The Mandalorian, set to debut exclusively on the upcoming streaming service, Disney+.
The latest title from EA and Respawn — Star Wars Jedi: Fallen Order — a brand-new action-adventure game releasing holiday 2019
Products spanning categories from toys to collectibles, housewares, books, apparel, and more will go on sale beginning at 12:01 a.m. on October 4. As with past Force Friday celebrations, stores around the world will join the festivities with in-store events and midnight openings.