TMNT Gets Shell Shocked in SDCC 2020 Exclusive from Playmates
The Teenage Mutant Ninja Turtles (TMNT) are back and ready for San Diego Comic Con 2020. Continuing on with the convention exclusives from Diamond, it looks like Playmates wants to join in on the fun. They have announced a special retro figure box featuring six of your favorite TMNT characters. Each figure Will come with the original body and authentic decorations from her original 80s debut. Each one will feature they are iconic Roto heads as well as the turtle bandanna colors and initials on their belts. This is it does include weapon racks with each figure as well as original 80s packaging design. The special part about this SDCC 2020 set is they all come in a special Party Wagon box. The six characters in this box are Leonardo, Donatello, Rafael, Michelangelo, Shredder, and Master Splinter.
This is a great convention exclusive for any TMNT fans out there. This previews exclusive set to relive your childhood once again it's such an iconic way. The original figure design and packaging will make this a hot ticket item for collectors. The Teenage Mutant Ninja Turtle Retro Box Set will be priced at $89.99. This set is limited to only 5,000 pieces and some pre-orders are online here but your best bet would be through your local comic shop. Take advantage of them to lock down this amazing TMNT collectible so it can be the highlight of your turtles' collection.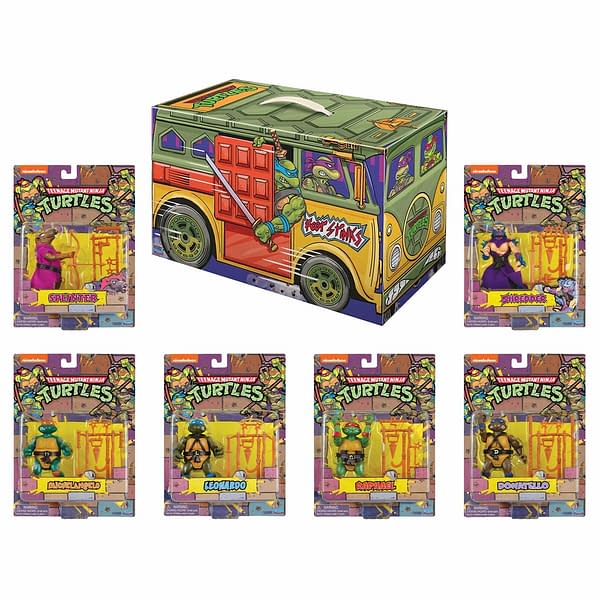 "SDCC 2020 TEENAGE MUTANT NINJA TURTLES RETRO ROTOCAST PREVIEWS EXCLUSIVE 6-PC. ACTION FIGURE SET. These terrific TMNT figures of Leonardo, Donatello, Michelangelo, Raphael, Master Splinter and Shredder come with the original bodies & authentic decoration from the '80s action figures with oversized roto heads, individual Turtle Bandana colors and letters on their belts. The set includes a weapons rack and packaging based on the original '80s package design with original brick work and the original Turtles logo. This decorated soft bundle 6-pack ships in 4-color inner with protective sleeve. Limited to 5,000 pieces."