Vampirella Fans Have a New Artgerm Bust and Coins to Collect
Vampirella collectors have two really awesome new pieces of memorabilia from Dynamite to track down soon. First, a new Vampi bust based on the Artgerm cover to Vampirella #2. The grey tone and blood running down her chin are amazing. She stands at 7.5 inches tall, and is posed on a base of skulls. It really is a striking piece. It will run you $89.99.
The other are a set of collectible coins. Again, Artgerm will be featured, along with Lucio Parrillo. The coins are double-sided, and authentic US half dollars plated in 24-karat gold. Each will run you $29.99.
Go ahead and check them both out below!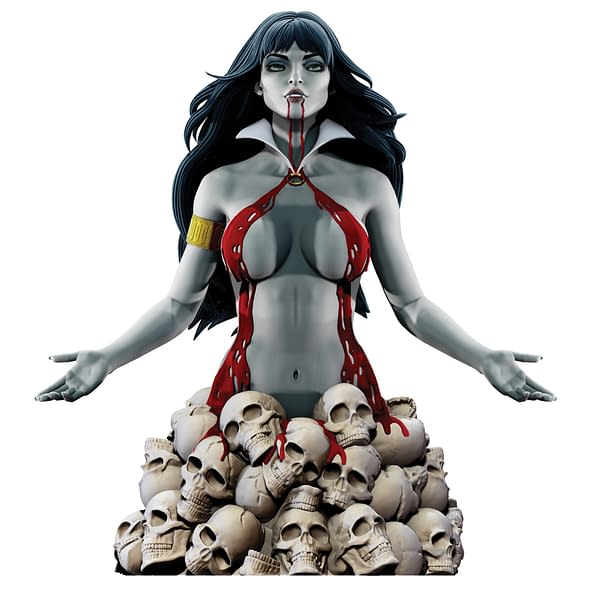 This 7.5 inches tall high quality resin bust is Dynamite's most unique rendering of Vampi to date. Artgerm's haunting cover has been expertly translated to the third dimension by veteran sculptor Steve Kiwus. To then be meticulously hand-painted, right down to the heroine's bloody "outfit."
Dynamite already knew that anything Artgerm tackled would turn out spectacular, but the entire team jumped out of their shoes when they saw his latest sultry yet fierce take on the Daughter of Drakulon. When fans went wild following its reveal, everyone knew it just had to be brought off the page and onto the shelf! The pose and scale of the image was perfect for a bust. With the added bed of detailed three-dimensional skulls for a base, it turned out even better than expected! More detailed photos from the produced piece will be shared closer to release.
"It has been a wonderful experience working with Dynamite and contributing my first comic cover to Vampirella's legacy. It's even more exciting to see my art come to life with this bust format statue, which is a first for me," said artist Stanley "Artgerm" Lau. "For all Vampirella fans out there, I hope the statue will be a great addition to your collection and a reminder of how much you love this beautiful and deadly lady."
The bust is priced at only $89.99, allowing even more fans of both Artgerm and Vampirella to pick up this exceptionally striking collectible.
Vampirella has dominated the comic book page, and now sets her sights on collectible coins! Dynamite is releasing two coins, and each features a stunning artistic take on Vampirella by top artists Stanley "Artgerm" Lau and Lucio Parrillo!
Dynamite's limited edition coins use an innovative colorization technique over top a base of authentic US John F. Kennedy Half-Dollars plated in real 24-karat gold. Packaged with a full-color Certificate of Authenticity and within an acrylic capsule to protect the coin, this currency is in fact legally able to buy a newspaper or bag of chips – but you won't want to do that!
The coin featuring superstar Lucio Parrillo takes its design from Vampirella (2010) #15, with a classic image of Vampi staring down a skull. One of the hottest artists in comics and pop culture illustration today, Artgerm, has his image originating from Vampirella (2019) #2!
The recommended retail price of these coins are $29.99 each. Though to celebrate Vampirella's big 50th anniversary Dynamite is offering them at a special introductory price of $19.69, denoting the year of Vampi's iconic creation and first appearance.
"In our 15 year history, Dynamite has always strived to offer fans not only the highest quality comic books, but also collectibles of all types," said Nick Barrucci, CEO and Publisher. "Fans were excited about the Red Sonja coins we offered recently, so we knew had to bring our other flagship heroine to this category, with all of the Vampirella hype around Christopher Priest's series, the Vampirella/Red Sonja ongoing and the just announced Vengeance of Vampirella revival."