Man Who Writes 6-Dollar X-Men Comics Amused by How Affordable They Used to Be
X-Men writer Jonathan Hickman held court at the Marvel Fanfare panel at C2E2 last Friday, alongside Marvel Editor-in-Chief C.B. Cebulski and Immortal Hulk writer Al Ewing. The trio discussed getting into comics and getting their first Marvel Comics. Hickman, according to Newsarama's live blog, said he got his at a 7-11 as a kid, and that with two dollars from his grandparents, he was able to buy "like 50 comics." Hickman found the memory funny, but is it a laughing matter? Hickman's experience is a stark contrast to today, when comics regularly cost $4-$5 an issue and where some issues of X-Men written by Hickman have cost as much as $5.99.
Of course, Hickman was exaggerating slightly. Hickman's first Marvel Comic, according to the panel, was X-Men #109, featuring an appearance by Alpha Flight, and it carried a cover price of 35 cents, meaning Hickman could get about six comics for two dollars, not fifty. For the price of one of the lowest-priced Marvel Comics today, young Hickman could have picked up twelve issues of a comic, and if we're being perfectly honest, they'd have contained a lot more actual content due to a lack of modern decompression.
Hickman's trip down memory lane coincides with some charts we recently put together, using stats from Comichron on comic book prices through the years, along with publicly available stats on the average price of a movie ticket and the rate of inflation (I.E. what would the 10 cent median price of a comic in 1961 be worth in every subsequent year). The results show that the price of comics has risen far above the rate of inflation, and that modern prices have suffered from the steepest incline. The chart separates Marvel and DC base prices from the average price of comics because for about twenty years between the 1980s and 2000s they were kept lower than other books.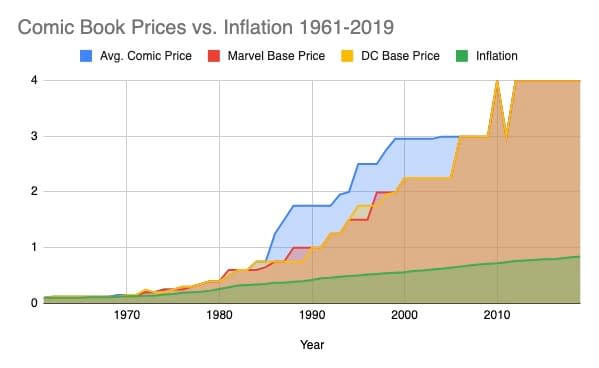 As you can see, the explosive trend is far higher for comics, which now cost forty times more than they did in 1961, than for movie tickets, which are only about twelve times as expensive as they were in 1961. Additionally, the current average price of a movie ticket is $9.26 today, just 43% higher than they would be if following the rate of inflation. Comics today, however, cost 375% more than they would if following the rate of inflation since 1961.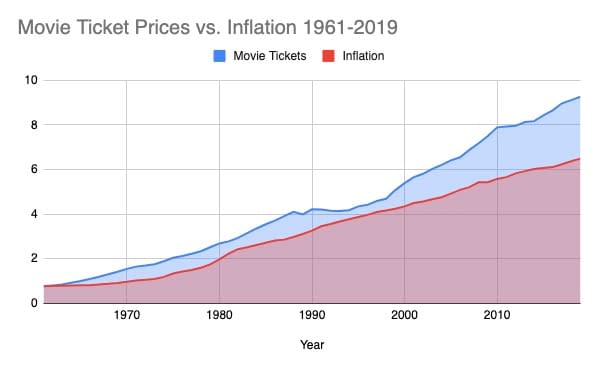 So if you're wondering when comics got so damn expensive, the data shows they've been growing increasingly more expensive compared to the value of a dollar since pretty much day one. But at this point in time, they're in the upper range of as expensive as they've ever been, and they've been in that range since the late nineties. The good news? For most of the last decade, believe it or not, their expense has actually been on the decline.