Avengers #1 Review: A Return to Form for Earth's Mightiest Heroes
[rwp-review-recap id="0"]
In the past, a group made up of Odin, Lady Phoenix, Ghost Rider, the Black Panther, the Starbrand, Agamatto, and the Iron Fist went to war with the First Celestial Host.
Today, Steve Rogers, Tony Stark, and Thor Odinson meet up after a year of terrible events and personal woes. One question hovers around all their minds: what do they do about the Avengers? Elsewhere, Black Panther and Doctor Strange investigate anomalous ruins. She-Hulk and Ghost Rider (Robbie Reyes) try to cope with the changes in their powers. Captain Marvel responds to an energy fluctuation near Earth orbit.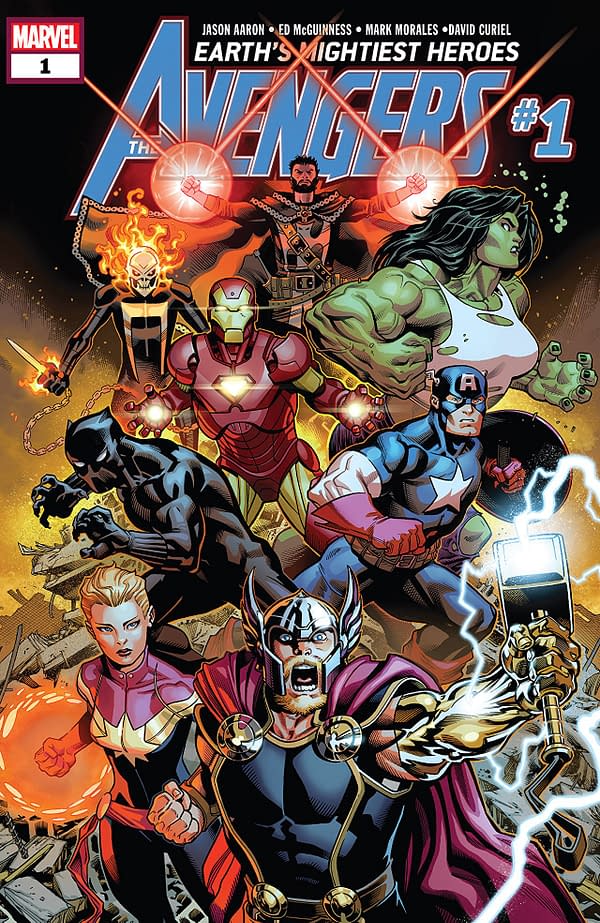 This is it. The Avengers are new again, and they aren't making you suffer through a weekly maelstrom of a title. Bi-weekly? Yes, it appears that way, but it's an improvement. Plus, the opening creative team is made up of Jason Aaron and Ed McGuinness.
How is it? It's good. It isn't as explosive or exciting as I'd hoped, but it's a solid start and promises an interesting future for the title.
I love this lineup, even the odd addition of Robbie Reyes. Steve Rogers' arguments for these three reforming the Avengers will make or break it for some people. Those vying for a return to form from Marvel will likely be left saying, "You're damn right, Captain America."
That's where things get a little shaky for me; I appreciated Marvel's attempts to develop and evolve. The moral center of a comic saying, "The old ways were the best," doesn't quite gel for me. Then again, I'm not currently following Champions, so glass houses and all that. Hopefully Ghost Rider can add enough of the aura of youth and freshness to not make this feel like a holding pattern.
The Final Host and the big catastrophe they entail is an impressively massive and creative threat for this new incarnation of Earth's Mightiest Heroes.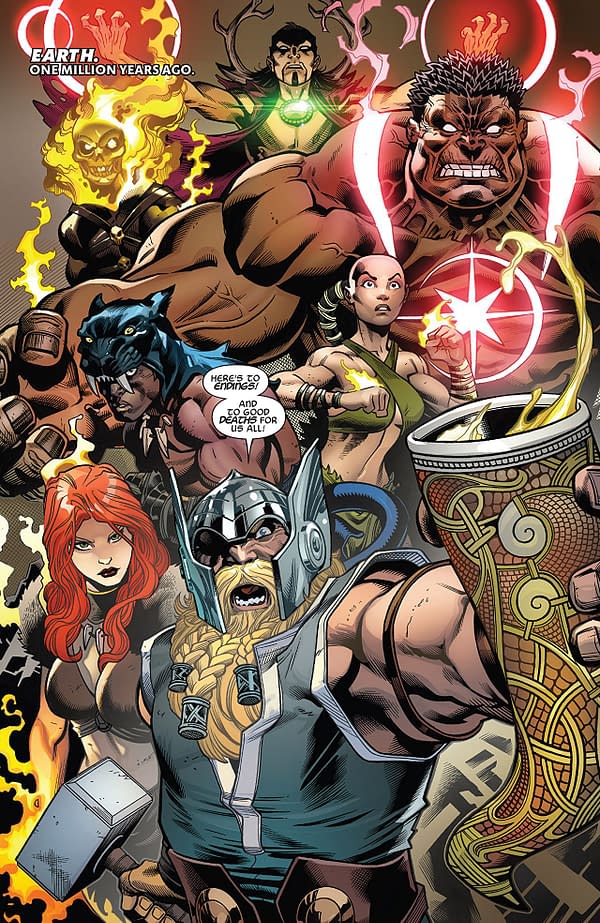 Ed McGuinness' artwork is what you've come to expect of this veteran artist. It is a muscular, defined, and stylized rendition of the Avengers. It looks good, and he seems to be putting in an extra bit of effort for this title. It looks even better than usual. It's a little too cartoonish to convey the sense of fresh starts interrupted by apocalyptic threats which the comic goes for, but it does look good from a purely visual sense.
Mark Morales' inkwork compliments McGuinness well, making the lines thin and finer than what often accompanies the artist. David Curiel's color art is bright, well-balanced, and captures the eyes very well.
This new start for the Avengers didn't blow me away, but it did hold my attention well. It has the potential to be the flagship title that Marvel needs, and it is an enjoyable read. Each character seems to bring something unique to the table, and the art is solid. $4.99 is a bit of a pain in the ass, but I can recommend the book even at that price point. Give it a read.
[rwp-review-ratings id="0"]
[rwp-review-form id="0"]