Commanders In Crisis #2 Review: Something To See
The first issue of this groundbreaking new series was all about bowling the reader over with the sheer volume and spectacle of its innovative idea. Somehow, almost impossibly, this issue takes a different tactic by making the happenings here as personal as they could be, revealing the characters behind the powers while not sacrificing the plot.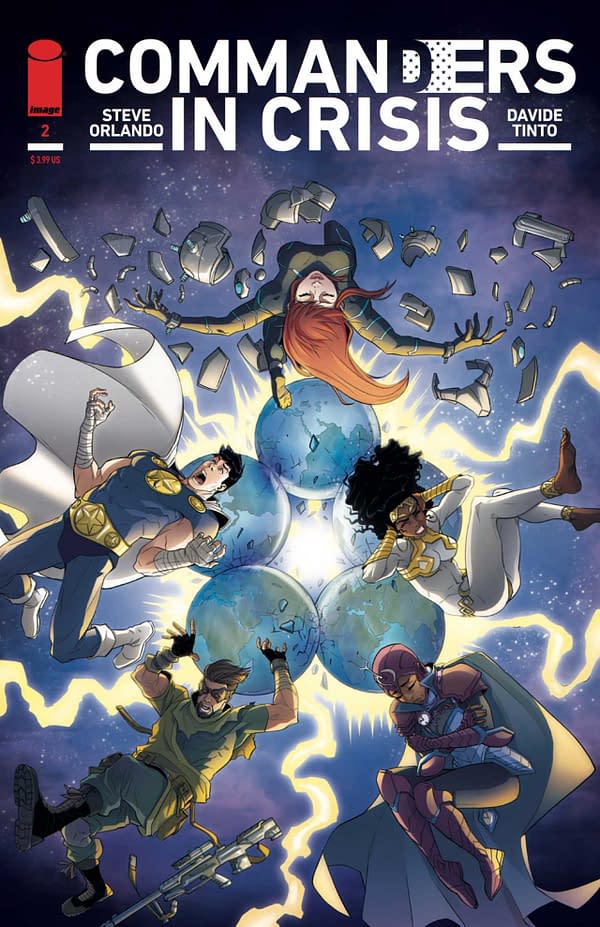 Five superheroes have come to a world without any, each having something in common. All five were pioneering personalities on worlds that died; each one has given outrageous powers and a chance to stop it from happening again. Writer Steve Orlando does a great job keeping the story moving but giving quiet moments of introspection to powerful people. For example, the post-coital scene could have been campy or prurient, but instead, it had a poignancy that deepened the meaning of the cold open. Likewise, when the character Seer had a world-breaking problem to address, she still found time to help ordinary people, and in doing so, ended up on the right track.
It should go without saying that the crafty visuals of Davide Tinto, Francesca Carotenuta, and Fabio Amelia go from cars flying off a broken bridge to thoughtful considerations of how to be responsible with power with equal aplomb. Best to say it anyway, because this visual team makes each panel mesh well together, as the whole story is as smooth as the train from Los Angeles to San Diego.
To break out so many new ideas, so many fresh concepts, and such a big swing is hard, but to do it well two issues in a row? That's really something to see. RATING: BUY.
By Steve Orlando, Davide Tinto
The Crisis Command, last survivors of the multiverse, are faced with an impossible task: avenging the death … of an idea! DOA is EMPATHY ITSELF, and while empathy withers and dies across the world, Originator uses her abilities to bring the John Doe back for 24 hours to reveal the name of his killer!