Detective Comics #984 Review: Another Great Issue for the Gotham Team
[rwp-review-recap id="0"]
The man calling himself Karma attacks Orphan in the streets of Gotham. His helmet gives him the ability to read her thoughts, and he antagonizes her role in the Batman family. Black Lightning arrives in Gotham, and he immediately goes out to save Orphan from Karma. Batman arrives soon after, but even this trio may be unable to stop this mysterious rogue.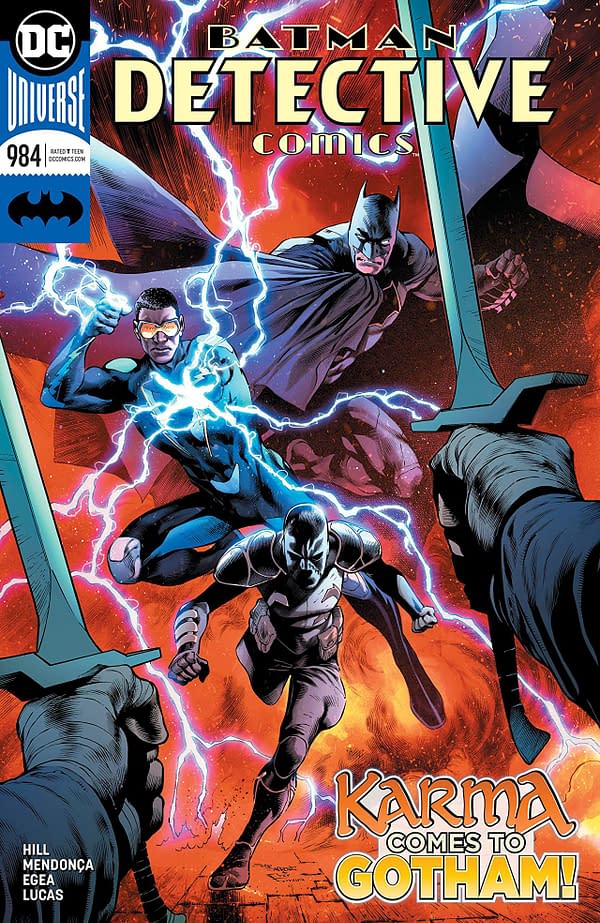 Karma gets more-or-less the starring role in Detective Comics #984. We get a brief glimpse of him acquiring his helmet before watching him trounce Batman, Black Lightning, and Orphan. He can discern a lot about the trio of heroes, and his observations about them say a decent amount about him as a character.
We also learn more about why Batman contacted Black Lightning and what he wants Jefferson to do with the young heroes of Gotham. Jefferson doesn't acquiesce without challenge. He makes some observations about Bruce's propensity to recruit young heroes that aren't entirely wrong.
Orphan and Signal are left noticeably absent from the decision-making process here, which speaks more to Bruce's weird hangups regarding their role in his crusade.
The comic doesn't tell a lot of story, but what it gives is heavy and worth pondering in the aftermath. I dig it.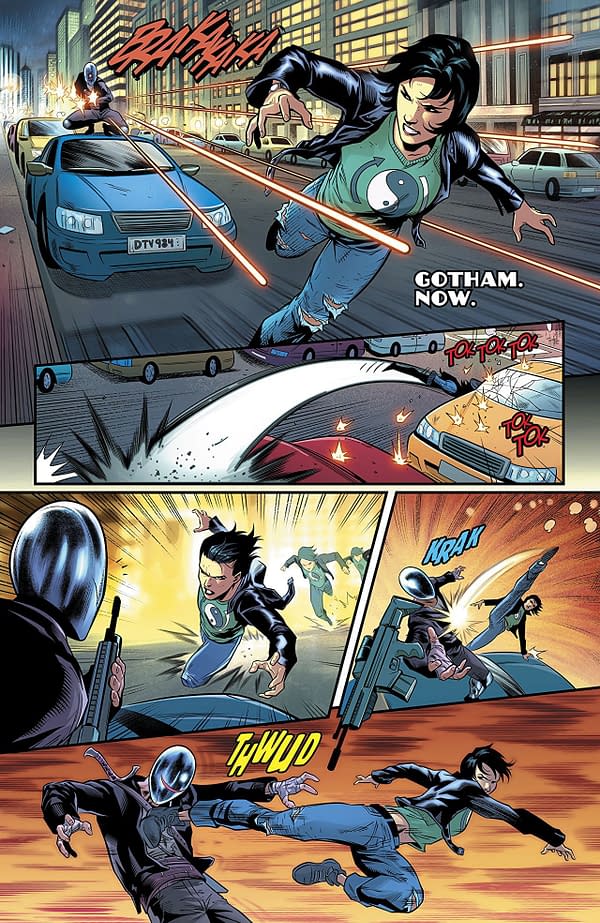 That brings us to the art of Miguel Mendonca, Diana Egea, and Adriano Lucas. It's very good, and the action sequences in particular show artistic acumen. Flow and cause-and-effect are given great care, and the general detailing of the comic is appealing. The figures are impressive, imposing, and heroic. Lucas's color work is dark and moody, but it has moments of bright and saturated colors to balance out the book.
Detective Comics #984 continues the build-up to the Outsiders with an interesting new villain and an already tense relationship between Batman and Black Lightning. Mix this with some great artwork, and you have a book well worth recommending. Check it out.
[rwp-review-ratings id="0"]
[rwp-review-form id="0"]