Doctor Strange #388 Review: I Have No Jaw, but I Must Bark
[rwp-review-recap id="0"]
We relive Bats hopping into Doctor Strange's possessed body, and he shakes the Sorcerer Supreme of Mephisto's delusion. Bats tries to shake Stephen loose of the possession, but neither are sure how to do it. Worse yet, Strange keeps seeing a specter of Clea, and he keeps trying to chase her down.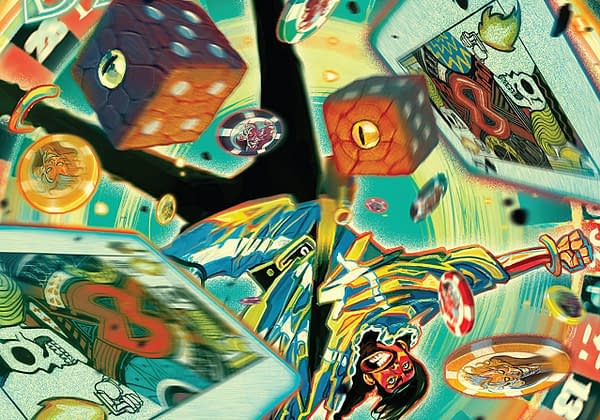 Despite the unnecessary recap of Bats' entering Stephen's mind, this issue of Doctor Strange is easily the best since the beginning of Damnation. While it's difficult to shake the impression that this is all filler while the main story rides out in Damnation proper, this isn't a bad way to handle a filler story.
Calling it filler actually feels unfair, as there is some character work being done with Stephen Strange in this comic, as Bats tries to shake him of his own self-doubt and pity. Plus, the journey through Mephisto's prison has a distinct "I Have no Mouth but I Must Scream" vibe, as you're not sure if the two are on their way out of the curse or going deeper into its depths.
On top of that, there is a theme of clinging onto vague hope that is embodied well by a haunting scene of lost souls playing slots and furthered by Stephen chasing after Clea.
On top of all this, Bats is delightful, and watching him talk sense into Strange is a lot of fun unto itself.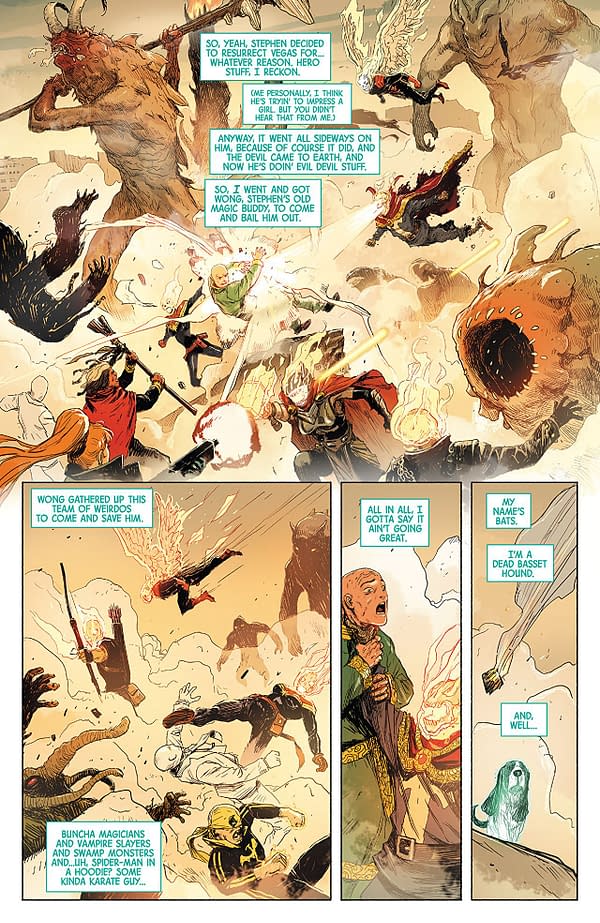 Niko Henrichon's artwork continues to be atmospheric, ethereal, and impressively detailed. The world has a distinct texture to it which you don't see with other artists. He and Laurent Grossat give a sickly color tint to the world, which is a good way of conveying the damnation of the scenario (pun intended). Plus, the overall palette is balanced and visually appealing. The last few pages of the comic—and this may have been my specific copy—were printed wrong, and the art is blurred. That was disappointing, but the remainder of the comic looks fantastic.
Doctor Strange #388 rights the ship with a fun and engaging tale of Stephen Strange and Bats the ghost Bassett Hound. We see the two navigate a prison of terror and confusion, and Niko Henrichon continues to impress with phenomenal artwork. This one gets a recommendation. Check it out.
[rwp-review-ratings id="0"]
[rwp-review-form id="0"]