Discovering The Bigger Bang, from IDW Publishing, written by D.J. Kirkbride, with art by Vassilis Gogtzilas, is the reason I love doing these binge read catch-ups. I'm not going to lie, this isn't the type of book that I would normally pick up. However, after reading it, I'm given a reason to be open minded to all genres and storylines in comic books. If I had to describe The Bigger Bang in one sentence, it would be: The Bigger Bang is a beautiful expression of one man's journey through loneliness, growth, and love. Luckily for me, I don't have to narrow it down to one sentence and will now proceed to tell you many reasons why you have to read this series.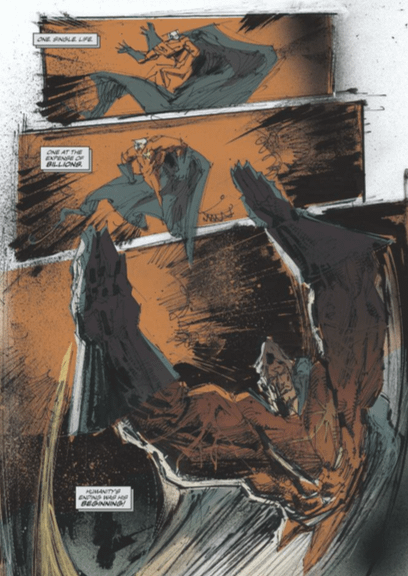 The story follows the main character, Cosmos, born from The Bigger Bang. His reputation throughout the universe fluctuates from destroyer to hero, depending on who you ask. However, Cosmos wrestles with his inner feelings himself. Unsure of how to make peace with his past, he moves forward trying to do the right thing for all he comes in contact with. When he begins to interact with King Thulu, he also meets a woman, Captain Wyan, who changes his perspective on everything.
The first thing that I want to talk about that really made this story stand out for me, is the third person narration that we get throughout. There are a lot of comics that give us an inner dialogue type of narration, but experiencing Kirkbride's third person narration made a huge difference. It made the script flow smoothly with a poetic feel. There were many times that I found myself in awe of the statements that were being made. Although some were simple and straightforward, the message behind the words was strong and passionate. I must mention that Vassilis Gogtzilas' art style sets this book apart from your run of the mill comic. Filled with rough jagged lines, and characters blended into their surrounding environments, I sometimes found myself gazing at the pages discovering the outlines of different beings and objects.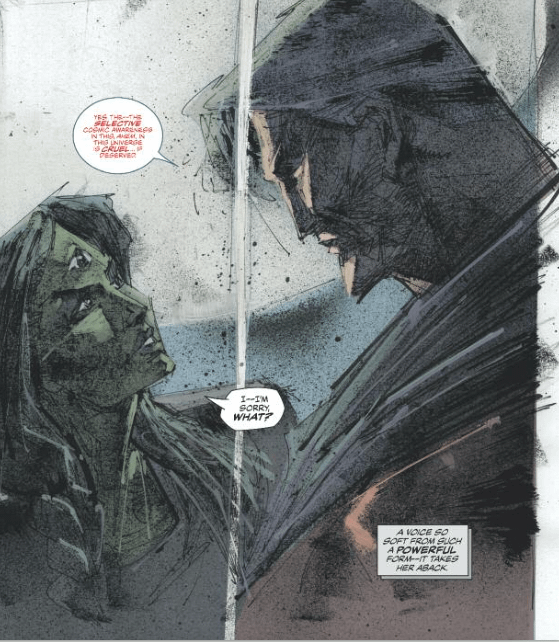 I want to center in on the relationship between Cosmos and Wyan. It seems like they both had this immense struggle their entire lives, and believed that the meaning of life consisted of a certain set of rules, feelings, and instances. But none of that mattered after they met because upon looking into each others eyes their horizons began to broaden, their hearts opened, and suddenly a new set of emotions were being tapped into. Over the course of three issues I experienced a space epic unlike anything I had ever read before.
Lucky for me, I was able to read the fourth and final issue of this limited series early. I don't want to spoil anything here because it isn't out yet, but I will say a few things. Leading up to this point, Cosmos life had mostly changed for the better, but in some aspects, grown more complicated. His relationship with Wyan hits a bump in the road, and King Thulu's interference may cause things to be even more troublesome. How will things end up for Cosmos? Will he find true happiness? All of those questions will be answered in the final issue, and I highly recommend that you read and support this wonderful comic. Pick up The Bigger Bang and escape into a beautiful story.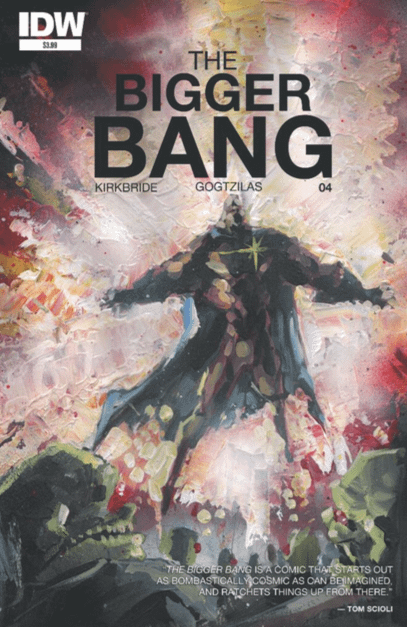 The Bigger Bang #4 arrives this week on March 18th from IDW!
Christine Marie is a Staff Writer at Bleeding Cool, and bibliomaniac with a love for all things creative. She hopes to one day be a Superhero/Disney Princess/Novelist. You can find her on Twitter and Instagram @AWritersWay or on her blog writerchristinemarie.wordpress.com.
Enjoyed this article? Share it!