Exiles #6 Review: One of Marvel's Most Charming Books
[rwp-review-recap id="0"]
The Exiles are resting up in the Bahamas after their conflict with the Time-Eater, revealed to be Kang the Conqueror. They are still stinging from the loss of Khan, and Blink is eager to find her former teammates out in the Multiverse. While tinkering with the Tallus, Blink, Wolvie, Valkyrie, and Iron Lad are teleported to the Old West of a different universe, where the Magnus Gang terrorizes a small town and takes prisoners with every attack.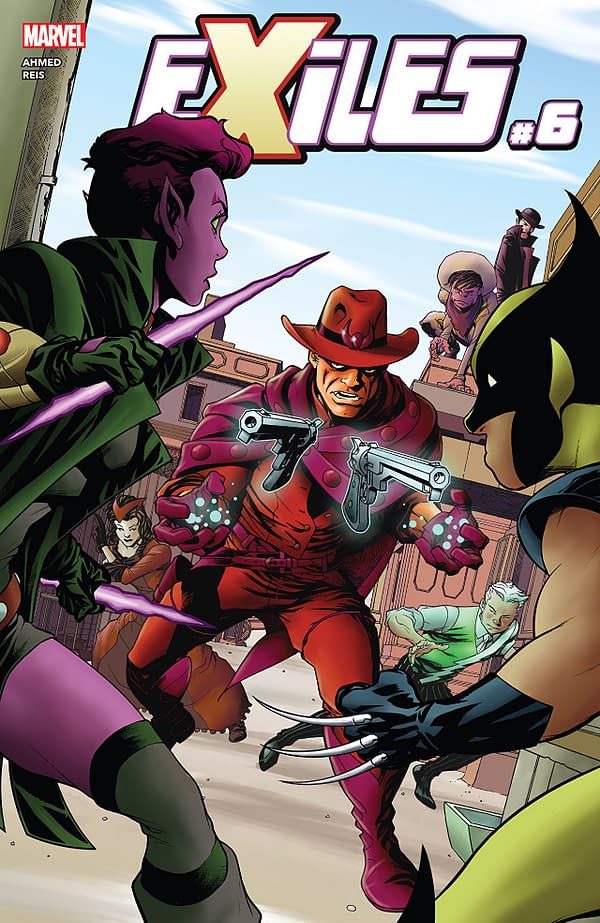 Exiles #6 starts the next arc of the title, and it begins with a nice moment of respite for the team to recollect themselves and the reader to see how their previous adventure affected them. The promised return of previous team members should be a treat for long-time Exiles fans too.
The continued trend of splicing together Marvel characters and various time periods and settings is charming and seeing the original Brotherhood of Evil Mutants as an outlaw gang in the Old West is a good bit of fun.
The character work done in this issue is good too, and you get to see this iteration of the Exiles bond. Blink, Valkyrie, Wolvie, and Iron Lad are a likable motley bunch.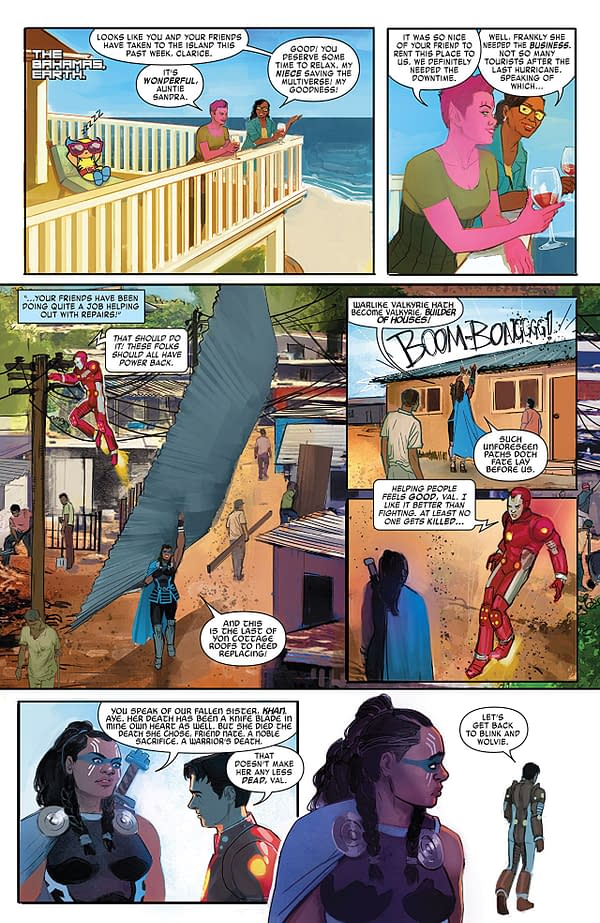 Rod Reis takes over for Javier Rodriguez this issue, and he gives a nice ethereal touch to the comic. That said, much of the comic is far more grounded and fleshed-out than what I've become accustomed to from Reis. It's a nice change of pace and allows for the more solemn character beats to land better. The colors are still wild, but they are contrasted with tamer shades too. Reis knocks it out of the park with this comic.
Exiles #6 is another charming and wild adventure for Marvel's resident team of universe-jumpers. The characters bond and endear themselves to the reader, and the Wild West adventure is an enjoyable new challenge for our heroes. This one earns a recommendation. Give it a read.
[rwp-review-ratings id="0"]
[rwp-review-form id="0"]