Hal Jordan and the Green Lantern Corps #46 Review: Low on Plot, High on Character
Guy Gardner, now armed with a Darkstar mantle, pays his abusive father, Roland Gardner, a visit. Hal Jordan begins to realize that he has no grasp of what Hector Hammond wants or can do. John Stewart tries to get the help he needs from General Zod. Kyle Rayner and Space Cabby sit in a New Genesis prison while hoping Orion can provide aid soon.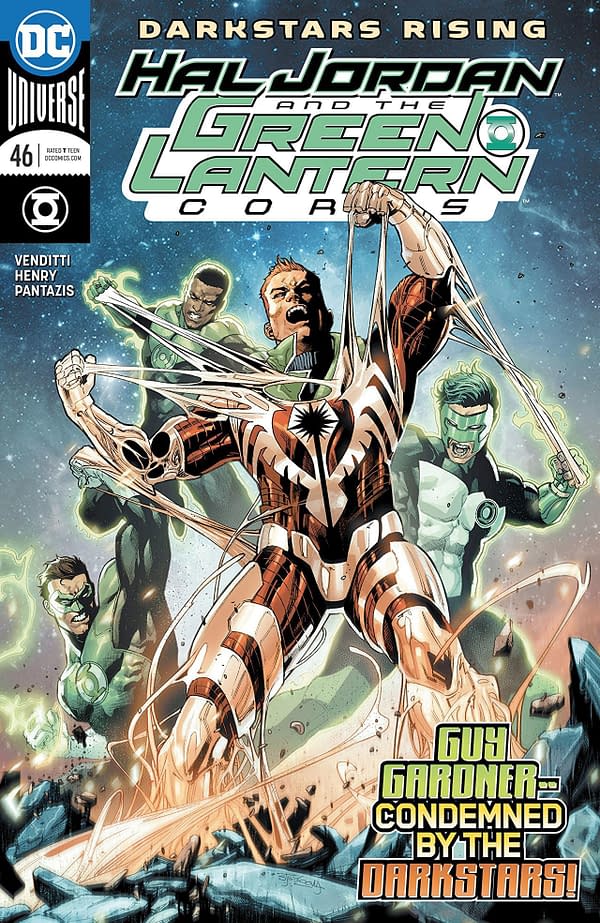 This is one of a few issues of Hal Jordan and the Green Lantern Corps that suffers from the main drawback of focusing on four main characters on opposite sides of the universe. The story can slow down when the plot is split in that many directions. It's very easy to fall into that trap.
That's not to say #46 is bad. It still benefits from having an excellent cast of characters with interesting conflicts. The Hal and Hector plot turns into a mind trip, watching John stare down Zod is awesome, and Guy's plot has some genuinely painful moments.
The Guy Gardner angle is a little cliched, and I've said before that Robert Venditti's redux of the Gardner family is far less interesting than the old backstory. A complex cop family narrative of parental expectations and failures is better than the old drunken and abusive dad tale.
Clayton Henry comes aboard the comic as the artist in this issue. I can't say that the book looks as good as many of the previous installments, but it does look good. The detailing is a little light, but the characters are very expressive. Movement looks kinetic, and I found myself satisfied with the style. Pete Pantazis is the color artist this time around, and he manages the balance well from scene-to-scene having some bleak and dower sequences and wondrous sci-fi panels. Each one has a distinct and appealing palette.
Hal Jordan and the Green Lantern Corps #46 is slower installment, and the Darkstar plot doesn't really advance. That said, Venditti is a talented writer who can find compelling drama and enjoyable scenes even in slower comics. Plus, Henry and Pantazis put in solid work on the visuals. It's a solid issue, and I can still give it a recommendation. Feel free to check it out.