Posted in: Avengers, Comics, Marvel Comics, Review | Tagged: adamantium agenda, adriano di benedetto, all-new wolverine, amazing spider-man, avengers, Guru eFX, hunt for wolverine, iron man, Jessica Jones, luke cage, Marvel Comics, mister sinister, new avengers, R.B. Silva, sci-fi, spider-man, superheroes, Tom Taylor, wolverine, x-23, x-men
---
Hunt for Wolverine: The Adamantium Agenda #4 Review – A Weak Ending to HFW's Best Miniseries
We return to the flashback, and Wolverine asks Luke Cage, Jessica Jones, and Spider-Man to make sure Iron Man keeps his promise to Logan. In the present, the armored-up New Avengers, Iron Man, Luke Cage, Jessica Jones, Spider-Man, and All-New Wolverine Laura Kinney, are tearing their way through Mister Sinister's facility. They enter the inner chambers of the facility before they find the mutant DNA, and they also find a bloodbath there. Someone else had already attacked Sinister's bunker, and they made off with the physical DNA data. The digital data remains, and these Avengers are the only ones who can destroy it. Mister Sinister isn't keen on letting that happen, though.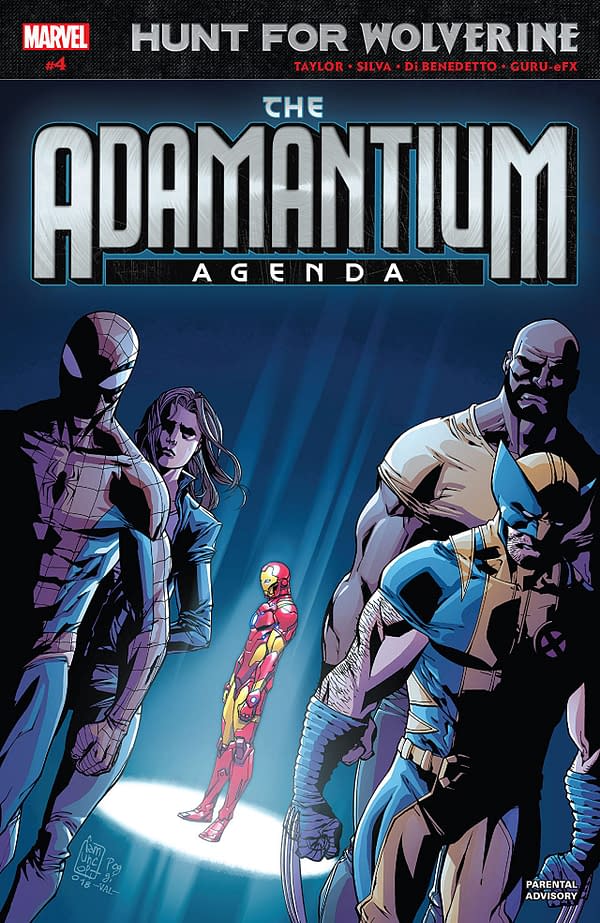 Hunt for Wolverine: Adamantium Agenda #4 is a bit of a breakneck finale to this leg of the search. There isn't an indication of where Wolverine's location or whereabouts. There is a reference to Soteira, but it's surprisingly subtle.
The thrust of the story is the New Avengers wrecking Mister Sinister's facility and Sinister himself. That isn't much of a fight, though, as Essex is already wounded when they find him.
The big "revelations" come at the end. One seems like something Tom Taylor probably intended for the All-New Wolverine series, as it's specifically relevant to Laura Kinney. The other is something that I won't spoil but will almost certainly create a continuity nightmare for X-Men purists.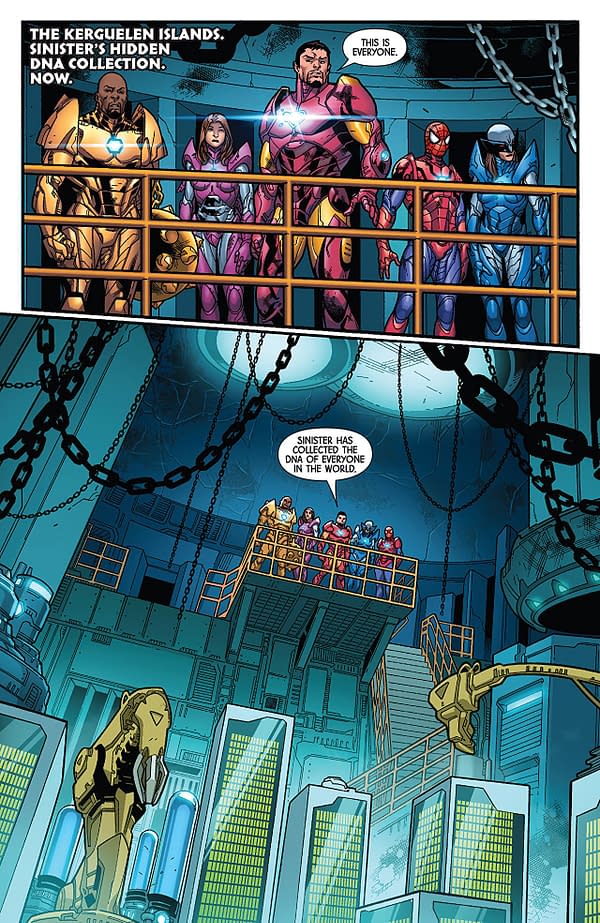 R.B. Silva's weaknesses come up again in this comic. The overall book looks decently enough; there are just some noticeable problems. The fight scene against Sinister is a bit weak due to the zoomed-out framing and unsatisfying impacts. The Iron Man armor for the other New Avengers are enjoyably gaudy, so that is a positive. Guru-eFX imbues the book with strongly contrasting colors and wild shades that do the panels some good.
Hunt for Wolverine: Adamantium Agenda #4 is probably the weakest of this particular miniseries. There is fun to be had, but the pacing and exposition dump of reveals at the end hurt the overall narrative flow. Plus, the artwork underperforms a bit in this entry. I can tentatively recommend it to those who've enjoyed this Hunt for Wolverine miniseries are is just generally a fan of the New Avengers like myself. Beyond those groups, I wouldn't call it a must-read.
---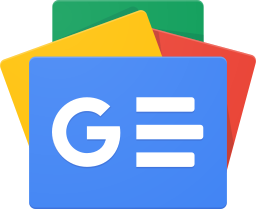 Stay up-to-date and support the site by following Bleeding Cool on Google News today!