Image Comics – The Future of Fantasy Panel at NYCC Si Spurrier (Cry Havoc, Angelic ), Justin Jordan (Luther Strode), Meredith Finch (Rose), Sebastian Girner (Scales & Scoundrels, Shirtless Bear-Fighter), Caspar Wijngaard (Limbo, Angelic), and W. Maxwell Prince (One Week In The Library) discussed their various Image fantasy series at NYCC's "Image Comics – The Future of Fantasy" -panel on Saturday.
Spurrier discussed Angelic his "sci–fi fable" set in a post-apocalyptic world with no more humans with only the genetically engineered animals they created left behind. A group of flying monkeys is the focus and Spurrier said they took their "cues from Pixar – Wall-E in particular" especially with the environmental themes. Meredith Finch was asked about the origin of the talking cats in Rose –the original idea was a metallic horse – but "I really love Ann McCaffrey's Dragonriders of Pern series, so I'll do a dragon'" – but then a show debuted with" a white haired girl riding a dragon"(Game of Thrones obviously) so that idea was out. Finally she realized that she has always loved cats – "you know what I think cat would work so well" and now she "could not imagine the book now without Thorn [the talking cat]". She revealed that in #5 he does some cool stuff – he kills some people – but it's "in a totally PG way". Girner talked about Shirtless Bear-Fighter – it's an absurd book but they are doing a serious story. We had the title first" – he was watching late movie with a friend (he can't recall what the movie was) and when he and his friend saw a certain rugged character they both remarked "that dude looks like a shirtless bear fighter!!" which he immediately realized it could be a series. It's "leaning in to genre – it's funny if everyone takes it super seriously" –the humor comes from how straight the crazy elements are played within the story. To illustrate this Brothers showed an image of a "bear plane" – which is exactly what you would expect – from the book.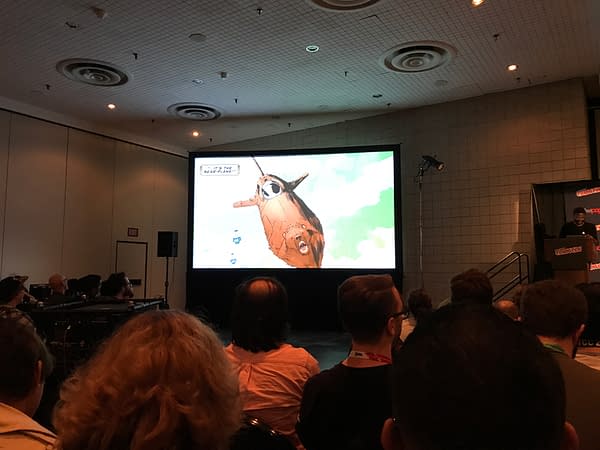 Brothers asked Prince about One Week In The Library – it features lots of infographics – he makes charts in his day job so when he came up with experimental story he thought they might be fit in, The story is formally quite ambitious according to Brothers so he asked Prince "is there any danger of you overthinking it?" "Oh I'm definitely overthinking it" he said.
Jordan talked about how fight scenes are hallmark of Luther Strode – "I think a lot about fight scenes – people think it's not all Tradd [Moore- the series' penciller] but I plot out fight scenes pretty intricately. Luthor Strode is a fight comic so you need to keep it visually interesting, keep it stimulating and make sure it serves the story – fight scenes can be character development".
Spurrier discussed his use of language in Angelic – using it as a way of telling you that you are in a new world. He said that he thinks that "things shouldnt be over-described or over-explained" you can dive right in to the world and readers will figure it out. When he showed the first draft to kids – they had no problem understanding it – "its only adults who say – "I'm not sure what's going on"" when everything is not explained.
Brothers noted that most of the panelists' books are all ages and asked them what the appeal is of that approach? Finch said she has kids so she was thinking about them, but the book is complex – it isn't necessarily suited to them. She did say that she was determined to create something gender positive that children could read though.
Wijngaard said that with previous work he "used to have to close his laptop" if his kids approached him while he was working – he finds it nice that he doesn't have to do that with this anymore and his kids can watch and even participate while he draws Angelic.
Girner talked about how with Scales and Scoundrels and talked about how the series has an European influence – there is less of a separation between the ages there – all–ages literally means a comic that all ages can enjoy – and that's the approach he is taking. It just doesn't feature excessive violence or language – these are the only things that they are holding back on.
Family Trade is all ages – "not my usual level of swearing in it!" according to Jordan – it just is not marketed as that. Although it has crime elements it's really an "action adventure, fundamentally optimistic book". He tried this approach because "he just wanted to try new things – I enjoy challenge of not relying on my old tricks". Also the artists' style of art does not lend itself to extreme violence.
Prince said One Week In The Library is a "literary story about the way we use stories and how they affect our lives" – and sprang from him becoming anxious about the idea of what a story is – his own sense of it and about what a story is meant to be. He said that he is a huge Sandman fan and tries to read the series and all its spinoffs at least once a year and this influences all his ideas.
In fact he revealed he has an upcoming series of one- shots called The Ice Cream Man coming from Image – be announced properly next week. That series is even more influenced by Sandman than One Week in The Library. Each issue has a self-contained story but overall the series is tied together by the appearance of the mysterious Ice Cream Man in each issue. He hopes to write "at least" 12 of the one-shots, if the series is successful.
Finally Spurrier talked about Angelic and how much of a joy it is write about its protagonist "everything is an exercise in wonder when you are writing through the eyes of a child – it is impossible not to love and sympathize with a character who is pure curiosity'' and he then quoted the English romantic poet Percy Bysshe Shelley: "Oh that simplicity and innocence its own unvalued work so seldom knows"