Posted in: Comics, Marvel Comics | Tagged: marvel, mary jane, spider-man
---
Is Marvel Breaking Up Spider-Man and Mary Jane… Again?!
Fans may be excited for the return of Peter Parker to the role of Spider-Man with the upcoming #1 issue relaunch of Amazing Spider-Man. But inside the beleaguered Marvel Universe, the reception appears to be a little bit different. Maybe the denizens of the Marvel Universe are just having trouble keeping track of all the Spider-people running around. Maybe they believe J. Jonah Jameson was right all along. Maybe they're just tired of having their universe shaken to its foundations leaving nothing the same again over and over again. That would be pretty annoying, you have to admit. And based on the recent "What Did Peter Do" teaser, it definitely looks like things have been shaken up…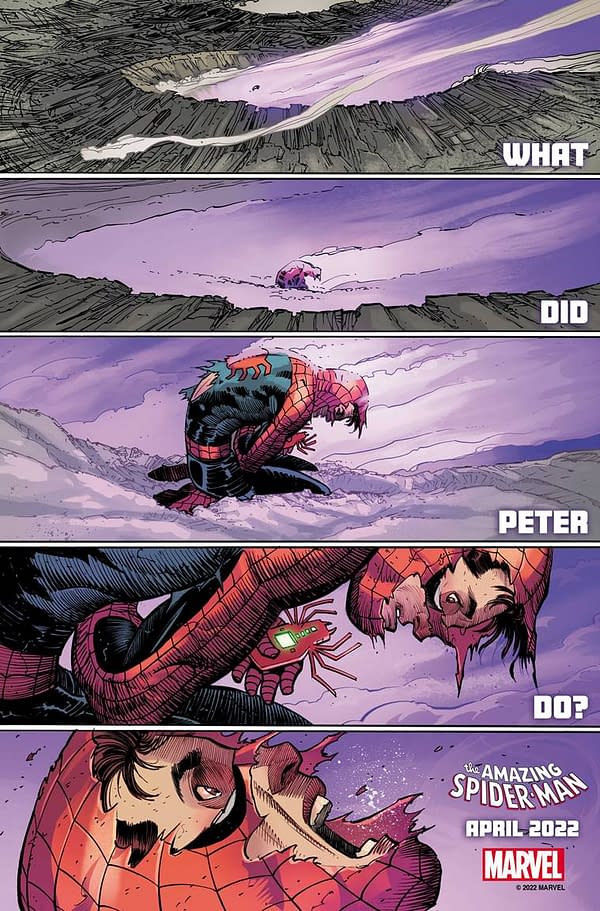 Our best guess? Radioactive Spider-Sperm. It really packs a wallop, and it's probably been a while for ol' Spidey, stuck in that hospital bed for so long.
Whatever the case, it seems that everyone is mad at Spider-Man in the solicit for Amazing Spider-Man #1…
AMAZING SPIDER-MAN #1
ZEB WELLS (W) • JOHN ROMITA JR. (A/C)
VARIANT COVER BY HUMBERTO RAMOS • VARIANT COVER BY MARK BAGLEY
VARIANT COVER BY TRAVIS CHAREST • VARIANT COVER BY JIM CHEUNG
VARIANT COVER BY RUSSELL DAUTERMAN • VARIANT COVER BY SKOTTIE YOUNG
CONNECTING VARIANT COVER BY BENGAL • WEB-HEAD VARIANT COVER BY PATRICK GLEASON
VARIANT COVER BY PEACH MOMOKO • SPIDER-MAN VARIANT COVER BY ROMINA JONES
VARIANT COVER BY STANLEY "ARTGERM" LAU • VARIANT COVER BY INHYUK LEE
HIDDEN GEMS VARIANT BY MARK BAGLEY & JOHN ROMITA SR.
VARIANT COVER BY ROSE BESCH • VIRGIN VARIANT COVER BY ROSE BESCH
WHAT DID SPIDER-MAN DO?!
Peter's on the outs with the FF. He's on the outs with the Avengers. He's on the outs with Aunt May! No one wants to see Spider-Man – except for Doctor Octopus. Ock's on Spider-Man's tail and the Master Planner has something truly terrible planned for when he gets his tentacles on Spidey. All that, and what does Tombstone have planned? Just in time for Spider-Man's 60th Anniversary, a new volume of AMAZING SPIDER-MAN begins, and 2022 is going to be the biggest year for Spider-Man EVER! Don't believe us? We brought John Romita Jr. back JUST FOR THIS!
56 PGS./Rated T+ …$5.99
But even if Peter's "on the outs" with everyone, at least he still has Mary Jane, right? Wrong! As the solicit for Amazing Spider-Man #2 reveals…
AMAZING SPIDER-MAN #2
ZEB WELLS (W) • JOHN ROMITA JR. (A/C) • VARIANT COVER BY DERRICK CHEW
VARIANT COVER BY INHYUK LEE
SPIDER-MAN VARIANT COVER BY NICOLETTA BALDARI
• The best couple in comics is done?
• You aren't going to believe what is happening in this volume of AMAZING SPIDER-MAN.
32 PGS./Rated T+ …$3.99
Spider-Man and Mary Jane are done?! Say it ain't so, Marvel! Well, we probably should have seen that coming after No Way Home.
But to do it just as Marvel also has also announced a special edition commemorating the original 1980s Spider-Wedding? Now that's just cruel, Marvel. Read the full Marvel April 2022 solicitations here.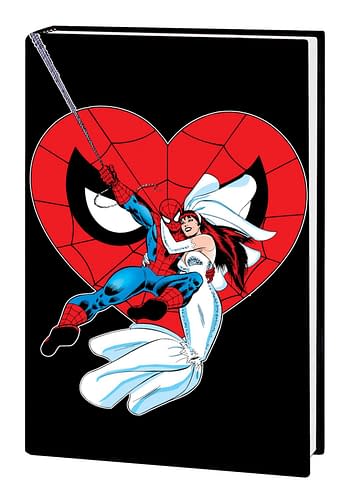 SPIDER-MAN: THE WEDDING ALBUM GALLERY EDITION HC
Written by DAVID MICHELINIE, JIM SHOOTER, CHRISTOPHER PRIEST, DANNY FINGEROTH, PETER DAVID, GARY FRIEDRICH & STAN LEE
Penciled by JOHN ROMITA JR., ALEX SAVIUK, PAUL RYAN, ALAN KUPPERBERG, JIM VALENTINO,
MARIE SEVERIN, LARRY LIEBER & MORE
Cover by JOHN ROMITA SR.
Celebrate the greatest comic-book wedding of all in this oversized Gallery Edition containing the complete story of Peter Parker and Mary Jane Watson's 1980s nuptials — from proposal to ceremony to honeymoon! After years of will-they-won't-they friendship and occasional romance, Peter pops the question — and after much soul-searching, MJ says yes! But will these lovebirds truly hit the jackpot and walk down the aisle, or will that ol' Parker luck — not to mention Electro, Puma and the new Spider-Slayer — ruin everything for the bride and groom? Plus: The newspaper-strip version of the wedding, a wild WHAT IF? and the complete saga of the happy couple's history! Collecting AMAZING SPIDER-MAN (1963) #290-292, AMAZING SPIDER-MAN ANNUAL (1964) #21, SPECTACULAR SPIDER-MAN ANNUAL #7, WHAT IF? (1989) #20-21, MARVEL SAGA: THE OFFICIAL HISTORY OF THE MARVEL UNIVERSE #22 and material from NOT BRAND ECHH #6.
296 PGS./Rated T …$44.99
ISBN: 978-1-302-94653-1
Trim size: 9-1/4 x 13
---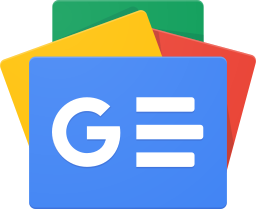 Stay up-to-date and support the site by following Bleeding Cool on Google News today!