Justice League: No Justice #2 Advance Review: Frantic, Action-Packed Fun
[rwp-review-recap id="0"]
Amanda Waller is on her own quest to save the world from the Omega Titans when she is interrupted by none other than Green Arrow. On Colu, the Justice League gathered by Brainiac try to decide what their next move is. They consider splitting into their own team, but Martian Manhunter and Lex Luthor convince them that their best move is to split into the four teams organized by Brainiac. As Wonder, Entropy, Mystery, and Wisdom, the four teams lead where their suits lead.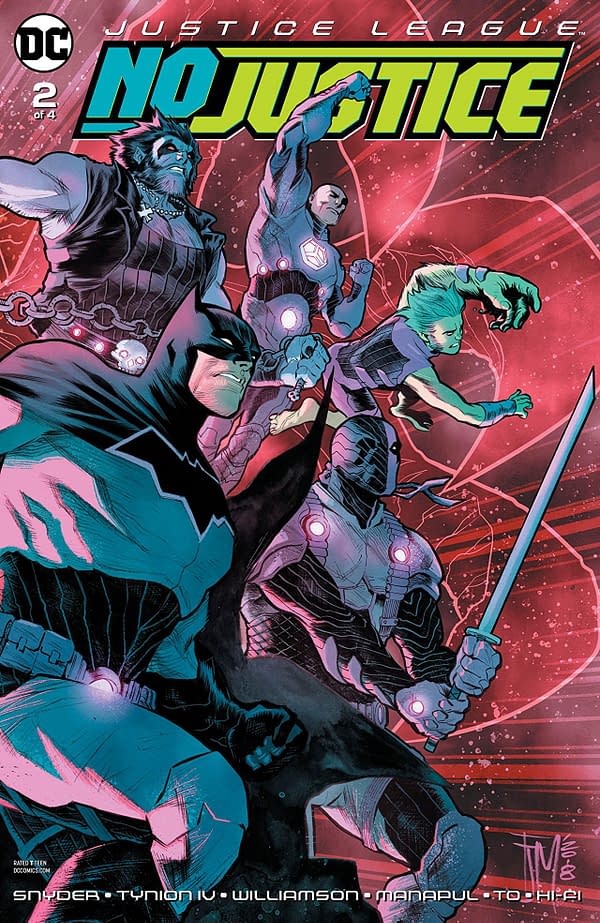 Justice League: No Justice #2 is another exciting step in this miniseries. While there feels like more unnecessary wordiness in this issue than the prior, the nuance of the concept holds the comic together through the slower portions.
The split into four teams plus the situation with Waller and Green Arrow does leave the narrative feeling splintered and frantic. That is likely intentional giving the scenario, but it can leave the reader feeling exhausted in trying to keep up with everything on the page.
Even this isn't too big an issue though, as there is so much fun to be had in this book. Plus, there are interactions between Martian Manhunter and Starro as well as Beast Boy and Lobo that are quite fantastic.
Marcus To and Francis Manapul split the responsibility of art in this issue, and both artists contribute excellent work. To's work is a kinetic and motion-oriented style which works great for action sequences. Manapul's artwork is slightly more cartoonish by comparison but really captures the awe and wonder of the book. Hi-Fi covers the color work for the issue, and it adds that extra bit of flare and life to the book.
Justice League: No Justice #2 is another exciting and fun issue for the Justice League event. The character interactions are fun, the concept continues to be interesting and fresh, and the artwork is great. This one earns another recommendation. Pick it up tomorrow.
[rwp-review-ratings id="0"]
[rwp-review-form id="0"]